Manufacturing PMI Hits 13-Month High in Dec - Top Indian Market Updates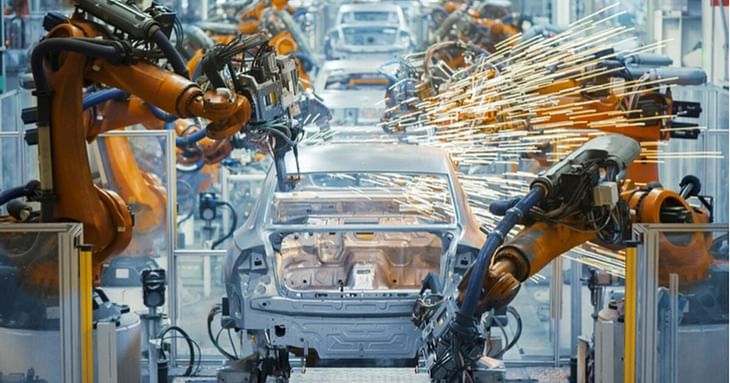 Here are some of the major updates that could move the markets tomorrow:
India's manufacturing PMI rises to 13-month high in Dec
India's manufacturing sector recorded its sharpest growth in output in 13 months in December 2022. The S&P Global India Manufacturing Purchasing Managers' Index (PMI) stood at 57.8 in December, compared to 55.7 in Nov. New orders rose at the fastest pace since February 2021 even though selling prices surged more than input costs for the first time in two and a half years.
PMI is a month-on-month calculation, and a value above 50 represents an expansion compared to the previous month.
Read more here.
Auto sales data for Dec 2022: Highlights
Maruti Suzuki India posted a 9% year-on-year (YoY) decline in total sales to 1.39 lakh units in December 2022. Sales of its compact vehicle segment fell 21.5% YoY to 67,267 units. Exports fell 2.2% YoY to 21,796 units.
Tata Motors Ltd registered a 10% YoY increase in total sales to 72,997 units in Dec. The automaker's commercial vehicle sales fell 0.6% YoY to 33,949 units. Overall passenger vehicle sales rose 14% YoY to 40,407 units.
Mahindra & Mahindra's passenger vehicle segment posted total sales of 28,445 units in Dec, an increase of 61% YoY. M&M's tractor sales rose 27% YoY to 23,243 units.
TVS Motor Company's total sales stood at 2.28 lakh units in Dec, down 3% YoY. Meanwhile, Bajaj Auto's sales fell 22% YoY to 2.81 lakh units.
Read more here.
India's electricity consumption grows 11% to 121.19 BU in December
Power consumption in India grew 11% YoY to 121.19 billion units (BU) in December 2022. This indicates the sustained momentum of economic activities last month. Reports indicate that power consumption and demand will further increase in January due to the use of heating appliances (especially in the north) and a further improvement in economic activities.
Read more here.
SBI, ICICI Bank, HDFC Bank remain domestic systemically important banks: RBI
The Reserve Bank of India (RBI) said the State Bank of India, ICICI Bank, and HDFC Bank continue to be identified as Domestic Systemically Important Banks (D-SIBs). D-SIBs are interconnected entities whose failure can impact the whole financial system and create instability. The current update is based on the data collected from banks as of March 31, 2022, the RBI said.
Read more here.
CIL's coal supply to power sector rises 11% to 433 MT in April-Dec
Coal India Ltd's (CIL) coal supply to the power sector rose 11% YoY to 432.7 million tonnes (MT) in the April-December period of the current financial year (FY23). The supply to the non-power sector last month was 10.5 MT due to increased output. The company supplied close to 508 MT of coal to all-consuming segments in April- December, registering a growth of 5.4% YoY. CIL accounts for over 80% of India's coal output.
Read more here.
Tea industry facing multiple challenges in wake of Covid pandemic: Experts
The tea industry in India is struggling with low prices and high input costs due to the damages caused by the Covid-19 pandemic. Production has also been declining from 1,390 million kg in 2019 to 1,258 million kg in 2020, 1,329 million kg in 2021, and 1,050 million kg till October 2022. Stakeholders within the industry are calling for more focus on quality and boosting exports.
Read more here.
Recession will hit a third of the world in 2023, warns IMF chief
A third of the global economy will be in recession this year, said International Monetary Fund (IMF) chief Kristalina Georgieva. 2023 will be "tougher" than last year as the US, European Union (EU), and China will see their economies slow down, she added. Global growth is forecast to slow from 6% in 2021 to 3.2% in 2022 and 2.7% in 2023.
Read more here.
JSW Group plans to foray into EVs
JSW Group is considering a foray into the manufacturing of electric vehicles (EVs), said Group Chief Financing Officer Seshagiri Rao. The group is looking to manufacture four-wheelers. The EV manufacturing plan is being discussed actively at the group level, he said while revealing JSW Group's aim to expand its presence into more sectors.
Read more here.
Dabur acquires a 51% stake in Badshah Masala
FMCG firm Dabur India has completed the acquisition of a 51% stake in Badshah Masala Private Ltd for Rs 587.52 crore. Badshah Masala manufactures, markets, and exports ground spices, blended spices, and seasonings. Dabur will acquire the remaining 49% stake over the next five years.
Read more here.
PSP Projects emerges lowest bidder for ₹1,364 crore govt project
PSP Projects Ltd has emerged as the lowest bidder for a government project worth ₹1,364.47 crore in Surat, Gujarat. The company will construct a high-rise office building for Surat Municipal Corporation. PSP Projects is a multi-disciplinary construction company that engages in industrial, institutional, and residential projects in India.
Read more here.
APL Apollo posts 50% growth in sales volume in Q3
Structural steel tube company APL Apollo Tubes Ltd. registered its highest quarterly sales volume of 6,05,049 tonnes in the quarter ended Dec (Q2 FY23), showing a 50% YoY growth. The sales volume for the first nine months of the current financial year rose by 35% to 16,30,120 tonnes. APL Apollo Tubes operates 11 manufacturing facilities with a total capacity of 2.6 million tonnes. 
Read more here.
Post your comment
No comments to display