Mamaearth Files for Rs 2,400Cr IPO: Here's its Story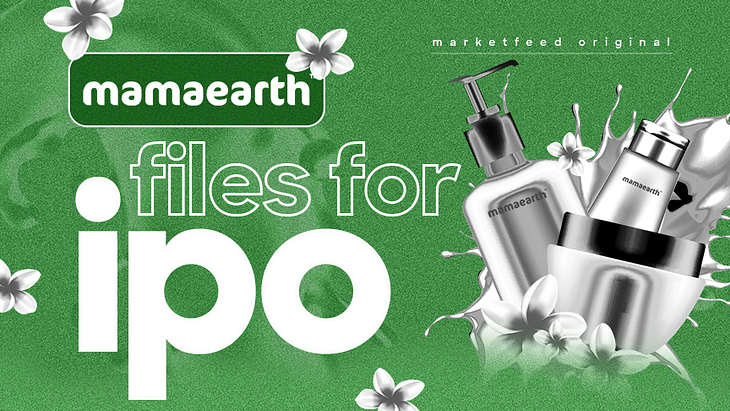 There has been a healthy/positive shift in the market for baby care, beauty, and personal care products over the past few years. People are now more cautious about the products they use and are on the lookout for essential items that are free of toxins and dangerous chemicals. Major brands have embraced this shift by promoting healthy beauty and eco-ethical products.
There's a Gurugram-based brand that has taken India by storm since 2016. It has redefined standards for baby care products and grown into a manufacturer of organic skin care products loved by Indians.
In today's article, we look into a brand that has solved a common problem among Indian parents— Mamaearth! Its parent company, Honasa Consumer Ltd, recently filed its papers to launch an IPO.
Mamaearth's Origin
When Ghazal Alagh and Varun Alagh were looking for products to treat their infant son's skin condition, they were shocked to find the Indian market flooded with generic products filled with harmful toxins. Most of the ingredients in such products were banned in the west! They eventually had to order baby care products from the US, which turned out to be costly and inconvenient. They realised that a lot of parents were extremely unhappy with the quality of products available in our country.
The duo set out to create a line of baby care products that were safe, reliable, and affordable. In December 2016, Varun and Ghazal invested ₹90 lakh out of their own pockets to establish Mamaearth! They formed a dedicated research & development (R&D) team that initially looked into natural and toxin-free products for babies. After a rocky start, the team had to revamp some of its marketing strategies to get visible results.
From just six products in the initial phase, Mamaearth offers over 140 toxin-free and natural baby care, skincare, and hair care products. The brand caters to over 50 lakh customers across 500 cities. You can buy Mamaearth products from e-commerce platforms like Amazon, Flipkart, Nykaa, and 30,000 points of sales (PoS) stores in India.
Apart from Mamaearth, Honasa Consumer Ltd (HCL) houses digital-first brands like The Derma Co., Aqualogica, and Ayuga.
Funding & Investors
Honasa Consumer made headlines when it became the first unicorn of 2022. It raised $52 million from leading investors like Sequoia and Sofina Ventures at a valuation of $1.2 billion. As per Crunchbase, the company has raised a total of $111.6 million over 8 funding rounds so far. HCL is also backed by Shilpa Shetty and Evolvence India Fund.
Varun Alagh holds the majority stake (38.72%) in HCL, while Sequoia Capital holds a 15.22% stake.
Mamaearth's Strong Growth
Mamaearth became Asia's first brand to offer "MadeSafe" certified products that are toxin-free and loaded with natural ingredients.
The brand has introduced unique products such as India's India's first bamboo-based baby wipes and 100% natural plant-based toothpaste for kids between 0-10 years. It also developed a stretch mark removal serum and the widely popular onion range of products for mothers.
The company has been able to focus on customer-specific needs and launch products based on thorough research. Their digital marketing initiatives have worked wonders to drive sales.
Mamaearth emerged as the fastest-growing beauty and personal care brand in India to reach an annual revenue of ₹1,000 crore within six years of launch.
Honasa Consumer became profitable in FY22 with net earnings of ₹14 crore, compared to deep losses of ₹1,332 crore in FY21 and ₹428 crore in FY20. In the first half of FY23, the company registered a net profit of ₹4 crore. Its gross profit margin (GPM) improved from 66.5% in FY20 to 69.96% in FY22. 
Major Challenges
Mamaearth faces heavy competition from large corporations like Himalaya, Johnson & Johnson, Procter & Gamble, and Unilever.
Digital-first brands like Mamaearth depend heavily on social media marketing campaigns and e-commerce marketplaces. In fact, the brand's ad expenses jumped 120% YoY to ₹391 crore in FY22. Its sales commission to e-commerce firms more than doubled to ₹29 crore.
They depend on a select few products (around 10) for a significant portion of their sales revenue. So a decline in quality or manufacturing issues will prove costly for the brand.
As per its DRHP, Honasa Consumer and its subsidiaries have four criminal and civil litigations active against various individuals/entities.
The Way Ahead
On Dec 30, Honasa Consumer Ltd filed a Draft Red Herring Prospectus (DRHP) with SEBI to launch an IPO. The company aims to raise ₹2,400 crore, which includes a fresh issue of shares worth ₹400 crore and an offer for sale (OFS) of 4.2 crore shares. It is seeking a valuation of $3 billion (~₹24,000 crore) through the IPO! The IPO proceeds will go towards ad expenses to improve brand visibility and awareness. They will also open new salons through BBlunt (a subsidiary) and plans more inorganic acquisitions.
However, market experts are deeply concerned about the high valuations that HCL is seeking through its IPO. The valuation target is more than 1,000x its profits, which has left many shocked and confused. The failure of Paytm's IPO comes to mind! An overvalued IPO can only sustain in a bull run. When the bears kick in, the fall can be bloody.
Going forward, HCL and Mamaearth hope to bring new solutions to recurring problems of young parents with safe, toxin-free, and international standard products.
What are your thoughts on Mamaearth? Have you used their products? Let us know in the comments section of the marketfeed app.
Post your comment
No comments to display