Major IT Stocks are Falling! Find Out Why!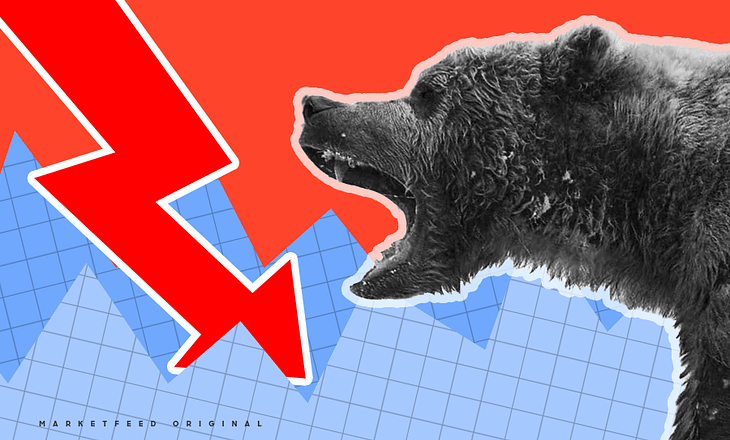 The stock markets have not been kind to investors over the past few months. Foreign institutional investors (FIIs) have pulled out nearly Rs 1.65 lakh crore so far from the Indian equity markets this year. Major IT stocks (mostly considered defensive stocks historically) have been under heavy selling pressure. The NIFTY IT Index has fallen ~24% since the beginning of April. For comparison, the NIFTY50 fell 9% during the same period. TCS, Infosys, and HCL Tech have all plummeted 10% each since mid-April, while Wipro crashed ~17%!
In this article, we discuss the factors behind the downtrend in IT stocks.
Reasons Behind the Fall in IT Stocks
Rising Inflation:
Globally, inflation rates are at sky-high levels. Goods and services have become expensive. India's inflation rate has surpassed RBI's projections due to many global factors, especially the Ukraine-Russia crisis and rising crude oil prices. It is time for the government to withdraw money out of the system.
The US Fed, Reserve Bank of India (RBI), and other central banks have increased interest rates aggressively. Unfortunately, this move could lead to a slowdown in the global economy. Many investors resorted to dumping IT stocks with high valuations in anticipation of a hike in interest rates.
To make matters worse, clients will be willing to spend less on digital projects, thereby affecting the revenues of IT firms.
Disappointing Q4 Results:
Even though IT giants like Tata Consultancy Services (TCS) and Infosys reported healthy revenue numbers in the March quarter (Q4 FY22), it did not translate into a comparable increase in profits. Most IT firms reported lower-than-expected earnings with weak operating margins. Thus, market participants simply lost confidence in the IT sector.
Decline in Margins:
The attrition rate within the IT industry remains at an all-time high. [The rate signifies the number of employees who had either resigned or retired and are not replaced. IT employees often have to endure long working hours and the pressure of meeting targets, leading to burnout.] Moreover, employee and travel costs have been rising rapidly after Covid-19 restrictions were lifted.
As a result of heavy competition and a limited supply of talent in the industry, most prominent IT firms are giving out salary hikes to retain employees. They have also resorted to mass hiring, which is a significant loss of man-hours and other resources. All these increased expenses are adversely impacting margins.
The Way Ahead
Most analysts are expecting IT stocks to drag down the markets further. The slowdown in economic growth, along with revenue and margin pressures, could continue. This phenomenon is not just unique to India. In fact, all major IT and growth stocks in the global stock markets have been severely hit by the prospects of higher interest rates.
On the flip side, this could turn out to be a good opportunity for investors to add or average IT stocks to their portfolios. Look into fundamentally strong companies in the Indian IT industry and buy them at fair valuations.
Have you added IT stocks over the past month? Let us know in the comments section of the marketfeed app.
Post your comment
No comments to display