Logistics Firms That Could Benefit from Covid-19 Vaccines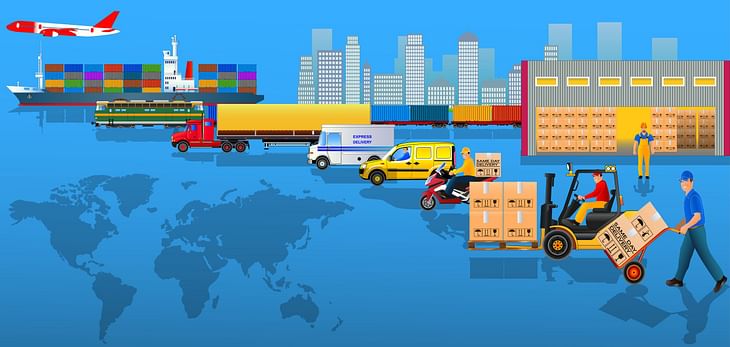 Three major pharmaceutical companies have approached the Indian drug regulator for emergency use authorisation of their respective Covid-19 vaccine candidates. This includes the vaccine developed by Pfizer-BioNtech, Serum Institutes' Covidshield (which is developed by Oxford-AstraZeneca), and Bharat Biotech's Covaxin. All of us are eagerly waiting for the regulator to give a final verdict.
Even if these companies get the necessary approvals, there still exists a major hurdle- how can the Covid-19 vaccine be distributed to the entire population of India? This is where logistics companies come in. Over the past few weeks, the stocks of logistics companies have shown an impressive surge. Let us take a look at potential firms that could help India to solve its vaccine distribution issue. One factor to be understood is that both cold chain and normal logistics companies will benefit, considering that there are multiple vaccines almost ready for deployment. So let us jump in.
Snowman Logistics
By now, Snowman Logistics Ltd would be a well-known company for all of us. It is India's leading integrated temperature-controlled logistics company. They have over 31 warehouses across 15 cities. The company has also stated plans to expand its capacity to 33 cold storage facilities in 17 cities over the next two months. Snowman was one of the first companies which stated that they could offer the required logistics services for the Pfizer vaccine in India. As we know, this particular vaccine requires an ultra-cold chain of -70 degrees. Currently, Snowman Logistics' can provide a storage and transportation chain for up to -30 degrees.
The company entered into a very promising partnership on December 10. Snowman Logistics and SpiceJet have signed a Memorandum of Understanding (MoU) for jointly distributing Covid-19 vaccines across India. As per the deal, Snowman will handle the ground services which include activities such as transportation to/from manufacturers, packing, and storage - all in the required temperature zones. SpiceJet will provide air connectivity for temperature-controlled distribution of the COVID-19 vaccines across India, as well as internationally.
Over the last 5 weeks, the share price of Snowman Logistics has gained 96%! marketfeed had prepared a very detailed analysis of the company. You can read it here.
Blue Star
Blue Star Limited is a leading manufacturer of air conditioners and commercial refrigerators. It is not strictly a logistics company, but they offer a wide range of cold storage facilities. The company has 4 major manufacturing plants which are located in Dadra, Kala Amb (Himachal Pradesh), Wada (Maharashtra), and Ahmedabad. It is interesting to know the Blue Star has a presence in more than 18 countries in the Middle East, Africa, and South Asian regions.
The company has stated that except for transportation facilities, it will offer a wide range of cold storage facilities for the vaccine. Blue Star is making sure that its deep freezers and ice lined refrigerators (ILRs) are ready to support the storage of Covid-19 vaccines in India. They have planned to conduct additional shifts between December 2020 and April 2021 at their manufacturing plants. This is to ensure that they are ready to meet any demands made by the vaccine developers.
Over the last month, the share price of Blue Star Ltd has jumped by more than 20%.
Mahindra Logistics
Mahindra Logistics Ltd (MLL) is one of India's leading providers of third-party logistics solutions. The company serves more than 400 corporate customers across the world. They have 16 million sq feet of warehouse space and operate in more than 650 locations. The company is known for its supply chain management solutions.
At present, MLL does not provide cold chain logistics. However, the company stated that they have recognized the need/demand for cold chain facilities in pharmaceuticals. They are currently on their path for a huge expansion into the temperature-controlled logistics space. Mahindra Logistics has stated that they will be ready with their cold storage logistics facilities for the Covid-19 vaccine by the end of the current financial year. They have also hired experienced personnel in this particular field to help them provide the best service.
The share price of Mahindra Logistics has increased by around 6.5% over the last one month.
Blue Dart Express
Blue Dart Express Ltd is a prominent logistics company based in Mumbai. It is owned by DHL and DHL Express (Singapore) Pte Ltd. The company has a cargo line known as Blue Dart Aviation, that operates in South Asian countries. It is also one of the leading logistical firms that are gearing up to take up the huge task of transporting Covid-19 vaccines in India.
In October, Blue Dart announced that it will offer a complete supply chain solution for the life sciences and clinical trials sector. The company has also ensured that it will provide cold chain services to ensure seamless transport of shipments like vaccines.
Over the last few months, the company has taken a proactive role in increasing its infrastructure and improving its Temperature-Controlled Logistics platform. The company has assured that it is prepared to meet any immediate large-scale demand.
Allcargo Logistics
Allcargo Logistics Ltd is a leading logistics firm headquartered in Mumbai. The company provides services such as global multimodal transport operations, pan India container freight stations, third-party logistics, and much more. It also has world-class warehousing facilities that are also integrated with cold chain storage. Allcargo has a strong presence in more than 160 countries.
Over the last month, Allcargo Logistics's share price has shown an increase of more than 15%.
Navkar Corporation
Navkar Corporation Ltd. is engaged in Container Freight Station (CFS) operations. They are focused on capitalizing on the available opportunities in the logistics space in Western India. The company has a dedicated cold storage facility in Maharashtra. Navkar's CFSs have the capacity to store vaccines in temperature-controlled warehouses. So it can be a very interesting pick.
Over the last month, the share price of Navkar Corp Ltd has increased by more than 56%. This has probably not fallen under your radar and can be checked out.
Conclusion
We have only selected a handful of the prominent logistics companies that have shown their interest in catering to the vaccine distribution needs in India. There are other listed firms such as Tiger Logistics India Ltd and Arshiya Limited, whose share prices have also shown a similar surge.
Once we get a confirmation of a vaccine being approved in India, all these stocks could see a huge rally. These companies could enter into partnerships with major vaccine developers in the days to come. However, there still exist certain limitations with respect to the temperature requirements for the Covid-19 vaccines. We can see that Snowman Logistics and other firms are trying to develop the technology and increase their capacities to ensure proper distribution of the vaccine for all Indians. Pfizer has even said that they plan to use their own logistics facilities to distribute the vaccine in our country.
Do keep a close watch on all these prominent logistics companies of India. Will they be able to deliver on their promises? Will these firms be able to actively support what is to become one of the largest vaccination drives in the world? Let us wait and watch.
Post your comment
No comments to display