Life Insurance Corporation of India (LIC) IPO: All You Need to Know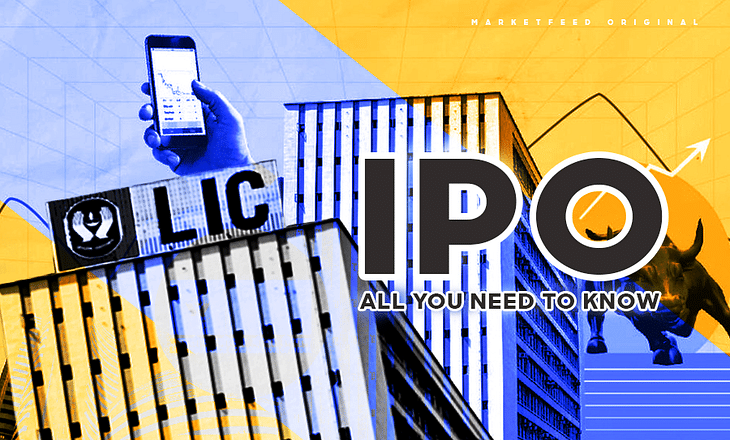 The biggest initial public offering (IPO) in the history of the Indian stock market is here! Life Insurance Corporation of India has launched its IPO today— May 4. The Central Government aims to raise up to Rs 21,000 crore by divesting a 3.5% stake in the country's largest life insurer. In this article, learn all about LIC and its IPO.
Company Profile - Life Insurance Corporation of India Ltd
Life Insurance Corporation of India was formed on September 1, 1956, by merging and nationalizing 245 private life insurance companies in India. It offers unit-linked insurance products, saving insurance products, term insurance products, health insurance, and annuity & pension products. LIC is currently the largest entity in the Indian insurance space, with a market share of above 61.6% in terms of premiums.
They also hold a 61.4% market share in terms of new business premiums (NBS) and a 71.8% market share based on the number of individual policies issued. [NBS is the premium acquired from new policies during a particular year.] More importantly, LIC is the fifth-largest insurer in the world in terms of gross written premiums (GWP).
LIC is a trusted brand in our country and has a customer-centric business model. It has been a security net for Indians. Over the years, the company has harnessed technological capabilities to support policyholders and drive operational efficiencies.
Fact Sheet:
LIC's total assets under management (AUM) stood at a whopping Rs 40.1 lakh crore as of December 31, 2021 (Q3 FY22). Interestingly, this figure is more than 3.2 times the total AUM of all private life insurers in India. It is more than 1.1 times the AUM of the entire Indian mutual fund industry's AUM!
The company has a strong omnichannel distribution network, consisting of over 0.13 crore agents, 2,128 micro insurance agents, and 215 alternative channels. LIC operates through an extensive network of 2,048 branches and 1,559 satellite offices. [A satellite office is a branch of a larger company that is physically separate from the organization's main office.] The insurer also operates in the UAE, Singapore, Fiji, Mauritius, Qatar, and the United Kingdom.
The embedded value (EV) of LIC was estimated at Rs 5.4 lakh crore as of Q3 FY22. The EV of a life insurance company is the sum of the adjusted net asset value (NAV) and the present value of future profits. It is essentially the industry standard for valuing an insurance company. As per reports, the market valuation of LIC could be around 3-4 times the EV.
LIC is also the biggest player in India's equity markets. As of Dec 31, 2021, its investments in listed shares represented ~4% of the total market capitalization of NSE!
About the IPO
Life Insurance Corporation's public issue opens on May 4 and closes on May 9. The company has fixed Rs 902-949 per share as the price band for the IPO.
The IPO is entirely an offer for sale (OFS) of 22.13 crore equity shares by the promoter (Government of India), aggregating to Rs 21,008.48 crore. Individual investors can bid for a minimum of 15 equity shares (1 lot) and in multiples of 15 shares thereafter. You will need a minimum of Rs 14,235 (at the cut-off price) to apply for this IPO. The maximum number of shares that can be applied by a retail investor is 210 equity shares (14 lots).
The government has announced a discount of Rs 60 per share for policyholders and Rs 45 for employees.
If you are a LIC policyholder and wish to apply for the IPO:
Your PAN must be updated in LIC's records.
The PAN used for LIC policies has to be the same as that registered with your broker account.
The primary objective of the IPO is to provide an exit strategy (or liquidity) for LIC's promoters. The company aims to achieve the benefits of listing the equity shares on NSE and BSE. The total promoter holding in LIC will decline from 100% to 96.5% post the IPO.
Financial Performance
LIC has posted strong growth in revenue and profits from FY 2019-21. The company's total income increased by 9% YoY to Rs. 7,03,732.43 crore in fiscal 2021. It was due to higher net earned premiums and investment income. Meanwhile, net profit rose 9.73% YoY to Rs 2,974.14 crore in FY21. The net profit on sale/redemption of policyholders' investments jumped 105% YoY to Rs 39,809.61 crore during the same period.
The gross written premium (GWP) increased at a CAGR of 9.21% on a consolidated basis between FY19 and FY21. [GWP is the total premium an insurer writes during a specific period before deductions like reinsurance and ceding commissions.] Moreover, LIC's 13-month persistency ratio increased from 66% in FY19 to 67% in FY21. This suggests growth in policyholders who renewed their policies.
It has an investment of Rs 38.4 lakh crore towards policyholders' funds and is debt-free as of Dec 31.
Risk Factors
The ongoing Covid-19 pandemic could adversely affect LIC's business aspects like agents' abilities to sell products and increased expenses due to changes in mortality and investment portfolio.
The insurance industry is highly competitive. The company will be directly competing with leading private entities such as SBI Life, HDFC Life, and ICICI Prudential once it gets listed.
Volatility in capital markets, loss of customer confidence in the insurance industry, or a decline in customers' financial positions could severely affect LIC's overall performance.
Any unfavourable publicity concerning the insurance giant can harm its brand name and reputation.
The inability to retain and recruit individual agents at a reasonable cost and time could adversely impact LIC as individual agents procure most individual new business premiums.
IPO Details in a Nutshell
The book-running lead managers for the public issue are Axis Capital, Kotak Mahindra Capital, BofA Securities, Goldman Sachs (India), J.P. Morgan, etc. LIC filed the Red Herring Prospectus (RHP) for its IPO on April 26. You can read it here. Out of the total offer, 50% is reserved for Qualified Institutional Buyers (QIBs), 15% for Non-Institutional Investors (NIIs), and 35% for retail investors.
Ahead of the IPO, LIC raised a massive Rs 5,627 crore from 123 anchor investors! The anchor investor portion of the IPO was also oversubscribed.
Conclusion
Insurance is not too popular in India, especially when it comes to life insurance. Only a marginal portion of the country holds life insurance. The total insurance coverage in India stood at a mere 3.76% in 2019. There can be a massive scale of development in this sector. Amidst the Covid-19 pandemic, the awareness towards securing insurance policies has increased. Whether it be health insurance or life insurance, more people are actively looking for the best products that can safeguard their future. Thus, LIC can capitalise on the high growth opportunities in the Indian life insurance sector.
LIC's maiden offer is expected to help the central government meet its disinvestment target of Rs 78,000 crore for FY22.
LIC's IPO shares are trading at a premium of Rs 63 in the grey market. Before applying to this IPO, we will wait to see if the portion reserved for institutional investors gets oversubscribed. As always, consider the risks associated with the company and come to your own conclusion.
What are your views on LIC's IPO? Will you be applying for it? Let us know in the comments section of the marketfeed app.
Post your comment
No comments to display