Laxmi Organic IPO: All you need to know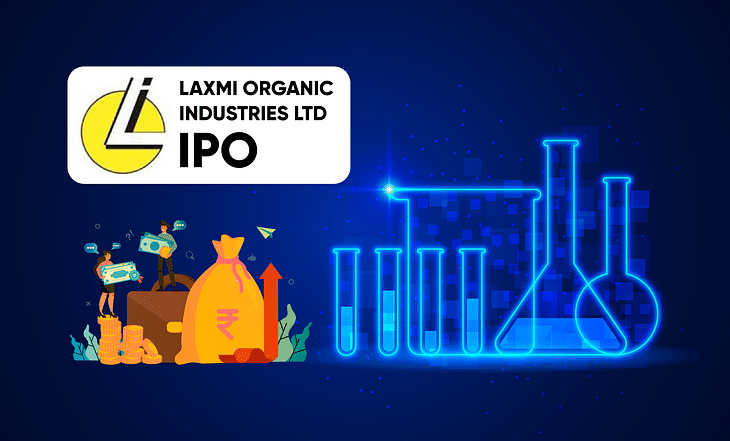 This week you are witnessing many IPOs floating through. One of them is Laxmi Organic Industries whose IPO will hit the market on 15th March. Let's discuss what it is all about and if you invest or not.
About the Company
Laxmi Organic Industries Limited is a speciality chemical manufacturing company. It operates in two segments which are Acetyl Intermediates (AI) and Specialty Intermediates (SI). It is the only manufacturer of diketene derivatives present in India. Also, they have almost one-third market share in the Indian ethyl acetate market. Laurus Labs, Granules India, UPL Limited, Suven Pharmaceuticals Limited, Colourtex Industries are some of its clients.
Yellow Stone Trust and Ravi Goenka are the promoters of the company. In total, they have customers from 30 different nations which means the presence of a diversified customer base. They already have 2 manufacturing facilities in Maharashtra for the manufacturing of AI and SI products. And, the company is also planning to add another manufacturing unit to its portfolio. They have a market share of more than 50% in the Indian diketene derivatives market in terms of revenue in FY 2020. The global Acetyl market is projected to expand at a growth rate of 6.4% over the next five years. Thus, a huge area for the company to expand in the future.
About the IPO
The IPO of Laxmi Organic will open on 15th March 2021 and will close on 17th March 2021. The total issue size of the IPO is Rs 600 crore. The fresh issue and the Offer for sale aggregate up to Rs 300 crore each. The price band of the IPO is Rs 129 – Rs 130 per equity share. You have to apply for a minimum of 117 Shares which is one lot.
The upper limit to the number of lots you can apply for is 13, which means, 1495 shares. The minimum an investor has to pay for this IPO of Laxmi Organic is Rs 14,950. Similarly, the maximum one can invest in is Rs 1,94,350. Currently, the promoters of the company have 89.51% of the total holdings. After the IPO, this will decrease to 72.92%. That is a significant percentage of holding which tells us that promoters still believe in the future of the company. The allotment date and listing date for the IPO are 22nd March 2021 and 25th March 2021 respectively.
Laxmi Organic plans to use the net proceeds from the IPO in multiple ways. Yellowstone Fine Chemicals Private Limited (YFCPL) is one of their subsidiaries. A part of the proceeds will go for funding CAPEX and other working requirements for these subsidiaries. The sum will also be used for the expansion of the Speciality Intermediates (SI) manufacturing facility.
The company will also focus to purchase machinery for infrastructure development at the SI facility. Some part of the proceeds will also be used to repay or prepay the borrowing of the company and its subsidiary Viva Lifesciences Private Limited (VLPL). There are a lot of objectives and it will be seen how efficiently the company can manage to allocate the proceeds generated from the IPO.
Financial Overview
| | | | | |
| --- | --- | --- | --- | --- |
| * | 30 September 2020 | 31 March 2020 | 31 March 2019 | 31 March 2018 |
| Total Assets | 1,037.13 | 1,070.63 | 1,014.48 | 894.73 |
| Total Revenue | 814.35 | 1,538.62 | 1,574.32 | 1,396.07 |
| Profit after Tax | 45.48 | 70.21 | 72.39 | 75.69 |
(Values in Rs Crore)
Laxmi organic failed to match the revenue number last year but that can be attributed to Covid-19 effects as well. But one worrying sign is the decreasing profits for the last three years. In FY 18, the company generated profits worth Rs 75.6 crore. In FY 20, this number dropped to Rs 70.2 crore. But on the sunny side, Laxmi Organic has performed well this year. Till September, the first half of FY21, the company has generated a good amount of revenue and profits. If they can continue the trend, they will surely have a better year when compared to FY 20.
Earnings per Share is another important metric for investors like you and me. This metric has decreased from 3.03 to 2.86. This is not a major fall but surely a dip which we cannot ignore. Decreasing EPS is considered a negative sign for the company. They have a return on the net worth of 16.45% which is less than their competitors. Aarti Industries and SRF Limited have a RONW% of 18% and 21% (approximately) respectively.
IPO Details in Nutshell
| | |
| --- | --- |
| IPO Date | March 15, 2021 – March 17, 2021 |
| Issue Type | Book Built Issue IPO |
| Face Value | Rs 2 per equity share |
| IPO Price | Rs 129 to Rs 130 per equity share |
| Lot Size | 115 Shares |
| Offer for Sale (goes to promoters) | Aggregating up to Rs 300 crore |
| Fresh Issue (goes to the company) | Aggregating up to Rs 300 crore |
| Issue Size | Aggregating up to Rs 600 crore |
| Listing At | NSE, BSE |
| IPO Listing Date | March 25, 2021 |
Risk Factors
Covid-19 had a huge negative impact on Laxmi Organics. The capacity utilization was scaled down to 40%-60% capacity due to labour shortages by many leading chemical manufacturers. Laxmi Organics were forced to shut down its SI Manufacturing Facility for 15 days.
As conveyed before, a major part of their manufacturing facility is based in Maharashtra. Any social unrest, breakdown of services or any other natural disaster can force the company to shut down its operations.
The company is wishing to establish a manufacturing site for fluoro specialty chemicals. If customers are not attracted by this new product line, profitability will be affected massively. Thus, stalling their growth and affecting their operations in other industries as well.
Laxmi Organics depend a lot on their Research & Development (R&D). Any failure to manufacture sound products will adversely impact their business.
Their profitability depends a lot on the global prices of their products. A fall in the prices can severely hit its revenue collection.
Conclusion
Laxmi Organics are the leading manufacturer of ethyl acetate and has one of the largest portfolios of diketene products. They have a diversified customer base with a solid product mix. This gives varieties and helps to attract customers from different sectors. Thus, giving more business opportunities to the company. Currently, the financials are not that strong but this performance from March 21 to September 21 gives us huge confidence.
Can the current IPO spree attract investors to bet high on Laxmi Organics as well? I will wait till the end of 15th March and see how much the IPO is subscribed to. Do your own analysis about the company and let us know in the comments section if you find any other interesting information. Laxmi Organic filed its draft papers last December. You can find it here. Will you be applying for this IPO? Tell us in the comments section below!
Post your comment
No comments to display