Landmark Cars Ltd IPO: All You Need to Know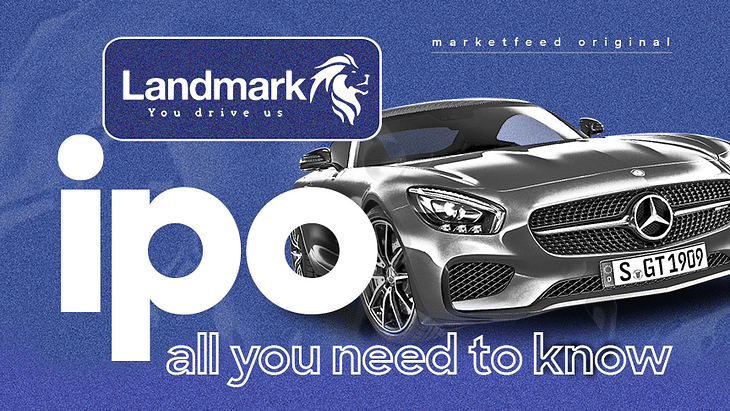 The second IPO of the week is here! Premium car dealer Landmark Cars has launched its initial public offering (IPO) today— Dec 13. In this article, we analyse the company and its IPO.
Company Profile - Landmark Cars
Established in 1998, Landmark Cars Ltd (LCL) is a leading premium automotive retail business in India. It has dealerships for Mercedes-Benz, Honda, Jeep, Volkswagen, Renault, and commercial vehicles of Ashok Leyland. The company has a presence across the automotive retail value chain:
Sales of new vehicles
After-sales service & repairs
Sales of pre-owned passenger vehicles
It also facilitates the sales of third-party finance and insurance products.
Landmark Cars was the #1 dealer in India for Mercedes-Benz in terms of retail sales in FY22. The company moved from a dealership model to an agency model for Mercedes cars in October 2021, and earns commissions on the sale of vehicles. LCL was also the top dealer for Honda and Jeep in terms of wholesale sales. They currently operate 112 outlets in 8 Indian states and union territories. It has 59 sales showrooms/outlets and 53 after-sales services and spare outlets.
Recently, LCL entered into an agreement with China-based BYD to become its dealer in the National Capital Region (NCR) and Mumbai.
About the IPO
Landmark Cars Ltd's public issue opens on Dec 13 and closes on Dec 15. The company has fixed ₹481-506 per share as the price band for the IPO.
The fresh issue of shares (of the face value of ₹5 each) aggregates to ₹150 crore. The IPO also includes an offer for sale (OFS) of 79.44 lakh shares by promoters and early investors. Individual investors can bid for a minimum of 29 equity shares (1 lot) and in multiples of 29 shares thereafter. You will need a minimum of ₹14,674 (at the cut-off price) to apply for this IPO. The maximum number of shares that can be applied by a retail investor is 377 equity shares (13 lots).
LCL will utilise the net proceeds from the IPO to repay/pre-pay certain borrowings.
The total promoter holding in the company will decline from 60.24% to 44.61% post the IPO.
Financial Performance
After posting a net loss of ₹28.94 crore in FY20, Landmark Cars turned profitable with increasing EBITDA margins over the next two years. The margins LCL receives for showroom sales are around 3.5%, while those for after-sales services are at ~18%. Meanwhile, revenue has grown at a healthy CAGR of 23.35% from FY20-22.
The company has a high debt-to-equity ratio of 1.25 as of FY22. [For every Rs 1 equity in the company, ₹1.25 exists as debt.] This is probably because the company has to maintain up to 40 days of inventory worth ~Rs 300 crore, and this amount is primarily funded through working capital loans and supplier credit.
The company posted a net profit of ₹18.14 crore and total revenue of ₹801.9 crore in the quarter ended June 2022 (Q1 FY23).
Risk Factors
Landmark Cars is subject to significant influence and restrictions imposed by OEMs based on the terms of dealership or agency agreements that may adversely impact its business.
The company's success depends on the value, marketing, and overall competitiveness of its OEMs' vehicle brands in India. Any damage to these brands or their failure to compete effectively in India could harm LCL's overall business.
A large portion of the company's business operations is concentrated in Gujarat and Maharashtra. Any economic downturn, political unrest, or natural disasters in these states may severely affect LCL's business.
LCL may not be able to achieve the expected benefits from its current or future dealership acquisitions.
IPO Details in a Nutshell
LCL filed the Red Herring Prospectus (RHP) for its IPO on Dec 5. You can read it here. Out of the total offer, 50% is reserved for Qualified Institutional Buyers (QIBs), 15% for Non-Institutional Investors (NIIs), and 35% for retail investors.
Ahead of the IPO, Landmark Cars raised ₹165 crore from anchor investors. The marquee investors include HDFC Mutual Fund, Nippon Life India, Goldman Sachs, Aditya Birla Sun Life, and Morgan Stanley.
Conclusion
Demand for luxury and premium cars in India has jumped to new highs over the past year. According to an Economic Times report, at least two Indians have been spending over ₹2-2.5 crore daily on supercars in 2022! For instance, Mercedes Benz posted a 28% jump in sales in India at 11,469 units in Jan-Sept 2022, surpassing what it sold in the whole of 2021. Buyers of premium cars were unaffected by wealth contraction in the last two years of the Covid-19 pandemic!
Going forward, LCL plans to expand its business in the high-growth premium and luxury passenger vehicles segments, including utility vehicles and electric vehicles. It also aims to grow its after-sales service offering to cater to more customers and enhance higher-margin service and repair revenues.
The company has received some interest in the grey market. LCL's IPO shares are trading at a premium of ₹31 in the unofficial market. Before applying to this IPO, we will wait to see if the portion reserved for institutional investors gets oversubscribed. As always, do consider the risks associated with the company and come to your own conclusion.
What are your opinions on this IPO? Will you apply for it? Let us know in the comments section of the marketfeed app.
Post your comment
No comments to display