Key Levels Taken Out! Bearishness Continues - Post-Market Analysis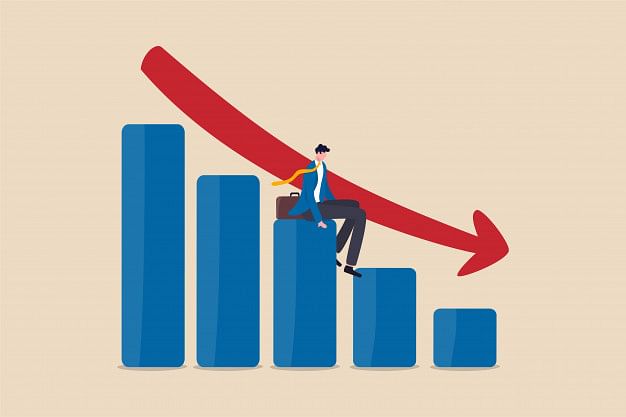 NIFTY started the day flat at 19,286. After an initial up-move to 19,350 levels, the index fell 270 points to 19,075. During the decline, Nifty tried taking support at 19,200 levels, took rejection near yesterday's low, and continued the fall. The index consolidated post 1:30 PM and finally closed at 19,122, down by 159 points or 0.83%.
BANK NIFTY (BNF) started the day at 43,308 with a gap-up of 157 points. After an initial consolidation, the index fell nearly 600 points from the intraday high (continuing the fall from yesterday). BNF closed at 42,832, down by 319 points or 0.74%.
All major indices except Nifty PSU Bank (+0.17%) and Nifty Metal (+0.15%) closed in the red. Nifty Media (-1.6%) and Nifty IT (-1.03%) fell the most.

Major Asian markets closed in the green. European markets are currently trading up to 0.4% in the red.
Today's Moves
Coal India (+1.37%) was NIFTY50's top gainer. ICICI Securities has maintained a 'Buy' advisory on the stock and raised its target price from ₹325 to ₹395.
Welspun India (+11.2%) hit a one-year high after the company posted strong Q2 results on the back of higher demand for home linens.
Amber Enterprises (+6.49%) jumped after several analysts raised the stock's target price even as the company's losses for Q2 FY24 widened over last year.
Infosys (-2.7%) was NIFTY50's top loser. The stock turned ex-dividend today.

Shares of Jubilant Pharmova (-7.7%) fell sharply today.
Markets Ahead
Bearishness continues in the Indian market! Nifty and Bank Nifty have broken down major supports. After this fall, the indices might undergo volatility or a small retracement.
Nifty: The important support for the index is near 18,900 levels, which is a bit far from the spot. It is a major target that could be expected in the coming days. The index may retrace a bit in between. Meanwhile, the major resistance will now be 19,200 levels (the earlier support levels). If that level is crossed, the targets could be 19,260 and 19,350.
Bank Nifty: The next major support to consider in BNF is 42,500. The major resistance level to watch out for will be 43,000. If that level is breached, we can expect the index to move up to 43,180 and 43,450 levels. But for a major trend reversal, the index has to cross 43,700.
Major indices have stretched a lot on the downside over the past few days. So a retracement or some profit booking could be seen going forward, which can take the markets up a little. But look for sell-on-rise opportunities only till major resistances are crossed.
Please join The Stock Market Show at 7 PM on our YouTube channel.
Post your comment
No comments to display