JSW Steel's Crude Steel Output Rises 31% in May - Top Indian Market Updates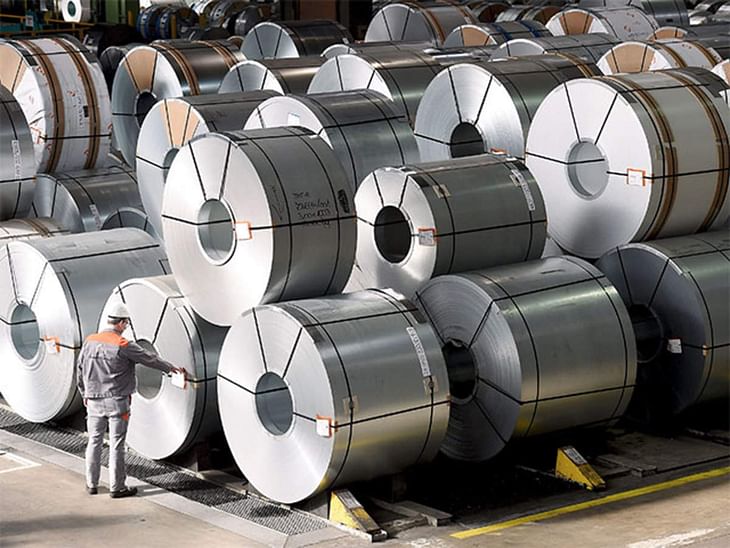 Here are some of the major updates that could move the markets tomorrow:
JSW Steel crude steel production rises 31% in May
JSW Steel Ltd's crude steel production (standalone) increased by 31% year-on-year (YoY) to 17.89 lakh tonnes in May. The production of flat-rolled products also expanded by 29% YoY to 12.84 lakh tonnes. The company's production of long items stood at 3.86 lakh tonnes, up 25% YoY. Currently, JSW Steel has an installed annual crude steel capacity of 18 million tonnes in India.
Read more here.
Jio-bp to power Zomato's 100% electric vehicle fleet
Jio-bp has entered into an agreement with Zomato Ltd to support the food delivery company's commitment toward a 100% electronic fleet by 2030. The joint venture between Reliance Industries and UK-based bp will provide electric vehicle mobility services to Zomato. It will also offer access to Jio-bp pulse branded battery swapping stations for last-mile delivery.
Read more here.
UPL's arm acquires 100% stake in Kudos Chemie
UPL Speciality Chemicals Ltd, a wholly-owned subsidiary of UPL Ltd, has acquired a 100% stake in Punjab-based Kudos Chemie Ltd. Kudos manufactures speciality chemicals used as ingredients in the beverages and pharmaceutical industries. It has a manufacturing facility near Chandigarh. UPL has paid Rs 40 crore as the total consideration for the acquisition.
Read more here.
SEBI issues demand notices to BSE, NSE in Karvy Stock Broking case
The Securities & Exchange Board of India (SEBI) has sent notices to stock exchanges BSE and NSE, asking them to pay over Rs 5 crore in a case related to Karvy Stock Broking Ltd (KSBL). It has warned of attachment of assets and bank accounts if they fail to make the payment within 15 days. In an order dated April 12, SEBI had imposed a penalty of Rs 3 crore on BSE and Rs 2 crore on NSE for failure on their part in detecting misuse of clients' securities by KSBL.
Read more here.
Tata Power Solar commissions 66 MW project for Vibrant Energy
Tata Power Solar Systems Ltd (TPSSL) has commissioned a 66 megawatt (MW) EPC project for Vibrant Energy. The project is expected to generate up to 110,029 units of energy per year, resulting in a 9 lakh tonne reduction in carbon emissions. It covers 191 acres and includes 1,27,268 solar modules. TPSSL's entire utility-scale solar project portfolio now stands at 9.7 gigawatt-peak (GWp).
Read more here.
Lupin opens first reference laboratory in Patna
Lupin Diagnostics, a subsidiary of Lupin Ltd, has opened its first regional reference laboratory in Patna, Bihar. The lab has the capabilities to conduct a broad spectrum of routine and specialized tests in the fields of molecular diagnostics, microbiology, hematology, immunology, and routine biochemistry. Lupin Diagnostics now operates through more than 280 centers across India.
Read more here.
Nazara Tech plans to invest and acquire more gaming studios in India and abroad
Nazara Technologies Ltd's MD Nitish Mittersain said the company is planning to invest and acquire more gaming studios in India and abroad. It aims to scale up the premium business segment rapidly this year and next. Nazara Tech operates a gaming and sports media platform in India and internationally.
Read more here.
India's trade deficit at $24.29 billion in May
India's trade deficit widened to $24.29 billion in May 2022, compared to $6.53 billion a year ago. Total imports rose 62.83% YoY to $63.22 billion, while imports rose 20.55% YoY to $38.94 billion. Petroleum and crude oil imports surged 102.72% to $19.2 billion in May. Imports of coal and coke increased from $2 billion in May 2021 to $5.5 billion in May 2022.
Read more here.
Cabinet approves 5G spectrum auction
The Union Cabinet has approved a proposal of the Department of Telecommunications (DoT) to conduct a 5G spectrum auction. Spectrum will be assigned to successful bidders for providing 5G services to the public and enterprises. The government will auction a total of 72097.85 MHz spectrum with 20 years of validity by July end.
Read more here.
Post your comment
No comments to display