Jio-BP to Set Up EV Charging Infra at Omaxe Properties - Top Indian Market Updates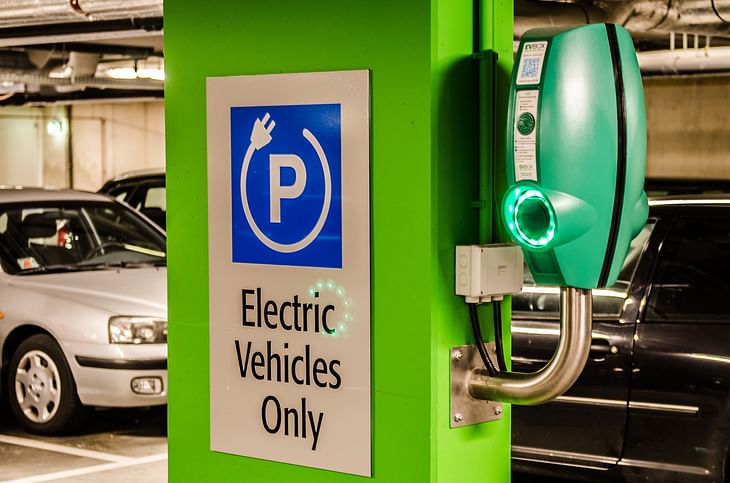 Here are some of the major updates that could move the markets tomorrow:
Jio-BP to set up EV charging infra at Omaxe properties
Real estate developer Omaxe Ltd has partnered with Jio-bp to establish a battery charging ecosystem for electrical vehicles. Jio-bp is a fuel and mobility joint venture (JV) between Reliance Industries and UK-based bp. The JV will install 24x7 EV charging and swapping infrastructure for two and four-wheelers at Omaxe properties across India.
Read more here.
Shriram Transport Finance raises $250 million loan from DFC
Shriram Transport Finance Company Ltd (STFCL) has secured long-term funding of $250 million (~Rs 1,944 crore) from the US International Development Finance Corporation (DFC). The external commercial borrowing is a fixed-rate 10-year loan. The funds raised from DFC will enable STFCL to on-lend for the purchase of new and used vehicles throughout India.
Read more here.
UltraTech Cement partners with Coolbrook to reduce CO2 emissions at plants
UltraTech Cement has signed a Memorandum of Understanding (MoU) with Finland-based Coolbrook to explore the possibility of reducing CO2 emissions from its cement manufacturing operations. The two entities will explore electrification of the cement kiln heating process. They aim to develop optimal electric process heating solutions for the cement manufacturing process replacing fossil fuels.
Read more here.
Welspun Corp, Tata Steel to manufacture pipes for hydrogen transportation
Welspun Corp Ltd (WCL) has partnered with Tata Steel to develop the framework and manufacture pipes for transporting pure hydrogen and natural gas-blended hydrogen. Through this strategic collaboration, WCL aims to assess the suitability of its "green" pipes for the transportation of pure hydrogen.
Read more here.
Fino Payments Bank partners with Go Digit for shop insurance policy
Fino Payments Bank Ltd has exclusively partnered with Go Digit General Insurance Ltd to offer shop insurance policies to small and medium business owners. The tie-up will allow businesses to avail the benefits of Go Digit's My Business Policy in case of an adverse event. Fino is associated with Go Digit as a corporate agent.
Reliance closes in on Boots acquisition, makes binding offer
The consortium of Reliance Industries Ltd (RIL) and US buyout firm Apollo Global Management Inc. has moved closer to acquiring Walgreens Boots Alliance Inc's international chemist and drugstore units. The bid for the Boots business is fully backed by committed financing. If completed, the deal will be RIL's largest cross-border acquisition.
Read more here.
Coal India floats its first tender for coal imports
Coal India Ltd (CIL) has floated an international competitive bidding e-tender, seeking bids for importing 2.416 million tonnes (MTs) of coal. The coal being sourced on behalf of the state generating companies (gencos) and independent power plants (IPPs) is based on the indents (order) received from them for the period of July-September of FY23.
Read more here.
Iraqi Airways goes live on Ramco Systems' aviation system
Ramco Systems Ltd has successfully gone live at Iraqi Airways with its Aviation M&E MRO Suite V5.9. It has completely digitalized all core business processes of the airways. Ramco's next-gen digital platform offers Iraqi Airways real-time data availability, ensuring 100% aircraft airworthiness on the release.
Read more here.
Equity mutual fund inflows rise 16% in May: AMFI
Net investments into equity and equity-linked schemes rose 16% over the previous month to Rs 18,529.4 crore in May. Multi caps witnessed the least investments among all categories, while large caps saw the most. The monthly contribution to systematic investment plans (SIPs) grew by Rs 423.33 crore in May. The data was released by the Association of Mutual Funds in India (AMFI).
Read more here.
Post your comment
No comments to display