Jio-bp to Set Up Charging Network for M&M - Top Indian Market Updates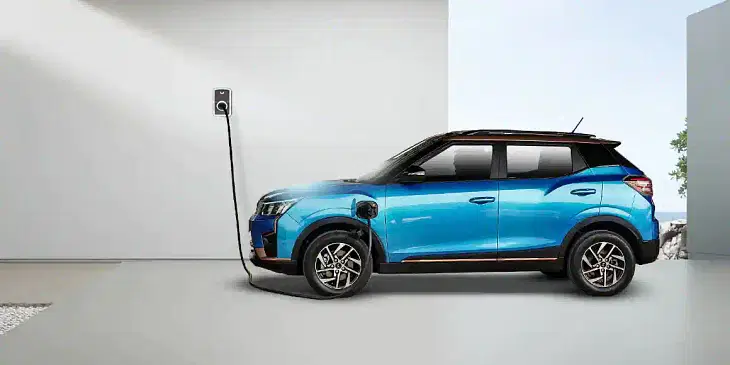 Here are some of the major updates that could move the markets tomorrow:
Jio-bp to set up charging network for M&M's upcoming e-SUVs launches
Jio-bp said it will set up a charging network for Mahindra & Mahindra's upcoming electric SUV launches. Starting with 16 cities, Jio-bp will install DC fast chargers at M&M's dealership network and workshops across India. M&M launched its first all-electric SUV, the XUV400, at Mahindra Research Valley in Chennai earlier this month. Jio-bp is a fuels & mobility joint venture between Reliance Industries Ltd (RIL) and UK-based bp.
Sobha achieves highest-ever quarterly sales value in Q2
Sobha Ltd achieved its highest-ever quarterly sales value of ₹1,164 crore during the Sept quarter (Q2 FY23), up 13% YoY. In terms of volume, total sales fell 0.89% YoY to 1.35 million sq. ft. during the same period. Total average price realization improved to ₹8,709 per square feet in Q2, registering a growth of 14% YoY. 
Sobha has launched three new residential projects— two in Bangalore and one in Thiruvananthapuram with a total saleable area of 880,893 sq. ft.
Read more here.
India to offer 26 blocks for producing oil, gas in mega offshore bid round
The Directorate General of Hydrocarbons said the Indian government will offer 26 blocks or areas for finding and producing oil & gas in a mega offshore bid round. Out of the 26 blocks, 15 areas are in ultra-deepwater, 8 in the shallow sea, and 3 blocks are onland. Around 16 areas for prospecting for coal-bed methane (CBM) are also being offered in a separate round.
Read more here.
Power Grid acquires SPV to build transmission project
Power Grid Corporation of India has acquired 100% equity in a special purpose vehicle (SPV) to build an inter-state transmission project for eastern and northeastern regions. The consideration paid for the acquisition was ₹7.04 crore, including 50,000 equity shares and assets & liabilities of the company. The SPV is yet to start commercial operations.
Read more here.
JSW Neo Energy to develop 126 MW Chhatru hydel project in Himachal Pradesh
JSW Neo Energy (a subsidiary of JSW Energy Ltd) has received a Letter of Intent from the Himachal Pradesh government for developing the 126 megawatts (MW) Chhatru hydro-power plant. JSW Energy has set an ambitious target for a 50% reduction in its carbon footprint by 2030 and to achieve carbon neutrality by 2050. It has set a target to reach 20 GW capacity by 2030, with the share of renewable energy increasing to 85%.
Read more here.
Marksans Pharma to acquire Teva's manufacturing site in Goa
Marksans Pharma has entered into an agreement with Israeli drugmaker Teva to acquire its manufacturing site in Goa on a slump sale basis. The Mumbai-based company has agreed to retain the site employees with existing terms of employment. Marksans Pharma has also entered into a business transfer agreement with Tevapharm India to acquire its business relating to the manufacture and supply of bulk pharmaceutical formulations.
Read more here.
L&T Construction wins order under its water and effluent treatment business
Larsen & Toubro Ltd's (L&T) construction arm has secured a significant contract (in the range of ₹1,000-2,500 crore) from the Government of Odisha to execute irrigation projects. The scope of work includes the execution of 23 lift irrigation schemes consisting of intake points spread across Anandapur Left Main Canal, Bidydharpur Barrage, Hadagarh Reservoir, Anandapur Barrage & Kharsua, Kani & Baitarani Rivers.
Read more here.
NMDC signs pact with RailTel for ICT and digital solutions
NMDC and RailTel Corporation of India have entered into an agreement covering the information & communications technology (ICT) and digital transformation services of NMDC at its corporate offices and mining complexes. This partnership will focus on the optimal utilization of resources and build mineral accountability. RailTel will provide consultancy, project management, and execution services to enhance NMDC's efficiency and transparency.
Read more here.
G M Breweries Q2 Results: Net profit rises 4% YoY to ₹22 crore
G M Breweries Ltd reported a 3.8% YoY (or 40.4% QoQ) increase in net profit to ₹22.69 crore for the quarter ended September (Q2 FY23). The company's revenue from operations rose 22.35% YoY to ₹141.86 crore during the same period. Total expenses stood at ₹532.60 crore in Q2, up 26.11% YoY. G M Breweries manufactures country liquor (CL) and Indian-made foreign liquor (IMFL).
Read more here.
Dr Reddy's Labs' plant gets World Economic Forum recognition
The World Economic Forum has recognised Dr. Reddy's Laboratories Ltd's largest manufacturing facility in Bachupally, Hyderabad, as part of its Global Lighthouse Network. Lighthouses are factories leading the way in Fourth Industrial Revolution technologies to drive impact in productivity, workforce engagement, sustainability, and supply chain resilience.
Read more here.
Post your comment
No comments to display