Jet Airways Relaunch Faces Delays - Top Indian Market Updates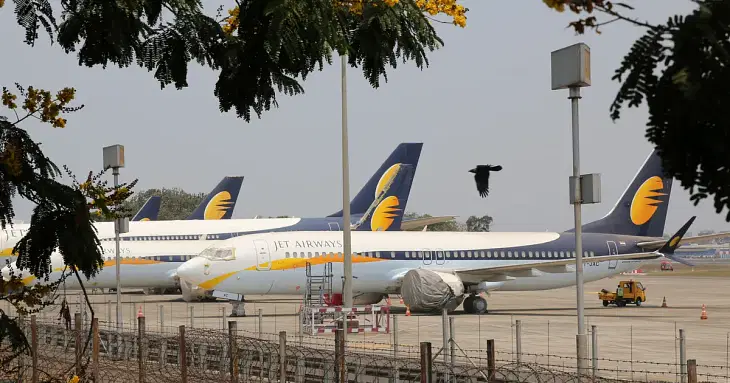 Here are some of the major updates that could move the markets tomorrow:
Jet Airways facing more delays: CEO Sanjiv Kapoor
Jet Airways Ltd's potential new owners, the Jalan-Kalrock consortium, have been trying to relaunch operations this month. However, the airline faces more delays due to unresolved negotiations between the management and engine makers on more favourable terms in its proposed leasing contracts.
"We will start operations in a planned and phased manner and share details of our fleet, customer value proposition, and business model when we open for sale," said CEO Sanjiv Kapoor.
Read more here.
AGEL commissions 325 MW wind power project in Madhya Pradesh
Adani Green Energy Ltd (AGEL) has commissioned a 325 megawatts (MW) wind energy plant in Dhar, Madhya Pradesh. The plant has two 25-year Power Purchase Agreements (PPAs) with Solar Energy Corporation of India (SECI) at a tariff of Rs 2.83 per kilowatt hour (kwh). The Adani Group will manage the newly commissioned plant via its 'Energy Network Operation Centre' platform.
Read more here.
NARCL to buy 18 distressed accounts totalling ₹39,921 crore by Oct 1: Report
As per an ET Now report, the National Asset Reconstruction Company of India Ltd (NARCL) is preparing to acquire 18 distressed accounts worth ₹39,921 crore by October 31. The bad bank informed lenders that it has created two lists– Phase 1 comprised eight accounts with a debt of ₹16,744 crore. Phase 2 has 10 accounts with a debt of ₹18,177 crore.
Read more here.
Welspun Corp secures order for pipeline project in the US
Welspun Corp has secured a significant order for a carbon capture pipeline project in the United States. The company will supply 785 miles (1,256 km) or 100,000 MT of high-frequency induction welding pipes. The pipes for the order will be produced at the company's manufacturing plant in Little Rock, Arkansas, and executed in FY23-24.
Read more here.
Delhi HC allows Natco Pharma to launch Chlorantraniliprole
The Delhi High Court has allowed Natco Pharma to launch Chlorantraniliprole (CTPR) and its formulations through its non-infringing process. CTPR technical is formulated into broad-spectrum insecticides for pest management on a wide range of crops. Natco Pharma estimates the current market size of products containing CTPR in India to be over ₹2,000 crore.
Read more here.
Hatsun Agro Products' board approves rights issue of ₹400 crore
The Board of Directors of Hatsun Agro Products Ltd has approved the proposal for a rights issue aggregating to ₹400 crore. The issue will be available for all existing shareholders. The eligible shareholders will be determined on the record date, which the company will announce in due course.
Read more here.
Olectra secures order to supply 123 e-buses to Thane Municipal Transport Undertaking
A consortium formed by Olectra Greentech and EVEY Trans has secured an order for 123 electric buses from the Thane Municipal Transport Undertaking. EVEY Trans will procure these e-buses from Olectra Genentech and deliver them in nine months. Meanwhile, Olectra will maintain the buses during the contract period of 15 years. The total value of the order is ₹185 crore.
Read more here.
Dixon Tech signs deal with Ibahn for advanced lighting technology
Dixon Technologies (India) Ltd has entered into a binding term sheet with Delhi-based Ibahn Illumination, whereby Ibahn has agreed to transfer its cutting-edge technologies of smart lighting solutions. Ibahn's BLE Mesh Smart Lighting (app, firmware, hardware, and cloud-hosted database) provides consumers with Wi-Fi-based technology solutions for its lighting products.
Read more here.
PSP Projects secures work orders worth ₹167 crore
PSP Projects Ltd has secured orders worth ₹167.35 crore in the industrial, precast and residential segments. This includes a major order to construct Phase 2 of a Noodle Factory from a repeat client. With receipt of the above orders, the total order inflow for FY2022-23 till date amounts to ₹1,511.58 crore.
Read more here.
SEBI introduces framework to prevent misuse of clients' securities by brokers
The Securities & Exchange Board of India (SEBI) has introduced a new framework that will prevent the misuse of clients' securities and funds by their stock brokers. Under the framework, depositories need to validate the transfer instruction for pay-in of securities from client Demat accounts to trading member pool accounts against obligations received from the clearing corporations.
In other news, SEBI is looking to boost surveillance of social media and other platforms through a web intelligence tool. Using data analytics, the tool will help to investigate violations of various securities laws by individuals, groups, and other entities.
Read more here.
Post your comment
No comments to display