Jet Airways: Jet, Set, Gone? Or Can it Succeed?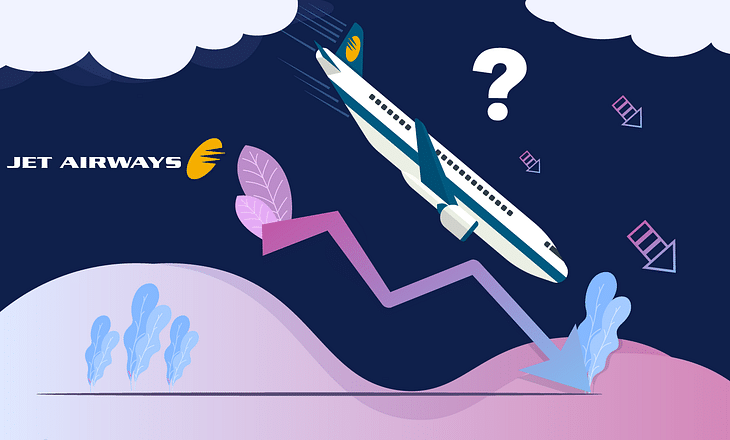 Jet Airways is back in the news, this time with some positivity. A group of investors, Murari Lal Jalan (stay tuned for his bio), and UK-based financial services company Kalrock Capital have won the bid to buy Jet Airways in a vote by the CoC or Consortium of Creditors. The CoC consists of all the creditors to whom Jet Airways owes money. The duo would have to invest close to Rs 1,000 crores to get the operations up and running in its initial stage. However, the company won't be operational before next year. Let's take a peek into what caused Jet to shut down in the first place.
Jet Airways halted its international as well as domestic operations on April 17, 2019. It was once a symbol of luxury, customer loyalty, and service par excellence. Moreover, Air India was its only competitor for a long time in the '90s. Later, Jet was faced with debts, competition by low-cost carriers, tax evasion notices, poor top management, and money mismanagement allegations. Jet Airways was on the verge of closure in the past but got back on its feet when Etihad bought a 24% stake in 2013 for more than Rs 2,100 crores. Despite this, the airline fell into deeper losses.Let's dig into what caused Jet Airways to shut shop.
Why Jet Airways failed
Irrational Spending
Experts believe that Jet Airways' account of irrational spending dates back to 2006 when it purchased Air Sahara, the low-cost carrier for $500 Million in cash. This acquisition was considered over-valued by most market watchers considering Air Sahara's budget business model and fleet size as compared to Jet Airways' full-service model.
Jet Airways dominated the industry after the acquisition of Air Sahara, but the acquisition came with its own set of problems. These were mostly about due diligence, legalities, regulatory matters, compensation, human resource issues, leadership, and integration strategies.
Competition
Jet Airways needed a MASSIVE restructuring in its company. It was a full-service airline venturing into low-cost flying. However, by the time it could restructure, market players like Spicejet, Indigo, and Go-Air had started a fiercely competitive price war. Their aircrafts and engines were brand-new and fuel-efficient. They adopted a budget-friendly strategy.
Fun Fact: Indigo and GoAir employ only female cabin crew since on average they are 15-20 kg lighter than their male counterparts. This helps them save close to Rs 30 crores every year in terms of fuel cost. Every extra-kilogram on the flight costs airlines Rs 5 per flight hour.
It was getting difficult for Jet Airways in this fiercely competitive market where flying wasn't just a luxury anymore, it was a necessity.
Poor Management
Both Jet Airways and Jet Lite (later Jet Konnect) had a single team headed by Naresh Goyal, the founder and chairman. It was this one team; that was handling both the full-service carrier as well as the budget carrier, Jet Konnect. The operation of a budget carrier and a full-service airline is different. Jet Airways used the same tool or mechanism to run both. When Jet Konnect merged with Jet Airways after a financial crisis, Jet Airways continued to hold two operating licenses while technically operating a single airline. This added to cost and caused some operational problems.
The Tatas had offered to buy a stake(undisclosed) in Jet Airways in 2018, chairman Naresh Goyal refused to dilute his share of stake for Tata. Shortly after this, two of Jet's independent directors, two independent directors - Vikram Mehta Singh and Ranjan Mathai - resigned in November 2018, the same month the Tatas were in talks with the board. The promoters and chairman put their interests before the minority stakeholders' interest. The cash flow and debt management of Jet Airways were pretty mediocre in popular opinion.
The fluctuation of Oil Prices
Oil prices have been all over the place in the past few years. Crude oil prices affect the ATF(Aviation Turbine Fuel) prices. Moreover, ATF is much more expensive in India than around the world. India continues to be a major importer of oil. The rising crude oil prices coupled with the depreciating rupee is a burden for many airlines.
The Scavenging Effect
After Jet ceased operations, the entire aviation industry benefited from it. Other airlines captured Jet Airways' market share by leasing their aircraft, obtaining their airport slots, hiring the laid off staff of Jet Airways and capturing the lost customer base .
Airfares increased shortly after Jet Airways ceased operations. Spicejet and Vistara leased Jet's aircraft. IndiGo acquired more slots from Mumbai's Terminal 2 and Delhi's Terminal 3. Many airlines acquired Jet Airways' aircraft, terminal slots, and routes. Spicejet absorbed much of Jet's staff and its older aircraft variant, the B737 NG. It even added a premium 'Business Class' to its fleet.
Vistara managed to expand its focus from Mumbai and Delhi. It obtained slots of Mumbai – Bangalore, Mumbai – Chennai, Mumbai – Hyderabad, and other such routes establishing Pan-India operations. All the airlines at a major scale absorbed much of Jet's assets, routes, and employees.
How Much More?
There is a lot of work to be done before the first flight takes off like charting out a plan for the new fleet that the airline will have, deciding on key positions of the company, figuring out the routes, and other paperwork involved.
Jet Airways owes a lot of money to investors and banks, roughly close to Rs 14,000 croresCrores. However, Jet doesn't have much liquidity to offer to the creditors. The sale of assets won't fetch the creditors much money. Some of the debt will be converted to equity which might bring relief to some creditors. As far as debt is concerned Jet is indeed in a puddle. Bank stocks went up as well, after the revival of Jet Airways was announced.
There is a lot of work to be done before the first flight takes off like charting out a plan for the new fleet that the airline will have, deciding on key positions of the company, figuring out the routes, and other paperwork involved.

Jet Airways before it opens up will have to be firm on the following aspects:

What routes is Jet Airways going to fly?. International operations might be tricky given the COVID-19 situation
How many airport slots will it be able to get back? It will have to use
What will be its fleet like? Currently, it owns only 6 old fleets.
How does it intend to cover the debt that it owes?
Who is going to be the CEO? Murari Lal Jalan hasn't operated an airline before and Kalrock is a financial services firm.
A plan on how and when Jet Airways will hit break-even and turn a profitable airline where even established players are struggling.
A strategy to recapture its brand value. A rebranding could be a possibility.


Finally, on a positive note for Jet Airways, it might be easier than it seems to revive it. COVID-19 has pushed many airlines to vacate airport slots. The aircraft lessors have reduced their prices, therefore Jet Airways can get the fleet for cheap. The fuel costs for aircraft too have gone down considering reduced demand. Jet Airways has been operational for close to 3 decades, which gives it a name and repute in the market. Considering that there are not many full service carriers in India and not many airlines that offer wider international connectivity, Jet Airways seemingly can fill the void.
Post your comment
No comments to display