Can IT Firms Maintain Job Satisfaction Rates?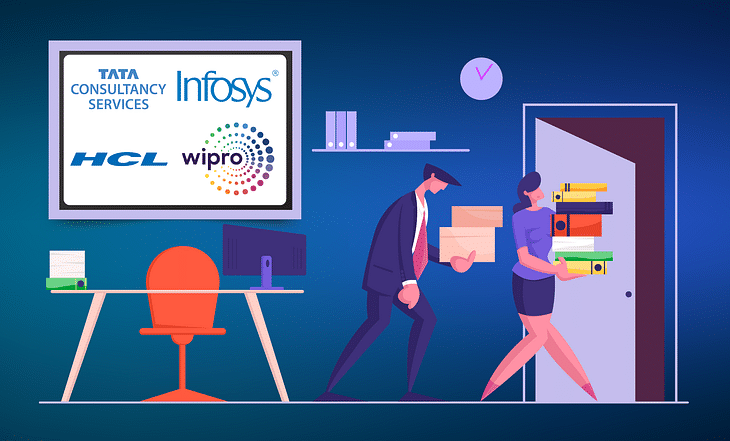 You may have noticed many IT companies hiking salaries and hiring more employees when the rest of India is going through a devastating economic slowdown. These firms have been successful in adopting a strong work-from-home (WFH) model, which has proved to be highly beneficial. However, while most IT firms posted record-breaking results in the previous quarters, a large portion of their workforce have resigned from their posts. We are noticing some of the dark sides of the tech industry. This is causing a state of panic amongst leading players in the IT sector.
Let us find out some of the actual reasons behind this. Is there a deep underlying problem that is affecting the IT industry?
High Attrition Rates a Problem?
When Information Technology (IT) companies posted their results for the January-March quarter (Q4 FY21), many revealed a significant rise in attrition rates. This rate signifies the number of employees who had either resigned or retired, and are not replaced. A higher attrition rate reveals that employees are not satisfied with their roles. The IT industry is prone to high attrition rates as employees have to endure long working hours and pressure of meeting targets. This often leads to burnout and lack of motivation, and they are forced to quit for their own well-being. It signifies a larger systemic issue within the IT sector. This could ultimately affect the overall performance of a company. It is quite difficult to replace employees, and firms often incur high costs for the same.
India's largest IT company, Tata Consultancy Services (TCS), said its attrition rate stood at 7.2% in Q4. Infosys reported a jump in attrition rate to 15.2%, compared with 10% in the previous quarter (Q3). Wipro's voluntary attrition for Q4 rose to 12.1% from 11% in the previous quarter. HCL Technologies reported an attrition rate of 9.9% in the March quarter. The attrition rate of Happiest Minds Technologies stood at 12.4%. All these figures indicate that a large number of employees across the IT industry are quitting their jobs.
Sharp Demand for Talent
Since the onset of the Covid-19 pandemic, there has been a high demand for top digital skills such as cloud engineering, big data, Internet of Things (IoT), cybersecurity, digital transformation, and much more. Tech companies are receiving massive orders from enterprises to accelerate their digital transformation initiatives. As a result, these IT firms are ensuring better pay for their existing employees and offering higher benefits for skilled freshers.
Infosys announced that it will expand its Employee Stock Option Program (ESOP) to include more employees. ESOP is a type of benefit plan that allows employees to acquire shares of the firm at a predetermined price. It is often used as a strategy to align the interest of a company's employees with those of the shareholders. Infosys plans to use this option to retain its existing employees and boost morale. It would also help them to attract new talent. The IT firm has also set up 'digital skill tags' that aim to give bonuses across multiple levels. A salary hike (based on the ongoing review cycle) will be provided in July.
Tata Consultancy Services (TCS) had announced salary hikes for all employees in April. Many senior employees received hikes in the range of 6-8%. The company is planning to hire 40,000 freshers in the current financial year (FY22). This will help reduce the workload of its existing employees.
Wipro had rolled out salary hikes in January. They are planning to introduce a further hike in June as well. Wipro has also announced plans to hire more freshers in FY22 as compared to the previous year. The Bengaluru-based IT company had onboarded more than 9,000 freshers in the previous year.
HCL Tech said it would employ up to 20,000 freshers this year to meet the demand rising from its large deals or projects. The company also offered a skill-based allowance of 25-30% of their salaries to about 16,000 employees.
Will IT Firms Continue to Face Difficulties?
As we can see, all major IT and Business Process Management (BPM) companies are tackling issues related to the alarming demand for a skilled workforce. They are in a race to hire the best talent by providing massive salary packages, bonuses, and employee perks.
Despite these impressive monetary benefits, a large number of employees in the IT industry continue to leave their jobs after a few months of onboarding. According to a report from HAN Digital (an HR consulting firm), around 10 crore IT-BPM employees would potentially resign from their existing posts in 2021. The data from across 100 companies between January and March indicates that the IT sector is likely to face an attrition rate of 22% by the end of 2021. Many seek better working conditions and more opportunities to express their knowledge and creativity. Moreover, people are giving more importance to their physical and mental well-being during these difficult times.
Last year, the technology sector had to shift systems and employees online, which led to higher costs. Now, companies often incur a very high cost when they lose a top-performing employee. Salary hikes would also affect the operating margins of the top firms. Firms will have to focus on creative and interactive strategies to keep their employees satisfied. Apart from monetary benefits, IT professionals require more qualitative benefits and engagements. Let us look forward to seeing how TCS, Wipro, HCL Tech, Infosys, and other prominent IT companies handle these challenges and control extra costs.
Post your comment
No comments to display