Is Vodafone Idea Staring at Slow Death?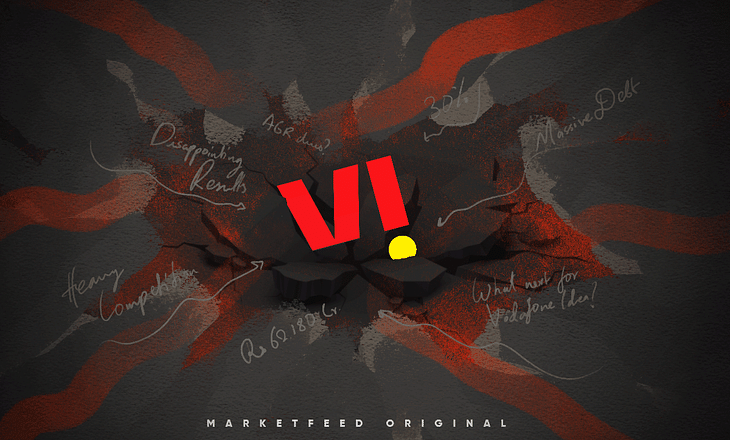 Vodafone Idea Ltd (Vi) has been all over the news lately. Unfortunately, none of the reports about the company are positive. They are losing lakhs of subscribers rapidly and are destined to file for bankruptcy soon. There is a high level of uncertainty surrounding the survival of the telecom operator. Many feel that Vi is staring at slow death. The company's shares have plummeted nearly 30% over the past month.
In this article, we take a closer look into the current state of Vodafone Idea and its recent financial performance.
Vi's Massive Debt
With the exception of Reliance Jio, the major players in the Indian telecom industry are struggling with high debt. Companies have to pay hefty charges for operating and using the public airwaves in our country. They obtain rights to transmit signals over specific bands through telecom spectrum auctions. As of 2019, telecom operators collectively owed nearly Rs 1.47 lakh crore to the Centre. They were offered an extension of two years to pay off all financial obligations with interest. Vodafone Idea's deferred spectrum charges stand at Rs 1.06 lakh crore! Reports suggest that Vi will have to pay an installment of ~Rs 16,000 crore at the end of March 2022.
Then comes Adjusted Gross Revenue (AGR) dues. Under this revenue-sharing model (introduced in 1999), telecos are required to share a percentage of their total income with the government as annual license fees and spectrum usage charges. AGR covers the revenue earned by telecom firms, including from non-telecom sources such as deposit interests and the sale of assets. [Read more on AGR dues here].
Vodafone Idea's total liability towards AGR dues stands at Rs 62,180 crore (as of June 30, 2021)! An installment of ~Rs 8,400 is due in March 2022. Moreover, Vi's debt from banks and financial institutions stands at Rs 23,400 crore. All these have caused a severe dent in the company's balance sheet.
Heavy Competition
As we know, Vodafone Idea faces stiff competition from Reliance Jio Infocomm and Bharti Airtel. Jio dominates India's mobile market and has maintained over 35% gross subscriber market share since July 2020. They plan on launching 5G services very soon. On the other hand, Bharti Airtel had outperformed Jio in terms of active subscriber rates over the past few quarters. In February 2021, they also became the first telecom company to demonstrate 5G over a live commercial network in India (in Hyderabad).
Meanwhile, Vodafone Idea has been losing lakhs of subscribers. The company has been in deep trouble ever since Jio introduced aggressive tariff rates in India. From November 2019 to February 2021, Vi reportedly lost over 5 crore subscribers. Their rivals had collectively added over 6.6 crore subscribers during the same period. The cash-strapped company is finding it extremely difficult to compete with low tariff rates and invest in 4G/5G infrastructure.
Vi's management has to constantly focus on retaining customers and paying their AGR dues.
Disappointing Q1 Results
Vi posted its quarterly results for the April-June quarter (Q1 FY22) on August 14, 2021. The results were below the street/analysts' estimates. Let us look at the main highlights:
Vodafone Idea reported a net loss of Rs 7319.1 crore for the quarter ended June (Q1 FY22). It had posted a net loss of Rs 7,022.8 crore in the previous quarter (Q4 FY21). Net loss in Q1 FY21 stood at Rs 25,460, mainly due to provisioning for AGR dues liability.
The telecom operator's revenue fell 4.7% QoQ (or 14% YoY) to Rs 9,152.3 crore in Q1. This is the company's lowest quarterly revenue in more than two years. Fewer recharges due to localised lockdowns, free validity extensions for low-cost customers, and a general slowdown in economic activity affected revenue in Q1.
Vi's wireless subscriber base stood at 25.54 crore as of June 30, 2021. Unfortunately, they had lost 1.23 crore subscribers since March. The 4G subscriber base stood at 1.23 crore, a decline of 10 lakh subscribers during the quarter.
The Average Revenue Per User (ARPU) declined to Rs 104 in Q1 FY22, compared to Rs 107 in Q4 FY21. For comparison, Bharti Airtel had an ARPU of Rs 146, whereas Jio had an ARPU of Rs 138 in Q1.
Vi's net debt stood at Rs 1,90,670 crore in Q1, an increase of 5.95% QoQ (or 65.1% YoY).
What Next for Vi?
Sadly, the Vodafone Group has made it clear it will not infuse any additional capital into the loss-making venture with Aditya Birla Group. In a desperate attempt to save Vi, Kumar Mangalam Birla wrote a letter to the Indian government last month. He offered to hand over his stake in the company to any public sector entity. He pleaded with the Centre to consider the "looming crisis" that the telecom operator is going through and bail them out. On August 4, Vodafone Idea announced the Birla has stepped down as Non-Executive Director and Non-Executive Chairman of the Board. Many argue that the Indian telecom industry is struggling now as a result of the brutal or repressive policies introduced by past governments.
Over the past few months, Vi has been trying to convince the Telecom Regulatory Authority of India (TRAI) to impose a floor price or a minimum tariff rate. The company has stated that such a measure will help existing telecom operators to earn more. Vodafone Idea has also pleaded to the Centre to extend the moratorium on spectrum dues. They are eagerly awaiting a judgment on these appeals.
According to analysts, Vi is staring at a 'slow death' if it fails to quickly raise ~Rs 26,000-37,000 crore that it urgently requires to clear AGR dues, payment obligations, and invest in 4G networks. Reports are flying around stating that the Centre will soon announce a telecom relief package, and work is underway to provide aid to stressed telecom companies.
Will Vodafone Idea survive? Or will it completely collapse and die? We will have to patiently wait and watch. Let us know your views on the topic in the comments section of the marketfeed app.
Post your comment
No comments to display