Is Tejas Networks Really Your Multibagger Stock?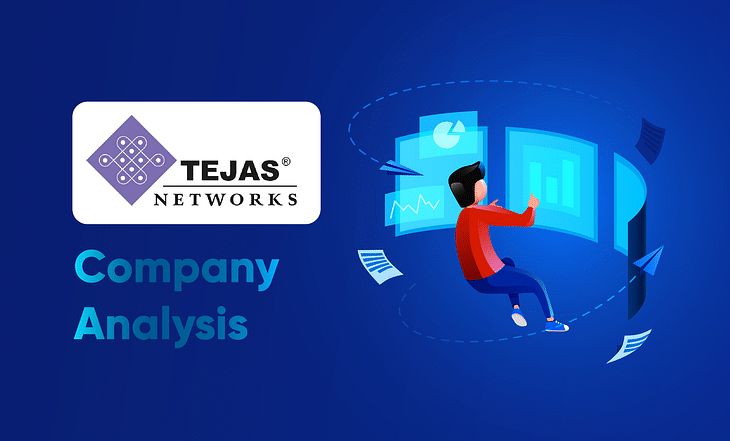 The telecommunications industry has played a pivotal role in accelerating the growth of economies around the world. Telecom companies (such as Jio, Bharti Airtel, and Vodafone Idea) and other internet service providers have focused on providing high-quality services at affordable rates to individuals, business enterprises, and government entities in India. To ensure that communication networks are in line with global standards, certain companies provide essential networking products and services specifically for telecos. We are witnessing a surge in demand for their products amidst the Covid-19 pandemic. More people and businesses require faster connectivity than ever before.
Let us take a look at one such company that has developed sophisticated networking products and solutions over the past two decades— Tejas Networks.
Company Profile - Tejas Networks
Tejas Networks Limited is engaged in the design, development, and marketing of optical and data networking products for telecom service providers, internet service providers, and web-scale internet companies. It also caters to the large-scale network requirements of defense companies and government entities in India and several countries around the world. The company was established in 2000 and is headquartered in Bengaluru. It is the first deep-technology product company to be publicly listed on the Indian stock exchanges. Deep tech basically refers to technology that is based on cutting-edge engineering innovations or scientific discoveries.
Tejas Networks' product portfolio consists of:
Integrated Optical Products: Used for optical transmission and broadband access
Wireless Products: Used for Long-Term Evolution (LTE)/5G wireless services
Switches: Primarily ethernet switches, used for building critical infrastructure (including data centers and cloud-based deployments)
Network management software
The company is ranked among the top 10 suppliers in the global optical aggregation segment. They have deployed their products in more than 75 countries. Over the past few years, Tejas Networks have focused extensively on establishing a strong base in India, South & Southeast Asia, Middle East, USA, Mexico, Canada, and Brazil.
Strong Client Base
Through its well-funded Research & Development (R&D) vertical, Tejas Networks has developed and launched a wide range of products for prominent Indian and international firms. It has received significant orders from RailTel Corp, L&T Construction, Airtel, Tata Communications, Power Grid, GAIL, BSNL, and Mexico-based GigNet. Notably, Tejas Networks helped build India's first Metro DWDM network in Mumbai. This particular system helps increase bandwidth over existing fiber networks. The company has also built a smart communications network for the Delhi Metro Rail Corporation (DMRC).
It is interesting to note that Tejas Networks had developed an extensive smart city infrastructure for India's first industrial township— Electronic City in Bengaluru. They are also known for providing smart LTE solutions for broadband connectivity in remote islands.
Financial Performance
Unfortunately, Tejas Networks has been posting inconsistent revenues since 2017. Over the past 5 years, its revenue has grown at a CAGR of 1.39%, whereas the industry average stood at 7.67%. The company had reported a whopping Rs 937.01 crore in total revenue in FY19. In fact, they had also posted a significant rise in profits as well. However, amidst the outbreak of the Covid-19 pandemic, it faced a steep decline in revenue by more than half to Rs 424.19 crore in FY 2019-20. Tejas Networks also incurred a staggering net loss of Rs 237.12 crore in the same financial year.
The company saw a strong turnaround in its financial performance for the quarter ended December (Q3 FY21). It reported a 3.68% year-on-year (YoY) increase in consolidated net profit to Rs 9.23 crore. Revenues jumped 55.6% YoY to Rs 134.88 crore during the same period. This can be attributed to the large inflow of orders from both domestic and international markets. As people were confined to their homes, there was a huge rise in demand for high-speed home broadband connections on optic fiber. Telecom operators had also turned to Tejas Networks to upgrade their backbone network capacities.
The firm's Return on Capital Employed (ROCE) stands at -11.23%, which is very low when compared to its peers. However, the company is almost debt-free. Tejas Networks has only been able to secure a market share of 2.93%. The company faces stiff competition from its peers in the communication services industry (such as OnMobile Global, Sterlite Technologies, HFCL, GTPL Hathway). 
Stock Performance
The share price of Tejas Networks had been falling constantly since 2018. Moreover, the weak financial performance in FY20 was received negatively by investors. The stock hit a record low of Rs 28.90 in May 2020. Since then, it has surged by around 480% and is currently trading at around Rs 170-levels. This could mean that investors have regained their confidence in the firm based on its future prospects.
However, one important factor to consider is that the total promoter holding in the company is zero. Financial analysts have highlighted that the stock has become technically weak as a result of significant insider selling over the past few months. For example, in February 2021, R. Murali (a promoter) reportedly sold equity shares worth Rs 53 lakh for Rs 175 per share. This was the biggest insider sale of Tejas Network shares in the past year. Thus, retail investors have become very cautious about investing in this stock due to the lack of promoter confidence. This is clear from the low trading volumes shown in the graph below.
Conclusion
The poor financial performance in FY20 and the sale of shares by its promoter group had been a major cause of concern. However, Tejas Networks has shown a strong rebound in order size and product sales. Its R&D segment is constantly developing the latest networking solutions based on the current trends in the domestic and international markets. Going forward, the company is likely to show very gradual yet consistent growth. Let us look forward to seeing how the company has performed in the January-March (Q4 FY21) quarter and how it plans to expand in this highly competitive industry.
Post your comment
No comments to display