Is Privatisation of PSUs Worth It?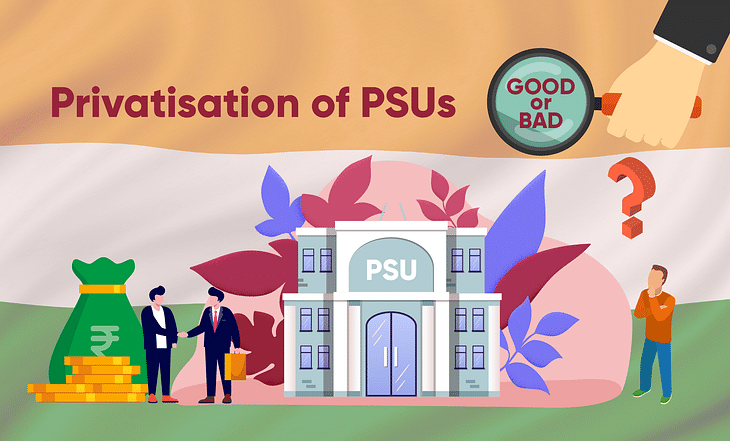 Privatisation in India began with some major policy changes in 1991 by the P. V. Narasimha Rao-led government and its LPG(Liberalization, Privatisation, and Globalisation) policy. India witnessed a trajectory in growth after that. Fast forward to 2020, there is a need for further privatisation in certain sectors. In a webinar organized by DIPAM or the Department of Investment and Public Asset Management (DIPAM), Prime Minister Narendra Modi pitched saying "Government has no business to be in business, and businesses have no business to be in the Government." He went on batting for the privatisation of strategically important public sector companies.
Essentially the government will be selling stakes or divesting from certain companies it feels are inefficiently managed or an added burden to the central government ledger. Privatisation as of now is in its infancy. There were reports that a total of 300 PSUs could shrink to around two-dozen after privatisation and divestment. Why does the centre feel that privatisation is necessary? What can be the consequences of privatisation? Let's get right into it. 
Why Are PSUs Privatised?
Governments might privatise certain companies to:
To generate revenue.
Desire a higher level of service.
Get necessary expertise which otherwise might not be available.
Allow flexibility in the functioning of the company.
Increase competition in a certain sector and invite other private players into it.
Reduce debt burden in distressed companies like the national carrier Air India.
In the private sector, employees have incentives to perform better and therefore have their skin in the game. Otherwise, the government employees get a fixed salary irrespective of performance. Due to administrative inefficiencies, public enterprises might not be able to import the necessary technology needed for their functioning. Private players on the other hand will have a lobby to ensure that the right technology is availed. They will also ensure that political interference does not impact business performance.
Private companies also have the interests of multiple individuals at stake. This interest or stake in the company ensures that any mishappening in the company is corrected. In the public sector, this lack of interest fails to mitigate any mismanagement. In the past, it was seen that public sector banks like SBI or PNB were more exposed to financial fraud and high levels of NPAs. On the other hand, private sector banks have high expertise in credit-management, risk-management, and a more efficient loan recovery system.
DIPAM, and How Privatisation Works
The Department of Disinvestment was renamed as the Department of Investment and Public Asset Management (DIPAM) on 14th April 2016. It is a department under the Ministry of Finance.
Department of Investment and Public Asset Management (DIPAM) deals with all matters relating to the management of Central Government investments in equity including disinvestment of equity in Central Public Sector Undertakings. DIPAM works in these four areas:
Strategic Disinvestment
Minority Stake Sales
Asset Monetisation
Capital Restructuring.
It also deals with all matters relating to the sale of Central Government equity through an offer for sale or private placement or any other model in the erstwhile Central Public Sector Undertakings. DIPAM and NITI AAYOG together will decide a number of companies to be privatised.
The Impact
PM Modi in his speech said that the government holds underutilized assets worth Rs 2.5 crores. Privatisation might help use these assets efficiently. The Modi government has been emphasizing the privatisation of government entities ever since it came to power for the first time in 2014. 
MALCO, Modern Foods, Hindustan Zinc, Bharat Aluminium, Maruti, Jessop and Co, CMC Ltd are some of the popular companies that were owned by the Government of India and were later privatised. 
Hindustan Zinc was one such company whose majority stake was sold to Vedanta Limited. The company went on in becoming the world's second-largest Zinc-mining company and one of the top 10 silver producers of silver.
For some period of time, Maruti Suzuki was a government-owned company. It faced a lot of political conflicts, violent workers union protest, political intervention, quality issues, production issues, and much more. Eventually, the company ended up getting privatised and Suzuki later became the majority stakeholder in the company. 
Bharat Aluminium Company is also another such privatised company. Before privatisation, only 50% of the revenue came from profits, the rest came from interest earned over fixed deposits. It was a wholly government-owned company till 2001 when it was sold to Vedanta. What followed was huge protests between supporters and opposers of privatisation. Yet, the company's revenue rose from Rs 898 crore in FY2001 to Rs 90,000 crores in FY2018. The company made alloys for "Intermediate-Range Ballistic Missile" - Agni and "Surface Missile" - Prithvi.
Future of Privatisation
It's clear, only a few companies have been privatised so far, but most of them have shown good results. However, the financial and structural condition of some of the state-owned companies like Air India is so bad that private companies refuse to bid for them. The government has been showing quite an inclination towards privatisation. In a historic move, coal mines are going to be privatised, which will transform India's trajectory in a HUGE way. 
The current Policy For Strategic Divestment states that all sectors in the public domain will be privatised except for 4 strategic sectors. These include Railways, Department of Posts, Airports Authority of India and some major port trusts. Privatisation will definitely have its own devilish impacts. It will give control of public companies in the hands of private players who would forward their own personal interests rather than that of the public.
 There will be lots of restructuring that these public sector companies would require in order to function efficiently, there will be layoffs, wages will be incentivized, benefits will be cut. All in all, theoretically it will be for a greater public good. Let us see if the country can make this theory practical.
Post your comment
No comments to display