Is Marico Overly Dependent on Parachute?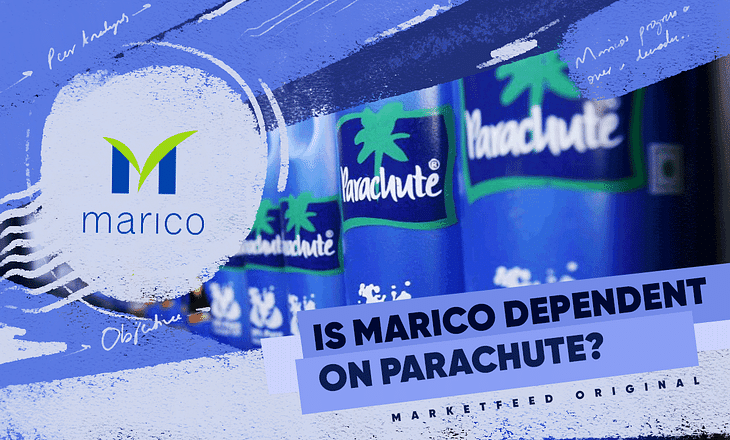 Right from our childhood, a blue bottle of coconut oil might have influenced various aspects of our life. It has helped generations to ensure adequate growth and consistency of hair. Yes, today we are going to analyse the company behind this market leader. The name of the product is Parachute coconut oil, and the parent company is Marico Limited.
The main objective of our analysis is to find out whether Marico is highly dependent on the Parachute brand, or whether they have adequately diversified their Fast Moving Consumer Goods (FMCG) business portfolio. Let us first look at the current business segments of the FMCG company.
Present Verticals of Marico
Coconut Oil: Parachute coconut oil is the major brand under this segment, along with Nihar oil and Oil of Malabar. Parachute has 54% of the market share in terms of total volume of coconut oil sold in India.
Value-Added Oil: Products that are used to maintain the health of hair such as anti-hairfall oil, amla oil, light hair oil falls in this category.
Saffola Oil & Food: All the products under the Saffola brand belong to this category. Saffola refined cooking oil, Oats, Honey, instant breakfast, Noodles are the key products. The brand has a 94% volume share in the masala oats segment. In premium refined edible oil, Saffola cooking oil has an 81% volume share.
Male Grooming, Beauty & hair nourishment: This is a small vertical of the company that contributes around 2% of business revenue. But the products in this segment are well known- Setwet and Beardo. Hair creams, deodorants, and other cosmetic products are present here. Livon and Hair & Care are premium hair nourishment products.
Health & Hygiene: This segment was created as part of a tactical move by the company during the Covid-19 pandemic. It caters to the rising hygiene concerns of citizens. So they introduced sanitisers and vegetable cleaning products. It contributes a mere 0.5% to Marico's total revenue.
Now, we know the different business verticals of the company and how well they are strategically increasing their reach in different areas of the market. In their investor presentation, Marico stated that the Health and Hygiene segment will be defocused in the current financial year (FY22). This can be considered as a good sign, as the company does not want to focus on a segment where they have less experience.
Major Acquisitions and Product Launches
Let us look at some of Marico's major acquisitions and product launches across the last decade.
2010 - Marico introduced Saffola breakfast and Oats.
2011 - The company entered the Vietnam market by acquiring ICP. X-Men (a body deodorant brand) became a major contributor.
2012 - Marico acquired Livon & Setwet
2017-18 - Invested in Beardo, which was a startup.
2018-19 - Marico launched Saffola Fittify (instant breakfast), Kavya Youth & Coco Soul (skincare)
2020 - Acquired 100% stake in Beardo.
2020- Saffola Honey was launched.
As we can see, Marico is wisely looking for good opportunities in various geographical markets as well as launching new key products.
Marico's Progress Over a Decade
For a company, acquisitions and product launches are inherently good aspects. Let us look at how these products are financially growing and their role in contributing to the company's overall revenue.
Revenue from operations has increased from Rs 5,733 crore in FY15 to Rs 8,048 crore in FY21, at a CAGR of 5.8%.
Looking at the bottom line, Profit After Tax (PAT) from Rs 573 crore in FY15 reached Rs 1,162 crore in FY21, at a CAGR of 11.8%.
The graph given below shows the contribution of major segments to the revenue of Marico in percentage terms.
The Coconut Oil segment has increased its contribution to the total revenue. Also, the Saffola brand has heavily increased its contribution to revenue from 14% in FY15 to 27% in FY21. Value-added oil had a headwind in FY21 due to the pandemic, as citizens were facing a liquidity crunch. The company may cut short their expenses by keeping out value-added oil from their priority list.
Peer Analysis
As Marico is an FMCG player, let us look at how well the company is performing among its competitors.
Profit Before Tax (PBT) is the income of the company after settling their expenses and before paying the taxes. The average PBT margin of FMCG companies stands at 15.8%. Marico has a healthy margin of 18.6%. This tells us that for every Rs 100 Marico earns as revenue, the company is able to retain Rs 18.6 as profit before paying taxes.
Conclusion
Marico definitely has a strong presence in the coconut oil and value-added oil Industry. Now, the FMCG player is trying to gain increased market share in the food industry through the Saffola brand, as well in the male and female grooming products industry through brands such as Set Wet, Beardo, Livon. It is also interesting to note that products developed and marketed by the company have a good market share (a monopoly effect). Marico often caters to a niche market where competition is low. This enables the company to have a higher profit margin in these segments.
We can conclude that Marico is trying to be versatile in their business, which in turn concretes the future business growth of the company. Their focus on acquiring digital-first brands is highly commendable. As a long-term investor myself, I will be allocating more capital from my portfolio to Marico.
Do let us know your thoughts on Marico in the comments section of the marketfeed app. Will you be adding the stock to your portfolio?
Post your comment
No comments to display