Is India prepared for Covid-19 Vaccination? Storage, Transportation and Mock Drills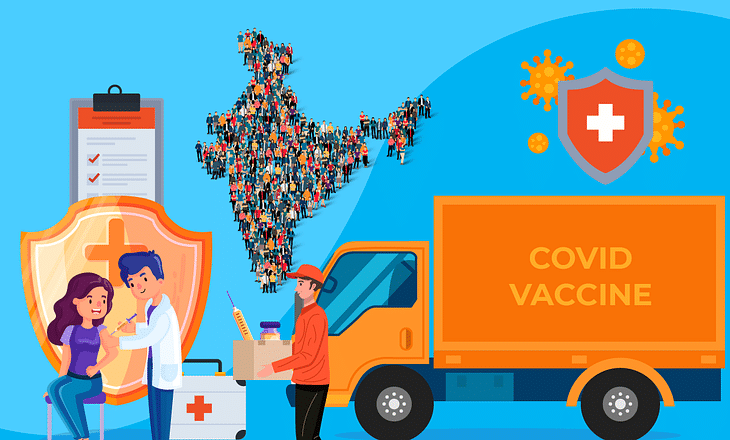 The new year started with a glorious update. DGCA has approved restricted emergency use of Oxford-AstraZeneca and Bharat Biotech shots. Both the vaccines will soon hit the market. The first in line to receive the vaccines is our health workers who have been working tirelessly since last one year. Other people who come under the priority list are those above 50 years of age and those below it having comorbidities.
The main concern in 2020 was till when we can expect a vaccine? Now, in 2021, our concern is how the developed vaccine will be distributed? When it comes to India, the concern grows even further. How can the government vaccinate a country of more 1.3 billion people? Is it necessary to vaccinate everyone? How long will it take to manufacture enough vaccines for the population? How will this fragile vaccine be distributed? This all sums up to one question: How prepared India is for the Covid-19 vaccination process? Let's find out some of the recent developments as we step in the new phase of the war against Coronavirus.
The cold storage & training issues
The vaccines approved needs a minimum temperature every time to be effective. This temperature may vary from 2 degrees to 8 degrees. Thus, the Indian government had to put special attention to cold storage and transportation. Last month, the government notified that 29000 cold chain points, 240 walk-in coolers, 70 walk-in freezers, 45000 ice-lined refrigerators, 41000 deep freezers and 300 solar refrigerators will be utilized in the vaccination process. Many of these units have already been transferred to the states so that the vaccination drive does not get delayed. Glass vials and syringes need to be stocked in huge numbers.
Godrej is one of the leading private companies which is looking to build products which can help the government in this vaccination process. They have already announced that it will commission 11,856 units of vaccine refrigerators and deep freezers within the next 6 months. This comes after they won a tender under the Universal Immunization Programme of the union health ministry.
Our airports have to play a pivotal role in the speedy transportation of vaccines. India's largest airport which is in Delhi has already geared itself with cold storage facilities since last month. It has developed cold chambers which can store at least 27 lakh vials at a given point. Also, they have the capability to transport 80 lakh vials per day. This is great news for the people of Delhi who have already seen three peaks of virus till now.
It is clear that logistics is a problem, but so is the human resource. Special training modules have been designed for every rank of personnel. Medical officers, vaccinator officers, data managers, ASHA coordinators, people in transport & storage, all are being trained to deal with this special and limited vaccine. More than 1,14,000 vaccinators have already been trained so far for the world's largest immunisation exercise.
Mock Drill
Any nation-wide vaccination programme imposes a huge challenge in front of the government. Any lapse during the distribution can lead to fatal consequences. A more cautious approach is required and this is what the Indian government has put their focus on.
Recently, they have conducted mock vaccine drills in four states of the country to test the smoothness of the operations. These four states were Andhra Pradesh, Gujarat, Punjab and Assam. Now, the national government has announced a dry run of vaccination will be rolled out in each state. The mock drill took place at 286 session sites across 125 districts.
This process will help the government to take note of the glitches in the system if any. The focus is to keep a check on the functionality of Co-WIN application, cold storage & transportation, and the human resource preparation which will be required when the vaccine actually comes out.
During these dry runs, dummy vaccines are being transported from the central storage facility to cold chain points. Volunteers were sent SMSes with a date, place and time to get vaccinated. Every person who is vaccinated will be monitored for the next 30 minutes to see if there's any ill-reaction happening to the individual. The whole process gives a rough idea about the time required and logistics that will be involved every day.
Conclusion
The world's largest immunisation exercise won't be easy at all. More than 75 lakh beneficiaries have already been registered on Co-WIN software. This number will only increase from here. The CM of Uttar Pradesh, Yogi Adityanath, has already stated that he expects vaccination to start around mid-January. Does it mean that within a fortnight, we will be seeing our health workers getting vaccinated? How successfully can India achieve this challenge? Can Narendra Modi and his government live up to the strong image it has worldwide? All of these questions will be answered in the next few weeks. Here, we hope that this immunisation drive works out well and we return to the pre-covid life as soon as possible.
Studies actually suggest it would be well over 2022 June before we can vaccinate all of India. The vaccines are said to be safe by experts, and the vaccination process is starting very soon. What are your opinions on this largest vaccination process in the world? Let us know in the comment section!
Post your comment
No comments to display