Is Elon Musk's Acquisition of Twitter a Mistake?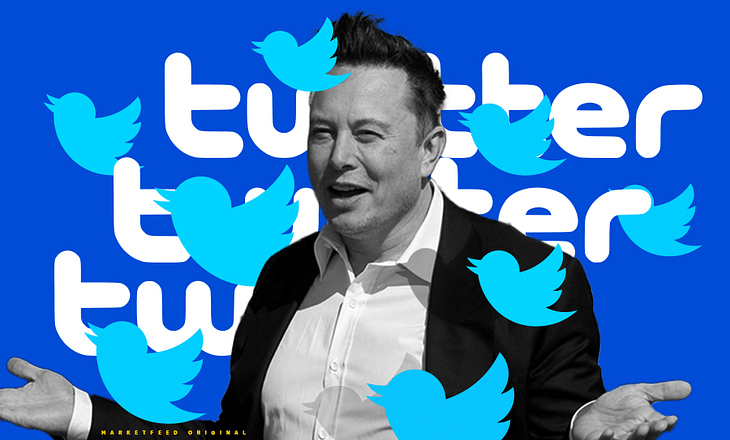 Twitter has been all over the news lately. It's a widely popular platform for political leaders to address citizens and celebrities to update their fans. Twitter has even become the common man's public grievance centre. You can simply share anything under the sun (well, sort of). A Tweet can start worldwide movements or stir up controversy. Nearly 330 million people use the platform every month!
Since March, the company has been under the pressure of a hostile takeover by the world's richest person— Elon Musk! The Tesla CEO's $44 billion acquisition is now on hold. Meanwhile, Twitter's shares have crashed ~30% over the past month.
In this article, we discuss why the social media platform is in high demand. Are Twitter's financials so impressive that Musk saw a huge business opportunity? Or is there any other intention for making it a private enterprise?
Twitter - Financial Analysis
Twitter was established way back in 2006. Since then, the company operates through two business verticals:
Advertising: The platform allows brands, influencers, and companies to promote their products to a target audience. With 38 million monetizable daily active users (mDAU), Twitter is a perfect platform to create a digital presence and an active community for advertisers. Advertisement can be done in 3 ways:
1. Promoted tweets: Twitter recommends promoted tweets to users according to their interests. Advertisers can find their target audience with the help of analytical records on Twitter.
2. Promoted Accounts: Twitter recommends certain profiles under a "Who to follow" tab. It may also contain the accounts of advertisers.
3. Promoting a trending topic: Twitter helps to categorize tweets into a topic with the help of hashtags. Promoting these hashtags will help advertisers reach the audience who follow them.
Data licensing: Data is the new oil. Companies can directly analyse and learn the behaviour of users through their usage data. Twitter provides paid access to its data bank for various companies to analyse. However, over the past few years, Twitter has had no growth in this segment. It has only generated ~$500 million per year, contributing 11% to the total revenue.
Profitability
Let us now look at the profitability metrics of the company:
Over the past decade, Twitter was only profitable twice. Meanwhile, revenue has increased at a CAGR of 36%.
After the pandemic, many companies drastically reduced their advertising budgets, which has affected Twitter's profitability.
Since advertising is the backbone of Twitter, the company can only flourish if more users join the platform. Let us look at the current user base of Twitter:
Till 2015-16, there was an excellent addition in the number of users on the platform. However, in 2016, Twitter was not able to attract more users. Critics stated that Twitter may have reached its saturation point in its userbase.

Interestingly, analysing Twitter's user base with those of other social media platforms tells us another story:
Although Twitter has its own unique features, considering the other social media platforms like Facebook, and Instagram which also try to engage users with posts, photos, news, etc. This tells us that Twitter needs to attract more users to engage which will help them to be financially stable.
The Future of Twitter
Twitter is a well-known marketing engine among marketers, journalists, celebrities, and brands. Unfortunately, the platform is failing to retain its users. The arrival of social media platforms such as TikTok and Snapchat has severely affected them.
Ideally, Twitter cannot become a subscription-based platform where users pay monthly fees to read tweets. Such a move fundamentally violates the very existence of the platform.

Twitter has to remain a free platform and essentially introduce add-on paid features. Let us take a look at the acquisitions made by Twitter:
Spaces: A live audio platform competing with Clubhouse.
Revue: A newsletter provider
Sphere: A group chat app. It provides conversations around similar topics.
Catering to the audio, newsletter, and chat markets could improve Twitter's financial performance.
Twitter & Musk: A New Begininng?
On March 14, Tesla CEO and billionaire Elon Musk bought a 9% stake in Twitter, becoming its largest shareholder. Fast-forward to April 14, Musk offered to buy 100% of the company for a whopping $44 billion at $54.23 per share! Twitter's shares are trading at ~$38.29 at the time of writing.
Twitter's board initially considered this hostile takeover as a threat to the company and its values. Thus, it introduced a Poison Pill Policy. It gives existing shareholders the right to purchase additional stocks at a discount if any individual or a group tries to acquire more than 15% of the company. If Elon Musk tries to acquire more than 15% of Twitter, all other shareholders will be provided new shares at great discounts. This move will dilute Musk's holding in the company, and further acquisition of shares will be expensive.
On April 26, Twitter confirmed the takeover by Elon Musk for $44 billion. The all-cash deal is expected to be completed later this year. Musk will borrow $12.5 billion from banks by pledging his Tesla shares as collateral. He will receive $13 billion as loans from major banks, but this will be transferred to Twitter's books (also called a leveraged buyout). Musk will spend an additional $21 billion to purchase shares of Twitter.
Musk commented that his acquisition is not merely about increasing the company's profits. He wants to improve the platform as a whole and promote free speech. He aims to introduce an "Edit" button to modify published tweets and also Spambots to detect fake accounts. Elon Musk has also suggested that Twitter's algorithm should be open source, giving users more options to arrange their feeds.
Cold Feet?
Last week, Elon Musk tweeted that his deal to buy Twitter is temporarily on hold. He has requested details on the volume of spam and fake accounts on the platform. In an SEC filing, Twitter had claimed that it has fewer than 5% fake accounts. But according to Musk's calculations, there are nearly 4 times more spam/fake accounts than Twitter's estimates! He said his initial offer was based on the company's exchange filings being accurate.
Is Musk trying to get a cheaper deal or will he completely walk away from it? Has he realised that Twitter simply isn't worth it?
What are your views on Twitter and its current situation? Let us know in the comments section of the marketfeed app!
Post your comment
No comments to display