Insane Moves in Nifty Ahead of Monthly Expiry! - Post-Market Analysis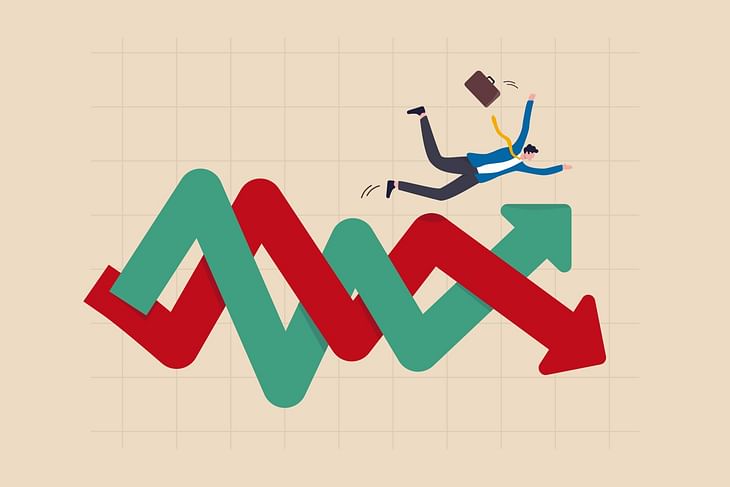 NIFTY started the day flat at 19,678. After opening, the index fell sharply to 19,600 and took support there. It then moved up by 130 points to 19,730 levels to make a double top. The index fell again by 100 points till 19,630 levels. Nifty closed at 19,674, up by 0.3 points or 0.00%.
BANK NIFTY (BNF) started the day flat at 44,615. The index gave multiple swings of more than 300 points initially between 44,700 to 44,400, then 44,400 to 44,950, and finally 44,950-44580. BNF closed at 44,766, up by 154 points or 0.35%.
Nifty Realty (+1.52%) closed well in the green, while Nifty IT (-0.78%) fell the most.
Major Asian markets closed mixed. European markets are currently trading in the red.
Today's Moves
Bajaj Finance (+4.6%) was NIFTY50's top gainer. The company is reportedly planning a mega fundraise to the tune of $800 million-$1 billion.
Indiabulls Real Estate (+9.32%) surged on the back of strong volumes.
MCX (+6.6%) rose up to 9% to hit a one-year high of ₹1,952.2 amid reports of the launch of a new trading platform.
Hindalco Industries (-1.98%) was NIFTY50's top loser.
Delta Corp (-18.59%) crashed to a 33-month low after the company received tax notices totalling ₹16,822 crore from the Directorate General of GST Intelligence on Friday.
Markets Ahead
The indices have become extremely volatile ahead of monthly expiry— making wild moves on the upside and downside. The resistance levels were respected, and the indices have come down. This indicates that the selling pressure in the markets could continue.
Nifty: The immediate resistance to watch out for is near 19,730 levels. A breakout from this level can give us a target of 19,800 on the upside. The immediate support is near today's low (19,600 levels). A breakdown from there can make the index fall to 19,500.
Bank Nifty: The immediate support to look out for is near 44,600. A breakdown from this level can give us a target of 44,300. On the other hand, a major resistance for BNF is near 45,000. A breakout from this round level can give us a target of 45,200.
As per reports, investors are confused as major central banks are sending mixed signals. Last week, the U.S. Federal Reserve said it's not raising interest rates for now but might do so later this year. Meanwhile, the European Central Bank (ECB) and the Bank of England (BoE) suggested they might not raise rates further.
If the US Fed keeps rates high for too long, it could harm the US economy's chances of a soft landing (a gradual, relatively painless economic slowdown). And that could affect economies worldwide.
Don't forget to tune in to The Stock Market Show at 7 PM on our YouTube channel!
Post your comment
No comments to display