Zomato's Owner; Info Edge - A Detailed Analysis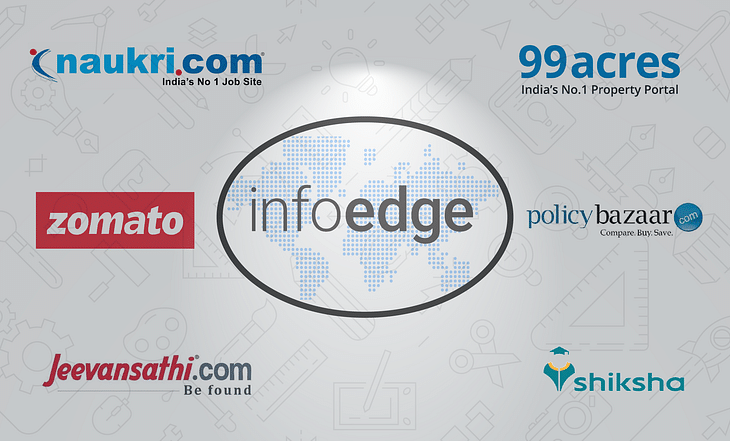 Covid-19 has impacted every stock. Some of them have recovered from the sharp fall of March while others are still struggling to get back to pre-covid levels. On the opposite side, Info Edge hit an all-time high of Rs 3988 on 18th November 2020. How did Info Edge manage to do it even when India is struggling to contain the virus spread? What is the company all about? Let's read all about it out today.
Company Profile
Recruitment Solutions
Real Estate
Matrimony Business
Education as a Business
Investee Company: Zomato
Future of Info Edge
Company Profile of Info Edge
Info Edge Limited is an Indian consumer internet company founded in 1995 which operates in various business domains. It is a very unique company and is well known for its strong brands across sectors. It also plays a prominent role as a financial investor in brands that have been developed by separate enterprises. Info Edge management directly operates in recruitment solutions, real estate, education and matrimonial division.
The recruitment space comprises naukri.com, naukrigulf.com, iimjobs.com, hirist.com, firstnaukri.com, Quadrangle and jobhai.com. The real estate space is covered by 99acres.com. The education and matrimonial division comprise of shiksha.com and jeevansathi.com. Apart from this, Info Edge has a vast portfolio of an investee company. Some of the most famous companies in which they invest are Zomato, Adda247 and Coding Ninjas. You can find the whole list of companies in which they invest below. Every middle-class Indian would have directly used, or at least seen any of Info Edge's companies. They also own about 19% of Policybazaar.
Recruitment Solutions of Info Edge
Info Edge's primary business is in the recruitment space. Earlier, most of the job vacancies were published in a newspaper or other print forms. With the emergence of the internet, the recruitment market started to change. Sanjeev Bikhchandani recognized the potential and started with Indian job search engine "Naukri.com" in 1997. Currently, this brand is a clear market leader in the recruitment industry with a traffic share of more than 70%.
Naukri.com has acted as an early adopter of technology for years. In 2007 itself, they identified the need and role of the data scientists in business. They had set up an Analytics division in those years which helped in improving their matching algorithms. Info Edge has further evolved its recruitment business by enhancing its brand structure. They have developed several sub-brands and different platforms within the recruitment space. A few of these sub-brands are naukrigulf.com, iimjobs.com, Quadrangle and firstnaukri.com.
The main aim of these multi-brands is to support the core brand, which is, Naukri.com. Another reason for this is to make diversified portals so that applicants can get an easier, quicker and better experience. For example, naukrigulf.com focusses on replicating the naukri.com model in the Middle East. Firstnaukri.com focusses on-campus hiring. It allows freshers or newcomers to apply for the jobs.
The recruitment business has two major sources of revenue. 90% of the total revenue comes from recruiters. This refers to the job listing, employer branding, résumé shortlisting, career site management and non-recruitment advertising. 10% of the remaining revenue comes from job seekers in the form of advisory services.
Real Estate - Info Edge
99acres.com, launched in 2005, is one of India's leading property portals which helps the customers of the real estate industry. Just like in Naukri.com, data science plays a significant role here as well. Machine Learning-based Algorithms aids to improve recommendations across the site which will improve the experience for both sellers and buyers. Just like naukri.com, 99acres.com also holds a leadership position in the market with more than 40% of traffic share.
The real estate industry has been badly hit by the Covid-19 pandemic. The industry was already struggling for a few years due to policy changes such as RERA, demonetization and GST. With Covid-19 restrictions placed earlier, construction activities and site visits reached a complete halt.
Revenue streams for 99acres mostly come from project listings, email campaigns, advertisements, resale of properties and owners monetisation. As of March 31, 2020, the total projects listed, both ready to move in and under construction, were over 170,000. Also, the total listings were around 942,000.
Matrimony Business of Info Edge
Info Edge operates in the online matrimonial industry with the help of jeevansathi.com brand. Even though there are over 1,000 such sites in India, only a handful of those including jeevansathi.com has been able to gain people's confidence. The companies operating in this market has to deal with a lot of complexities. Issues related to online cheating, quality of data uploaded, match-making algorithms makes it tough for the players to put a strong foot in the market.
Due to many players in the market and the hardship in the business, Jeevansathi concentrates its business to North and West India. This reorientation has helped them to put more focus on the market where they can gain more. The site uses a freemium model to gain traffic. Free of cost services include listing, searching, expressing interest and accepting others' expression of interest. Revenues are generated when users connect, communicate on the platform, demands services like increase in profile visibility and more.
Education Platform
Shiksha.com is positioned as a platform in the Indian online education business which has a high potential to grow in future. The website makes course and college selection easy for students looking for undergraduate and postgraduate programs. They boast having information for over 14,000 institutions, 40,000 plus courses and have a database of more than 35 lakh students. Shiksha generates revenues in two ways. Firstly, by offering branding and advertising solutions for colleges and universities. Secondly, by providing leads (details of potential candidates) to colleges and their agents.
Investee Company: Zomato
Zomato is India's big food tech unicorn and one of the largest online restaurant search & discovery platforms. As on 31st March 2020, Info Edge has invested Rs 15,219.8 lakh in Zomato. It is approximately equal to 22% of the total stake in Zomato. While Info Edge has invested heavily in many other companies, analysts consider Zomato to be their biggest asset.
Zomato has three key businesses.
Listings & Reviews: It was launched in 2008 and has more than 15 lakh restaurants listed on the portal.
Food Delivery: This service was launched in 2015. Here, Zomato follows a hybrid model consisting of a combination of self-fulfilled and restaurant fulfilled orders.
Subscription Programs: Zomato Pro, the subscription scheme, was earlier called as Zomato Gold. It has both Indian and International presence and gives more features to the premium customers.
According to reports, Zomato plans to take the public route (IPO) next year. Recent reports stated that HSBC Global Research has valued Zomato at $5 billion. If this happens, the total valuation of Zomato and Info Edge will further increase. At that time, they would have the option to sell their stake and exit. Another option would be to stay with the company and support them to grow further. Fun Fact: Info Edge invested in Zomato when they were called Foodiebay. Later on, Foodiebay changed its name to Zomato.
Future of Info Edge
The pandemic has forced many companies to focus on their survival. But on the other side, companies like Info Edge have new opportunities with more adoption of digital technology by individuals and companies. At a time when most of the nation's economic activity is going downwards, Info Edge has successfully raised Rs 18,750 million in August 2020, through a Qualified Institutional Placement (QIP).
As mentioned before, Info Edge's business strategy of venturing into different sectors with an online medium has proven beneficial in these times. Their recruitment and matrimony business is already thriving. One site which they are waiting for things to improve is 99acres.com. It is believed that as the real estate sector of the nation improves, the company's business on this website will also improve.
We have seen the huge spread of web portals under the umbrella of Info Edge. I believe we all have been a regular visitor on these websites or would have visited a few of them at least once. Whether it's Zomato, Policy Bazaar, Naukri or others, we all have been a part of their large traffic share. The enormous range of brands under one house allows Info Edge to crawl into different markets and steal the market share. Companies like Info Edge should have a very bright future as the Indian population continue their transformation to the digital world.
Post your comment
No comments to display