IndusInd Bank's Profit Rises 58% YoY in Q3 - Top Indian Market Updates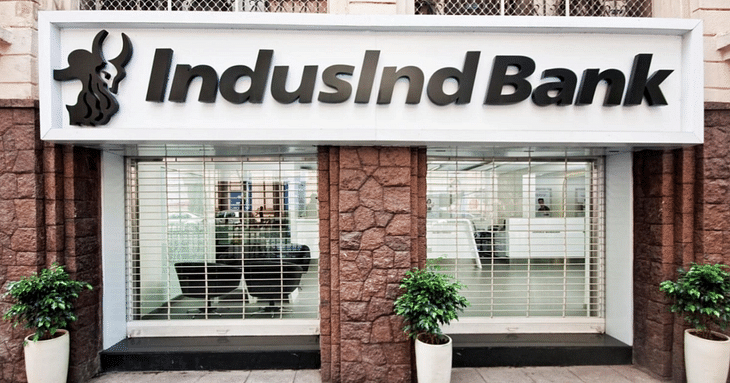 Here are some of the major updates that could move the markets tomorrow:
IndusInd Bank Q3 Results: Net profit rises 58% YoY to ₹1,963 crore
IndusInd Bank reported a 58% year-on-year (YoY) increase in net profit to ₹1,963.64 crore for the quarter ended December (Q3 FY23). The net interest income (NII) rose 18% YoY to ₹4,495 crore during the same period. The gross non-performing assets (GNPA) ratio improved from 2.48% in Q3 FY22 to 2.06% in Q3 FY23. The bank's provisions declined 36% YoY to ₹1,065 crore in Q3 FY23.
Read more here.
AGEL subsidiary to acquire 50% stake in Essel Saurya Urja Company of Rajasthan
Adani Renewable Energy Holding Two Ltd will acquire a 50% equity stake in Essel Saurya Urja Company of Rajasthan Ltd (ESUCRL) from Essel Infraprojects for ₹15 crore. The Government of Rajasthan will continue to hold the remaining 50% stake in ESUCRL. ESUCRL owns and operates a solar park with 750 megawatts (MW) capacity in Rajasthan.
Read more here.
Persistent Systems Q3 Results: Net profit rises 35% YoY to ₹238 crore
Persistent Systems Ltd reported a 35% YoY increase in net profit to ₹237.9 crore for the quarter ended December (Q3 FY23). The company's revenue from operations rose 45.4% YoY to ₹2,169.3 crore during the same period. Total expenses stood at ₹1,849.6 crore in Q3, up 43.83% YoY. The IT firm's board has approved an interim dividend of ₹28 per share.
Read more here.
Hindalco Industries looking to raise ₹700 crore via NCDs
Hindalco Industries Ltd announced the public issue of non-convertible debentures (NCDs) worth ₹700 crore. The company will allot 70,000 rated, listed, unsecured, redeemable, NCDs of ₹1 lakh each on a private placement basis. The NCDs will be listed on the wholesale debt market segment of the National Stock Exchange (NSE).
Read more here.
Rallis India Q3 Results: Net profit falls 43% YoY to ₹22.6 crore
Rallis India reported a 43% YoY decline in net profit to ₹22.6 crore for the quarter ended December (Q3 FY23). Its revenue from operations rose 0.4% YoY to ₹630.9 crore during the same period. EBITDA fell nearly 21% YoY to ₹53.3 crore in Q3. Tata Group-owned Rallis India is a chemical manufacturing company. 
Read more here.
Cipla launches testing device for non-communicable and infectious diseases
Cipla Ltd announced the launch of Cippoint, a point-of-care testing device that offers a wide range of testing parameters such as diabetes, thyroid function, cardiac markers, and other health conditions. The device will allow healthcare professionals to get test results in 3-15 minutes. With the launch, the pharma company looks to bridge the current gap in the diagnostic ecosystem in India by providing reliable and accurate tests at affordable prices.
Read more here.
RVNL emerges as lowest bidder for 2 projects
The consortium of Rail Vikas Nigam Ltd (RVNL) and Siemens India has emerged as the lowest bidders for two projects. RVNL will supply, test, and commission the power supply receiving & distribution system for Surat Metro Rail Project Phase-I. The consortium also emerged as the lowest bidder for similar work for Ahmedabad Metro Rail Project Phase-II. The cost of the first project would be ₹673.80 crore, and the second project ₹384.30 crore.
Read more here.
Jubilant FoodWorks brings US chicken brand Popeyes to Chennai
Jubilant FoodWorks Ltd has opened its first restaurant of the American fried chicken brand Popeyes in Chennai. The company inaugurated its first restaurant in Bengaluru, which was followed by rapid expansion to 12 restaurants across the city in less than a year. In Chennai, Popeyes would welcome guests at its first restaurant from January 20 onwards at the Phoenix Marketcity Mall.
Read more here.
India's coal production target at more than 1 billion tonnes for FY24: Govt
The Central government has set a coal production target of more than one billion tonnes (BT) for the next financial year (FY24). State-owned Coal India Ltd (CIL) has been given the task to produce 780 million tonnes (MT) of coal, followed by 75 MT for Singareni Collieries Company Ltd (SCCL) and 162 MT for captive and commercial mines. A total of 290 mines are operational in CIL, out of which 97 mines produce more than 1 MT per year.
Read more here.
EID Parry commissions 120 KLPD distillery at Andhra Pradesh unit
EID Parry (India) Ltd has commenced commercial operations at the new 120-kilo litre per day (KLPD) distillery at its sugar unit in Sankili, Andhra Pradesh. The company's Sankili sugar unit has the flexibility to operate with multiple feedstocks— molasses, cane juice, and syrup/grain based. The Indian Government has announced an Ethanol Blending Program of 20% by 2025, and EID Parry intends to avail this opportunity by increasing its entry into Ethanol production.
Read more here.
Post your comment
No comments to display