IndusInd Bank's Net Profit Rises 50% YoY to Rs 2,040Cr - Top Indian Market Updates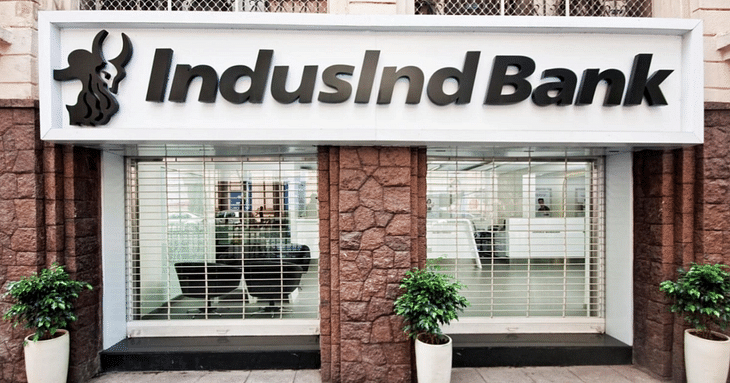 Here are some of the major updates that could move the markets tomorrow:
IndusInd Bank Q4 Results: Net profit Jumps 50% YoY to Rs 2,040 crores
IndusInd Bank has reported a 50% YoY increase in net profit to Rs 2,040 crore and a Net Interest Income (NII) of Rs 4,669 crore, up 17% YoY, for Q4 FY 22-23. The bank's net non-performing assets (NPA) ratio fell to 0.59% from 0.64% in Q4 FY22. Its loan book grew 21% YoY to Rs 2.89 lakh crore. The bank's board recommended a dividend of Rs 14 per equity share.
Read more here.
NMDC plans to increase iron ore output by more than 21% in FY23
NMDC plans to increase iron ore production to 50 million tonnes in the current financial year (FY24), up 21% from last year. The company's output in Q4 FY23 was its highest for a quarter, and it expects uniform production for FY24 (except for the September quarter due to monsoon rains). NMDC has iron ore mines in Chhattisgarh and Karnataka and is exploring lithium reserves in Australia, where it holds a majority stake in a mine.
Read more here.
Tata Steel commences trial use of hydrogen gas in blast furnace at Jamshedpur plant
Tata Steel has begun trial injection of hydrogen gas in one of the six blast furnaces at its Jamshedpur plant in Jharkhand. The trial will continue for 4-5 days and will provide insights into operating blast furnaces with greener fuel injectants, reducing fossil fuel consumption and CO2 emissions. The trial has the potential to reduce coke rate by 10%, resulting in a 7-10% reduction in CO2 emissions per tonne of crude steel produced.
Read more here.
Adani Ports starts $130 million buyback of bonds to prepay near-term debt
Adani Ports and Special Economic Zone Limited (APSEZ) is set to buy outstanding 3.375% senior notes due 2024 for $130 million in cash. The purchase will be funded through cash reserves available with the company. The move is aimed at partly prepaying the company's near-term debt maturities and to convey its comfortable liquidity position. After the completion of this tender offer, the outstanding notes are expected to remain at $520 million.
Read more here.
Infosys signs pact with Aramco to boost employee experience with AI
Infosys has signed a Memorandum of Understanding (MoU) with Saudi Aramco to collaborate on HR technology. The companies aim to bring new insights to HR data and analytics, use automation tools, and enhance employee experience through AI technologies. Infosys will also embed digital transformation practices and tools into Aramco's HR platform to enhance the overall digital experience for employees.
Read more here.
Bank of Maharashtra Q4 Results: Net profit jumps 135% YoY to Rs 840 crore
Bank of Maharashtra announced a 135% YoY jump in net profit to Rs 840 crore for the quarter ended March (Q4 FY23). Its Net Interest Income (NII) increased by over 35% YoY to Rs 2,187 crore during the same period. The bank's net non-performing assets (NNPA) declined to 0.25%, compared to 0.47% in the same quarter last year. The bank's board recommended a dividend of Rs 1.3 per share.
The board also approved a capital raise of up to Rs 7,500 crore via equity and debt.
Read more here.
Maharashtra Seamless receives Rs 262 crore order from ONGC
Maharashtra Seamless has received an order from ONGC for the supply of seamless tubing pipes and accessories to be delivered to five Indian states. The company will gradually dispatch the order over 10 months. It has an annual capacity of 650,000 tonnes for seamless pipes and serves the oil and gas sector, power, automotive, and general engineering industries.
Read more here.
Zydus Lifesciences gets USFDA approval for heart diseases treatment drug
Zydus Lifesciences has obtained final approval from the US Food and Drug Administration (USFDA) for Icosapent Ethyl capsules for the treatment of heart diseases. These tablets are used to reduce fat (triglyceride) levels in the blood in adult patients with severe hypertriglyceridemia. According to IQVIA data, the annual sales of Icosapent Ethyl Capsules in the United States were $1,316 million for the 12 months ended February 2023.
Read more here.
Bharti Airtel partners with Secure Meters to deploy narrow band-powered smart metres in Bihar
Bharti Airtel has partnered with Secure Meters to deploy narrow band (NB-IoT) powered smart meters in Bihar, India. Under the partnership, Airtel will deploy NB-IoT services to power 1.3 million homes via a smart meter solution. The deployment is said to be India's first NB-IoT solution on a narrow band with a fall-back option that will work on 2G and 4G. It will also ensure real-time connectivity and uninterrupted transfer of critical data.
Read more here.
Singapore's regulatory body approves HDFC Bank to acquire shares in Griha Pte
HDFC Bank has received approval from the Monetary Authority of Singapore (MAS) to acquire 20% or more stake in HDFC's Investments-subsidiary, Griha Pte. Limited. Griha Pte is a foreign step-down subsidiary of HDFC Limited. The scheme was approved by the HDFC board and received no objection or approval letters from various Indian authorities, including the RBI, SEBI, CCI, and NCLT.
Read more here.
Mankind Pharma IPO opens tomorrow
Mankind Pharma's IPO opens tomorrow. The issue will be open till April 27th and is completely an offer for sale (OFS) of 40 million equity shares by promoters and existing shareholders. The company has set a price band of Rs 1,026-1,080 per share for the IPO. Mankind Pharma's products span therapeutic areas ranging from antibiotics to erectile dysfunction medications.
Post your comment
No comments to display