IndiGo Surpasses Milestone of 2,000 Daily Scheduled Flights - Top Indian Market Updates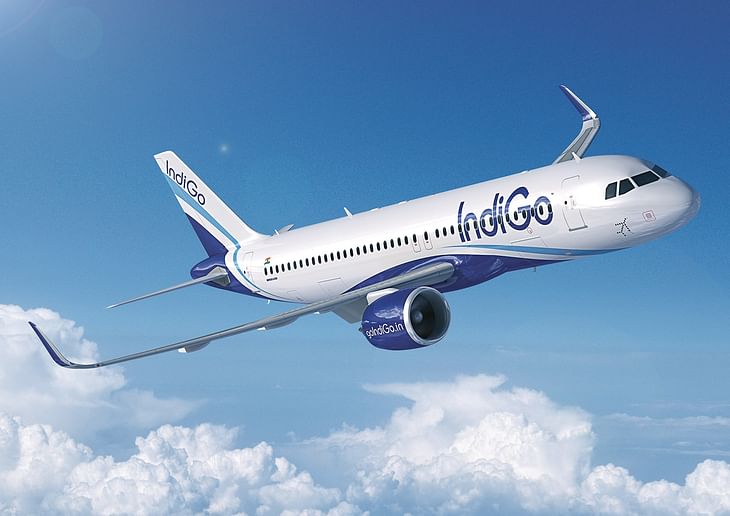 Here are some of the major updates that could move the markets on Monday:
IndiGo surpasses milestone of 2,000 daily scheduled flights
IndiGo achieved a significant milestone by surpassing 2,000 planned flights per day, making it the first airline in India to do so. This marks a substantial increase in operational capacity. According to the latest data for October 2023, IndiGo is among the top 10 airlines globally in both frequency and seat capacity.
Read more here.
Adani Power promoter entities buy 2% stake via open market
Two promoter group entities in Adani Power have acquired a 2% additional stake in the company in a since September through the open market. Ardour Investment Holding and Emerging Market Investment DMCC acquired 7.92 crore shares or 2.06% stake in Adani Power between September 26 and November 16. Following the acquisition, the cumulative shareholding of promoters increased to 71.14%.
Read more here.
RBI's move will not impact bank's ability to grow: SBI Chairman
According to the Chairman of The State Bank of India, Dinesh Kumar Khara, the Reserve Bank of India's move on consumer loans would not affect the lender's ability to grow. The impact of the increased risk weight on personal loans (including credit cards) will be 55-60 basis points (bps). SBI's capital adequacy ratio stood at 14.28% as of September end.
Read more here.
Lupin receives USFDA nod for Ganirelix Acetate injection
Lupin Ltd received approval from the United States Food and Drug Administration (USFDA) for Ganirelix Acetate injection. The drug is used to treat ovarian hyperstimulation. The pharma major will manufacture the injection at its facility in Nagpur, Maharashtra. As per IQVIA MAT data for September 2023, Ganirelix Acetate Injection had estimated annual sales worth $84 million in the United States.
Read more here.
AGS Transact Technologies wins ₹1,100 crore order from SBI for 2,500 ATMs
AGS Transact Technologies Ltd has secured an order worth ₹1,100 crore from State Bank of India (SBI) to deploy 2,500 ATMs over seven years. The company will deploy these ATMs on a transaction fee basis as a part of the Total Outsourcing Model. It will start the deployment of the new ATMs in the next calendar year.
Read more here.
JSW Infra secures ₹4,119 crore all-weather port project in Karnataka
JSW Infrastructure has received a letter of award (LoA) from the Karnataka Maritime Board to construct an all-weather port project in Karnataka. The estimated cost of the project is ₹4,119 crore, with an initial capacity of 30 million tonnes per annum (MTPA). The proposed Keni Port would have modern environment-friendly mechanised facilities for handling cape-size vessels.
Read more here.
Delhi HC stays proceedings in money laundering case against Hero Motocorp's Pawan Munjal
The Delhi High Court stayed the proceedings against Hero Motocorp chairman Pawan Kant Munjal in a money laundering case being probed by the Enforcement Directorate (ED). Justice Saurabh Banerjee issued notice to the investigating agency on Munjal's petition against the ED case and granted it time to file its reply.
Read more here.
Hindustan Zinc needs govt nod to create separate biz entities
The Ministry of Mines has written to Hindustan Zinc Ltd (HZL), stressing that any business reorganisation would require formal approval from the government. HZL's board is exploring a corporate restructuring plan to create three separate legal entities for zinc & lead, silver, and recycling businesses to unlock shareholder value. The government has a 29.54% stake in HZL, which is 64.92% owned by Vedanta Ltd.
Read more here.
India seeks to restart stalled Adani coal imports probe
Indian investigators have sought the Supreme Court's permission to restart a probe into Adani Group's alleged coal import overvaluation. The Directorate of Revenue Intelligence aims to collect evidence from Singapore, accusing Adani of thwarting efforts. Adani denies wrongdoing, facing wider scrutiny since Hindenburg Research's accusations. Legal battles span Mumbai, New Delhi, and Singapore.
Read more here.
SBI to launch 'Yono Global' app in Singapore and US
State Bank of India (SBI) will soon launch its banking mobile app 'Yono Global' in Singapore and the US, offering digitised remittance and other services to its customers. Currently, SBI offers Yono Global services in 9 countries, starting with UK operations in September 2019. SBI's foreign operations have a total balance sheet size of $78 billion.
Read more here.
Post your comment
No comments to display