IndiGo: Should you invest in India's largest airline?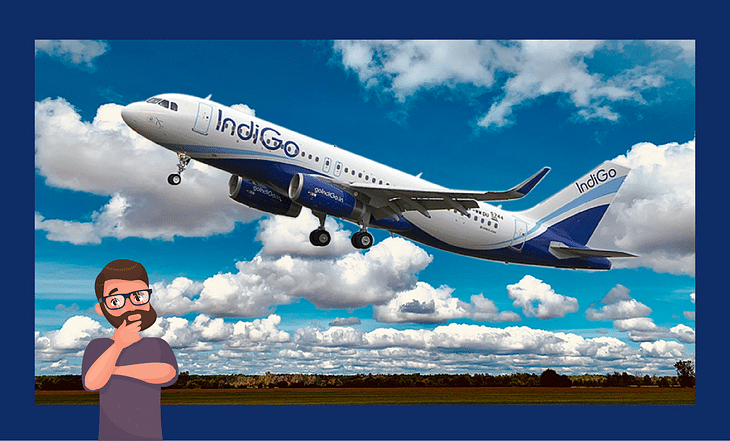 Aviation Industry was pushed into one of its gloomiest times by the coronavirus. Almost every country suspended any kind of commercial flights for a brief amount of time. Even a restart wasn't helpful as costs increased cost due to additional safety and several other restrictions. To know more about how the Indian airline industry performed during the pandemic, check out this article. One airline which managed to survive was IndiGo.
The Indian airline industry has been in stress for a while now. As this business is highly leveraged(high debt), often the airlines find it tough to survive due to price war. One airline which has pushed all the concerns aside is IndiGo. InterGlobe Aviation's IndiGo is looking very strong under the leadership of their CEO Rono Dutta. The recent news and commentaries have certainly boosted the sentiments of its shareholders. Here, we bring you the details about India's largest airline and how it has performed lately.
IndiGo on the Road of Recovery
IndiGo is running at 70% of its pre-covid capacity already. They expect that before the end of this year, they will take this number to 80%. They also expect to reach 100% of normal domestic capacity by the early part of 2021. By the end of the previous quarter, IndiGo reported a robust cash balance of Rs 20,400 crore. This is a great number keeping in mind that airlines often find themselves under a huge pile of debt.
In July, IndiGo asked some of its staff to take mandatory leave without pay (LWP) for 10 days. Last month, they reduced this mandatory LWP to 3 days. At the start of December, the company announced that they will be removing the LWP program for senior employees from 1st January 2021. This comes as they anticipate business to move on a measured recovery path, at least when it comes to domestic aviation business.
Maintaining Customer Loyalty
IndiGo has committed that they will be refunding all the customers for flight ticket cancellations before 31st January 2021. Since restarting its operations, IndiGo is rapidly returning the amount owed to customers whose flights were cancelled during the lockdown implemented in March. Till date, the airline has processed refunds worth Rs 1,000 crore. This is equivalent to almost 90% of the total amount owed. This shows how well the biggest Indian airline is treating its customers.
In the aviation business, a customer's loyalty has huge importance. Thus, giving customers a refund easily without forcing them to do a million things will help IndiGo to earn their loyalty points. Probably, this is one of the reasons why IndiGo deals with virtually very less number of complaints. The graph below shows the number of complaints per ten thousand passengers. Indigo has this number to almost a 0 in comparison to Air India and Spicejet who have 7.5 and 0.5 complaints respectively.
"The sudden onset of Covid-19 and the resulting lockdown, brought our operations to a complete halt by the end of March of this year. As our incoming cash flow dried up, we were unable to immediately process refunds for cancelled flights and had to create credit shells for the refunds that were due to our customers. However, with the resumption of operations and a steady increase in demand for air travel, our priority has been to refund the credit shell amounts in an expedited manner." said Ronojoy Dutta, Chief Executive Officer, IndiGo.
Not Shy to Invest in a Pandemic!
Airlines worldwide, and not only in India, have halted to take deliveries of new planes to cut costs. IndiGo is on a completely different tangent. On 9th December, IndiGo stated that they will continue to take delivery of Airbus SE A320neo planes. They even gave a positive commentary that they have "no plans'' to slow down their deliveries. This can only come when the company has strong financial protection and robust management to back in any situation.
Last month, marketfeed reported that IndiGo is buying more engines even when the European markets were being hit with the second wave of the coronavirus. Both of these are examples of how IndiGo has fared in the pandemic. Between July to September, they added eight new aircraft and retired around 10 older aircraft to save maintenance cost. Rather than focussing on just surviving like other airlines, IndiGo has concentrated on development and growth.
IndiGo is speeding up recruitment and training processes while also addition to existing employees being called back to work.
Where is IndiGo's Competition?
Apart from IndiGo, there are several other airlines present in the Indian aviation business. You all must be familiar with the names like Air India, Air Asia, GoAir, SpiceJet and Vistara. IndiGo's business model is different from other players. They put a lot of focus on their pricing strategies. They aim to deliver high-quality services at a lower cost. None of IndiGo's flights has business-class or first-class seating arrangements.
As a low-cost carrier, they offer only economy class seating. Also, they don't offer complimentary meals in any of its flights, unlike Air India. This is where they save their cost and sell tickets at a cheaper price to the customers. They focus on having a high passenger load factor % so that they can service a larger number of customers at the same fixed cost. (Passenger load factor % measures the capacity utilization of the flights.)More the customers, higher the revenue which results in larger profits.
Air India
Air India has been badly very hit by the pandemic. A major chunk of revenue for Air India comes from the international commercial flights which are suspended till 31 December 2020. Vande Bharat has helped the airline to do some business, yet it is way far from being satisfactory. There's a little hope that commercial flights will be allowed fully till the mid of 2021. Government is also planning to sell its stake, and Tata Sons may return as the owners after 61 years.
AirAsia
Air Asia is another low-cost carrier present in India. But, the airline has failed to generate profits in good numbers as fluctuations in fuel cost and increase in service cost keep on hurting Air Asia's financials. AirAsia is planning to exit its Indian arm, and end its joint venture with Tata Sons. Tata Sons is also supposedly bidding for Air India through AirAsia India.
SpiceJet
SpiceJet offers good competition to IndiGo but the airline is operated between a very limited number of destinations. The airline flies to a total of 64 destinations whereas IndiGo covers almost 90 destinations. Thus, the market at which SpiceJet is trying to fight becomes smaller. This gives IndiGo a better and bigger brand name which helps in gaining people's trust. The following chart depicts the market share percentage (as of Q2 FY21). As we can see, IndiGo is clearly the market leader with almost 60% of the market share. The closest airline to IndiGo is SpiceJet with a market share of just 14.1%. This shows IndiGo's dominance in the current aviation market. 
A Quick Look at the Financials of IndiGo
Only three of the major airlines are listed on the Indian stock markets. They are IndiGo, SpiceJet and Jet Airways. IndiGo and SpiceJet are still operating but Jet Airways halted its operations on April 17, 2019. A detailed analysis of why Jet Airways failed is done by marketfeed. You can read about it here. This leaves us with only two options; IndiGo and SpiceJet.
The chart given below shows the operating profit margin (OPM). OPM shows the efficiency of the company in converting revenue to operating profits. The blue and orange line indicates OPM% for IndiGo and SpiceJet respectively. IndiGo has managed to do better than its competitor when the Indian airline industry has not been doing great. Apart from 2019, IndiGo has managed to maintain an OPM% of 10% and above.
Since 2008, IndiGo's revenue has constantly increased. This year that pattern might break but the only reason behind it will be the lockdown implemented due to pandemic. This constant uptrend says a lot about their work. FY19-20 proved to be IndiGo's most profitable year as they recorded profits worth Rs 4,064 crore. Their profit has grown at a CAGR of 5.43% from 2016 to 2020.
Is IndiGo a Good Buy?
With news of vaccines coming out daily, it will be fair to say that the industry which struggled the most will be the preferred destination for the investors. IndiGo's dominance in the aviation market and weak competition from other players gives them more opportunity to shine. Also, Indigo's major chunk of revenue comes from domestic flights and not international flights. Thus, an international ban, which is expected to stay for a few months more won't be affecting the company massively.
They are trying to improve their operations and invest in their growth during a pandemic. At the same time, their competitors are focussing on survival in these difficult times. A huge market share speaks volumes of their dominance.
What are your views on IndiGo? Let us know in the comment section. Until next time.
Post your comment
No comments to display