Indigo Paints IPO: All You Need to Know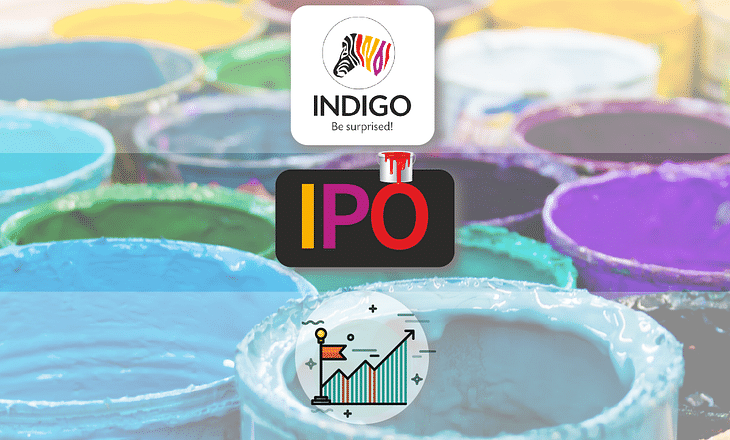 2021's IPO series kicked off with IRFC becoming the first company in this year to take the public route. Indigo Paints, from the paints Industry, will be the second company to bring its IPO. The public offer will take place on 20th January 2021 till 22nd January 2021. What is this IPO is all about? Let's find out.
About Indigo Paints
Before applying for a company's IPO, it is very important to know what is the business of the company and how do they go about it. Indigo Paints is into the manufacturing of different types of decorative paints. Its product range includes Emulsions, Wood Coatings, Distempers, Enamels, Putties and Cement Paints. Indigo Paints is also the first company to manufacture differentiated products. The list of differentiated products comprises Floor Coat Emulsions, Dirtproof & Waterproof Exterior Laminate, PU Super Gloss Enamel and more.
Indigo Paints has three manufacturing facilities situated in Jodhpur (Rajasthan), Kochi (Kerala), and Pudukkottai (Tamil Nadu). The company find raw materials easily available in these locations. This helps them to decrease the cost of their operations and thus boosting their bottom line.
Based on the revenue generated in FY20, Indigo Paints ranks 5th in the industry. But when you compare companies in terms of growth, Indigo Paints is right at the top. Being a paint company, one thing they need the most is a very strong distribution network. And, this is what which has helped the company to grow massively in recent years. Indigo Paints has its reach into 27 states and 7 territories. In a way, you can say that they have their distribution network spread all over the country. They have 36 depots and over 4000 tinting machines.
About the IPO
The IPO of Indigo Paints will open on 20th January and will close on 22nd January. The total issue size of the IPO is Rs 1,176 crore. The fresh issue aggregates up to Rs 300 crore. The price band of the IPO is Rs1488-Rs 1490 per equity share. You have to apply for a minimum of 10 Shares (1 lot). The upper limit to the number of lots you can apply for is 13, that means, 130 shares. The minimum an investor has to pay for this IPO is Rs 14,900. Similarly, the maximum one can invest in is Rs 1,93,700. But once again, apply for a maximum of 1 lot, as the IPO will be oversubscribed for sure.
Currently, the promoters of the company have 60.05% of the total holdings. After the IPO, this will decrease to 54%. The allotment date and listing date for the IPO are 28th January 2021 and 2nd February 2021 respectively.
The two investors, Sequoia Capital India Investments IV and SCI Investments V will be selling 20.05 lakh equity shares and 21.65 lakh shares respectively. Hemant Jalan, the promoter of the company, will be selling 16.70 lakh equity shares as part of this public issue.
Indigo Paints will use the net proceeds from the IPO in four ways. Firstly, a part of the sum will be used to meet the capital expenditure requirements for expansion. The company is planning to expand its manufacturing facility at Pudukkottai, Tamil Nadu. This will help them to produce more and at a lower cost. The second objective of the IPO is to purchase more tinting machines and gyro shakers. Indigo Paints has a very low amount of borrowings on their sheets yet their third objective is to repay all or certain borrowings. Lastly, the remaining sum will be used to meet general corporate purposes.
Financial Overview
| | | | | |
| --- | --- | --- | --- | --- |
| | 30 September 2020 | 31 March 2020 | 31 March 2019 | 31 March 2018 |
| Total Assets | 411.29 | 421.95 | 373.18 | 297.39 |
| Total Income | 260.24 | 626.43 | 537.26 | 403.10 |
| Profit after Tax | 27.20 | 47.81 | 26.87 | 12.86 |
(Values in Rs Crore)
The table above shows how the revenue and profits of the company have increased over the last three years. Here, from FY19 to FY20, the revenue of the company has increased by more than 16%. And, when we look at profits, it has risen by a whopping 80% from Rs 26.87 crore to Rs 47.81 crore during the same period.
In the past year, their long term debt has also decreased from Rs 26.91 crore to Rs 24.71 crore. This is another good sign because as the debt of a company falls, the risk associated with them also decreases. Till the first half of 2020-21, the revenue generated by the company is Rs 260 crore. But with this trend, Indigo Paints might not be able to generate more sales than FY20 but the slowdown is only because of lockdown induced in March due to Covid-19.
Risk Factors
The Indian paint industry already has some established players like Asian Paints, Berger Paints, Kansai Nerolac and AkzoNobel. As said before, Indigo Paints comes behind all of these companies when we talk about the sales number.
Brand loyalty is a very important factor in this business. People often rely on their favourite brand or the brand they have used earlier. Thus, it will be difficult for the company to make its space instantly in the heart of the customers.
Indigo Paints follow the strategy of making short-term agreements with their dealers. They renew their deals regularly but any failure to do so can affect their business severely.
The company imports a few of their products from outside. Any restriction on imports will increase their cost of operations thus decreasing their bottom line.
IPO Details in a Nutshell
| | |
| --- | --- |
| IPO Date | Jan 20, 2021 – Jan 22, 2021 |
| Issue Type | Book Built Issue IPO |
| Face Value | Rs 10 per equity share |
| IPO Price | Rs 1488 to Rs 1490 per equity share |
| Lot Size | 10 Shares |
| Offer for Sale (goes to promoters) | 58,40,000 Equity Shares |
| Fresh Issue (goes to the company) | Rs 300 crore |
| Issue Size | Rs 1,176 Crore |
| Listing At | BSE, NSE |
Kotak Mahindra Capital Co. Ltd., Edelweiss Financial Services Ltd. and ICICI Securities Ltd. are the books running lead managers of this IPO.
Conclusion
When it comes to business, Indigo Paints looks to be a very sound company. They have done well in the last few years and are growing at a very high pace. They are fundamentally strong with an ROE (return-on-equity) of 24% and ROCE (return-on-capital-employed) of 27.5%. The company offers a wide variety of products. This extensive portfolio helps them to cover the needs of different customers. Thus, generating more sales for them. The valuations also look very interesting.
One thing which you have to be mindful is of the intense competition in the industry. Indigo Paints have some good competitors which can hurt their business. Thus, the company will be required to continuously strategize their operations and find new ways to stay ahead. Indigo Paints filed its draft papers last November. You can find it here. What are your opinions on Indigo Paints? Will you be applying for it? Let us know in the comments section below!
Post your comment
No comments to display