IndiGo Opens 2nd MRO Facility in Bengaluru Airport - Top Indian Market Updates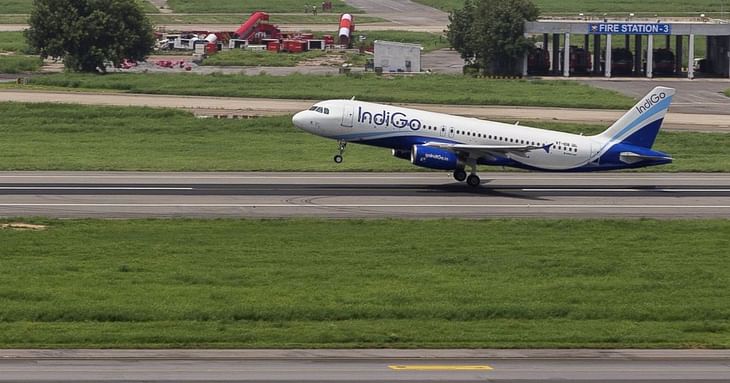 Here are some of the major updates that could move the markets tomorrow:
IndiGo opens second MRO facility in Bengaluru Airport
IndiGo has inaugurated its second maintenance repair and overhaul (MRO) facility at Bengaluru's Kempegowda International Airport. The 13,000 sq. meter facility is built on five acres of land. It is the second-largest maintenance facility at the airport.
In other news, IndiGo CarGo operated its first international flight between Kolkata and Yangon, Myanmar. The A321 P2F freighter aircraft carried general cargo with a payload of more than 19,000 kg.
Read more here.
Quiklyz signs MoUs with five last-mile mobility players
Vehicle leasing and subscription platform Quiklyz has signed Memorandum of Understandings (MOUs) with five last-mile mobility players for leasing over 1,000 electric three-wheelers. With this, Quiklyz plans to deliver these leased vehicles over the next six months across India, opening up newer opportunities in electric vehicle (EV) leasing. Quiklyz is a subsidiary of Mahindra & Mahindra Financial Services Ltd.
Read more here.
Aurobindo Pharma's unit signs pact with Evive Biotech to market CIN treatment product
Aurobindo Pharma's unit (Acrotech Biopharma) has entered into a licensing pact with Evive Biotech to commercialise Ryzneuta in the US market. The product is currently under late-stage review by the US Food & Drug Administration (USFDA) for chemotherapy-induced neutropenia (CIN). Evive will develop, manufacture, register, and supply Ryzneuta, while Acrotech will market and distribute the product in the US.
Read more here.
ITC Hotels partners with Jolle Hospitality to expand footprint in South India
ITC Hotels has partnered with Jolle Hospitality for a 116-room hotel in Belagavi (Karnataka) as it aims to expand its footprint in South India. The hotel is currently under construction and likely to be completed by 2024. Spread across 5 acres, the hotel will be named ITC WelcomHotel Belagavi.
Read more here.
SC rejects Tata Power plea challenging MERC transmission contract to Adani Power
The Supreme Court rejected Tata Power's plea challenging a ₹7,000 crore transmission contract secured by Adani Power from Maharashtra Electricity Regulatory Commission (MERC). Tata Power had challenged the awarding of the infrastructure project without tariff-based competitive bidding. As per the contract, Adani Power will develop a 1,000 MW high-voltage direct current link between Kudu and Aarey power stations.
Read more here.
Tata Motors rolls out new Tigor EV sedan
Tata Motors has launched the new Tigor EV with an extended range of 315km. Available in four variants, the new Tigor EV price starts at ₹12.49 lakh and goes up to ₹13.75 lakh (ex-showroom). The electric passenger vehicle portfolio of the auto major currently includes the Nexon EV, Tigor EV, and Tiago EV. Tata Motors plans to offer 10 electric models in its portfolio by 2026.
Read more here.
Bajaj Healthcare begins trial run for new opium processing line
Bajaj Healthcare Ltd (BHL) has started the trial run of a new production line for processing opium at Savli in Vadodara district, Gujarat. The new production line will produce Alkaloids and Active Pharmaceutical Ingredients (APIs) used in a wide range of pharma applications. BHL was the first private entity to be awarded tenders for the highly regulated opiate processing business by the Central government.
Read more here.
Zydus Lifesciences gets USFDA approval for ulcer treatment drug
Zydus Lifesciences Ltd. has received final approval from the USFDA to market famotidine injection. The drug is used to treat ulcers of the stomach and intestines. It also prevents intestinal ulcers from coming back after they have healed. According to IQVIA data, Famotidine injection had annual sales of $1.9 million for the 12 months ended Sept 2022.
Read more here.
Renault Group selects KPIT Tech as strategic software scaling partner
France-based Renault Group has selected KPIT Technologies as a strategic software scaling partner for a next-generation software-defined vehicle (SDV) platform. The platform will drive Renault's global growth by delivering unmatched experience to end consumers and unlocking monetisation over the length of vehicle ownership. KPIT Tech is one of the largest software integration partners for the automotive & mobility industry.
Read more here.
Oil prices fall more than $2 on Russian oil price cap talks
Oil prices fell by more than $2 a barrel on Wednesday as the Group of Seven (G7) nations looked at a price cap on Russian oil above where the crude grade is currently trading. Brent crude futures fell $2.71 (or 3.07%) to $85.65 a barrel. As per reports, G7 nations are looking at a price cap on Russian seaborne oil in the range of $65-70/billion barrels of oil (bbl).
Read more here.
Post your comment
No comments to display