India's Services PMI Surges to 12-Year High in Feb - Top Indian Market Updates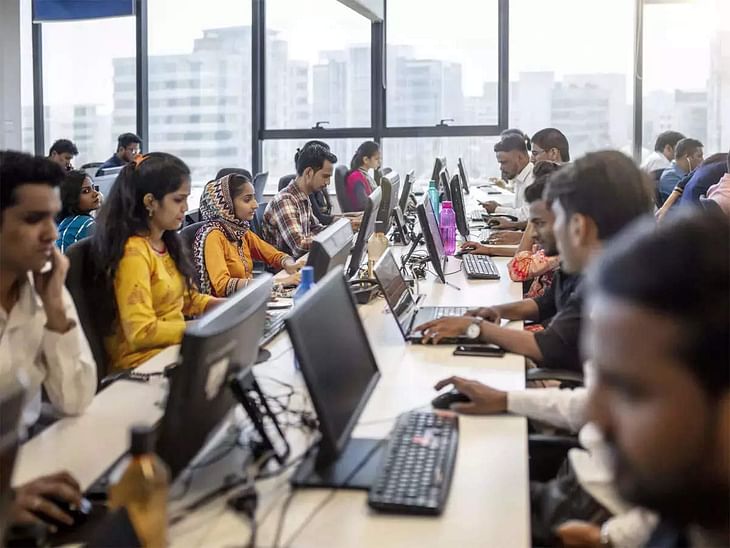 Here are some of the major updates that could move the markets on Monday:
India's services PMI surges to 12-year high in Feb
Services activity in India expanded at the fastest pace in 12 years in February 2023 as input cost pressures eased. The S&P Global India Services Purchasing Managers' Index (PMI) stood at 59.4 in Feb, compared to 57.2 in Jan. New orders placed with service providers rose further in February. However, the rate of job creation was minimal.
[PMI is a month-on-month calculation, and a value above 50 represents an expansion when compared to the previous month.]
Read more here.
RIL, Adani Group plan to build 25 GW of clean energy in Andhra Pradesh
Reliance Industries Ltd (RIL) and Adani Group will develop a combined 25 gigawatts of renewable power in Andhra Pradesh, as both business houses continue to go ahead with their green energy goals. Both groups already have a significant presence in the state, with RIL operating its offshore deep-sea gas fields in the Krishna-Godavari basin and Adani Group overseeing two large ports.
Read more here.
World Bank commits $1 billion to India for public healthcare infra
The World Bank and the Indian govt. signed two complementary loans of $500 million each to support and enhance the country's healthcare infrastructure. The bank will support India's flagship Pradhan Mantri-Ayushman Bharat Health Infrastructure Mission (PM-ABHIM) to improve the public healthcare infrastructure. One of the loans will prioritize health service delivery in seven states— Andhra Pradesh, Kerala, Meghalaya, Odisha, Punjab, Tamil Nadu, and Uttar Pradesh.
Read more here.
JSPL to invest ₹10,000 crore to set up 3 MT steel plant in AP
Jindal Steel & Power Ltd (JSPL) will invest Rs 10,000 crore to set up a 3 million tonne per annum (MTPA) steel plant in Andhra Pradesh. This will lead to the creation of 10,000 jobs. The group will also sign an agreement with the AP Government to invest in renewable energy across solar, wind and hydro as well expanding the capacity of its existing cement plant.
Read more here.
Lemon Tree Hotels signs licence agreement for two new hotels in Maharashtra
Lemon Tree Hotels has signed a License Agreement for two new properties in Maharashtra under its brands 'Lemon Tree Hotel' and 'Keys Lite by Lemon Tree Hotel'. The two new hotels are located in the popular beach destination Dapoli in the South Konkan region of Maharashtra. They will become operational by October 2023.
Read more here.
Tata Motors crosses 50 lakh passenger vehicle production milestone
Tata Motors has crossed the 50 lakh cumulative passenger vehicle production milestone. To celebrate the milestone, the automaker will roll out a celebratory campaign for customers and employees across India. Tata Motors achieved the 10 lakh production mark in 2004 and the 20 lakh milestone in 2010. It crossed 30 lakh units in 2015 and 40 lakh units in 2020.
Read more here.
PowerGrid wins bid for two projects in Chhattisgarh
Power Grid Corporation of India Ltd (PGCIL) has won the bid under tariff-based competitive bidding to establish an inter-state transmission system for two projects in Chhattisgarh. The first project comprises the establishment of a 400kV transmission line passing through the state and bays extension works at two existing substations. The second project comprises bays extension works, including the creation of 220kV voltage at two existing substations
Read more here.
Adani Green has India's largest operating renewable portfolio at 8,024 MW
Adani Green Energy Ltd. has become the company with the largest operating renewable portfolio in India with a capacity of 8,024 megawatts (MW). The company achieved this feat after its fourth wind-solar hybrid power plant became fully operational at Jaisalmer, Rajasthan. The combined operational generation capacity of this hybrid power plant was 700 MW. It has a power purchase agreement (PPA) at ₹3.24/kwh for 25 years.
Read more here.
Mahanagar Gas to acquire 100% stake of Unison Enviro
Mahanagar Gas Ltd (MGL) has signed a Share Purchase Agreement to acquire a 100% stake in Unison Enviro Pvt Ltd (UEPL). This acquisition will enable MGL to expand to newer geographical areas in Maharashtra and Karnataka, thereby providing new avenues for long-term growth. It would help MGL scale its future business development activities across a larger network and customer base.
Read more here.
Post your comment
No comments to display