India's QSR & Restaurant Stocks - An Analysis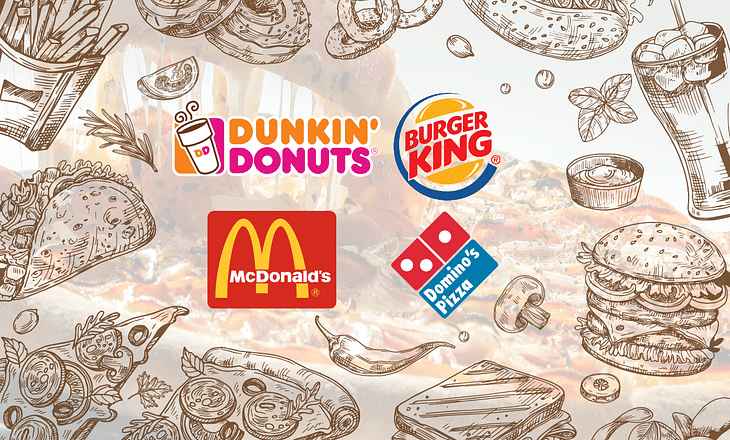 Last week, the shares of Burger King India made a stellar debut in our stock markets. The stock hit 20% upper circuit for three consecutive days! As you may know, the newly listed stock comes under the quick service restaurant (QSR) category. As the name suggests, QSRs offer certain food items that require minimal preparation time and are delivered through quick services. All of us love to consume fast food items from McDonald's, Domino's Pizza, KFC, Subway, and much more.
Upon further analysis, we found that major stocks that come under the food and beverages industry have shown an impressive rally in the past few months. This primarily includes companies that operate the prominent QSR outlets in our country. Let us take a closer look at three main companies that fall under the restaurant & QSR category in India.
Jubilant Foodworks
Jubilant Foodworks Limited is a company that most of us are familiar with. It is the leading operator of popular fast-food chains in our country. The company operates popular outlets such as Domino's Pizza, Dunkin Donuts, and Hong's Kitchen in India. It has established an impressive supply chain network, which consists of 3 distribution hubs and over 31,500 employees. The company has also been expanding its presence in Sri Lanka, where they operate 22 restaurants. Jubilant Foodworks also has 3 restaurants in Bangladesh.
The company has been highly successful in introducing campaigns to attract more customers to its fast-food outlets. Domino's Pizza is well known for its '30 minutes or free' delivery guarantee. They operate 1,312 Domino's Pizza outlets in India. You can now find a Domino's outlet in almost all small towns and cities. Domino's Pizza India has now become the brand's largest market outside of the United States.
Performance & Expansion:
As of FY 2019-2020, the total revenue of Jubilant Foodworks was reported at Rs 3,990 crore. It has been showing a consistent increase in revenue over the past few years. The company's management has completely focused on operational excellence. According to recent Q2 results, its consolidated net profit was up by 3.85% YoY to Rs 75.7 crore.
On December 16, Jubilant Foodworks announced the expansion of its portfolio with a new biryani brand- Ekdum! The company stated that Ekdum! will offer 20 different varieties of biryanis curated from different parts of India. Currently, it has opened three restaurants in Gurgaon and has plans to launch more in NCR over the next few months. They had also announced the launch of India's first plant-protein based pizza from Domino's - 'The Unthinkable Pizza'. Thus, we can see that the company is constantly expanding and showing great financial progress over the last few years.
Over the last six months, the share price of Jubilant Foodworks has surged by more than 54%!
Westlife Development
Westlife Development Ltd is also one of India's fastest-growing players in the QSR sector. The company's wholly-owned subsidiary, Hardcastle Restaurants Pvt Ltd, holds the master franchisee for McDonald's in West and South India. The company also operates the highly popular McCafé in these regions.
Westlife Development operates a total of 319 restaurants and has over 9900 employees. Apart from McDonald's and McCafé outlets, the company also operates McBreakfast, McDelivery, everyone's favourite McDonald's Dessert Kiosks. All these outlets are easily accessible in popular locations including malls, shopping complexes, and residential areas. Over the years, Westlife has introduced many innovative campaigns to attract more customers. McDonald's self-service machines/kiosks have become very popular in India. The McDelivery app enables delivery across 230+ McDonald's restaurants across West and South India.
The company has been able to consistently outperform India's QSR sector in terms of revenues and innovation. The company's overall revenue in FY 2019-2020 was Rs 15,477.9 crore. Due to the effects of Covid-19, the firm's Q2 net loss was reported at Rs 27 crore.
Over the last six months, the share price of Westlife Development Ltd has jumped by more than 42%!
Speciality Restaurants
Speciality Restaurants Ltd is one of the major restaurant companies in India that has a very diverse portfolio. It owns multiple chains of fine and casual dining restaurants in India, Bangladesh, UAE, and Tanzania. They also own confectionary stores. The company has now completed 25 years of operations and has been able to successfully launch multiple restaurant chains in these regions.
Some of the prominent casual and fine dining restaurant chains being operated by Speciality Restaurants include Mainland China, Oh! Calcutta, Gong, Sweet Bengal, Asia Kitchen, and much more. Café Mezzuna (an all-day bar and kitchen) and Hoppipola are very popular among young millennials. As of the previous financial year, the restaurants owned and operated by the firm are present in more than 25 locations across the four countries mentioned above.
Performance and Expansion:
The company has been showing a steady increase in its total revenue from operation over the last 5 years. Its revenue in FY20 was reported at Rs 367.75 crores. They have also initiated plans to expand its operations to more locations in the coming years. Speciality Restaurants has also introduced 5 new restaurant chains over the past year - Riyasat, Episode One, Urban Deccan Pub, HAY, and BARissh. Thus, we can see that this firm has stuck on to its vision and has focused on its massive expansion.
Since June 2020, the share price of Speciality Restaurants Ltd has surged by more than 37%.
Burger King India
As we know, Burger King India Ltd's shares were listed on the stock markets on 14 December. It had received an overwhelming response for its initial public offering (IPO). Currently, Burger King is the fastest-growing quick-service restaurant chain in India. They operate 216 restaurants and 7 Sub-Franchised Burger King Restaurants. They have time and again introduced strong marketing strategies and have successfully established a loyal customer base in our country.
The company has initiated a massive expansion plan, under which 700 restaurants will be opened by December 31, 2025. Burger King India will also use the proceeds from the IPO to improve marketing and other general purposes.
marketfeed had prepared a very special article on Burger King India's IPO earlier this month. You can learn more about it here. In fact, Burger King India has now easily surpassed the market cap of Westlife Development.
Conclusion
Now, we have a detailed understanding of each listed company in the Restaurants & QSR sector of India. There is another interesting fact to be noted here: There are recent reports which suggests that a company by the name of Sapphire Foods Pvt India Ltd is planning to launch a huge IPO in 2021. The company is one of the largest franchisees of Yum! Brands Inc, and also operates KFC, Taco Bell, and Pizza Hut outlets in India!
The food and beverages sector in India had been one of the worst-hit due to the Covid-19 pandemic. The companies mentioned above had to close down several of their units to cut down costs. They were able to survive due to sales from takeaways. In the July-September quarter (Q2), it was reported that Jubilant Foodworks had to shut down 105 stores.
Fortunately, restaurants in India are now seeing a massive revival. Since October, the government has allowed the opening of restaurants, pubs, and cafes for dine-in. The news related to the vaccine approvals has lifted our spirits and given us the courage to go out and eat. Many people who had not eaten at restaurants for more than 9 months are now rushing towards popular pubs and QSR chains.
All QSR brands mentioned above have a strong and loyal customer base. Over the years, they have launched a series of innovative offers and ad campaigns to completely transform our eating habits. The home delivery options and value-for-money offerings have made fast-food items an absolute favourite amongst all Indians. Several financial analysts have reported that the QSR market in India is projected to grow at a CAGR of 18% during 2021-2025.
Once a particular vaccine has been approved by the Indian drug regulator, we could see these stocks showing a major rally. There could also be an increase in revenue being reported by these companies in the coming quarters. This could ultimately support them to expand their portfolio and obtain a better market share. Let us look forward to seeing how these companies implement their targets.
Post your comment
No comments to display