'India's Own Car Manufacturer' who is Owned by a Japanese Company - Maruti Suzuki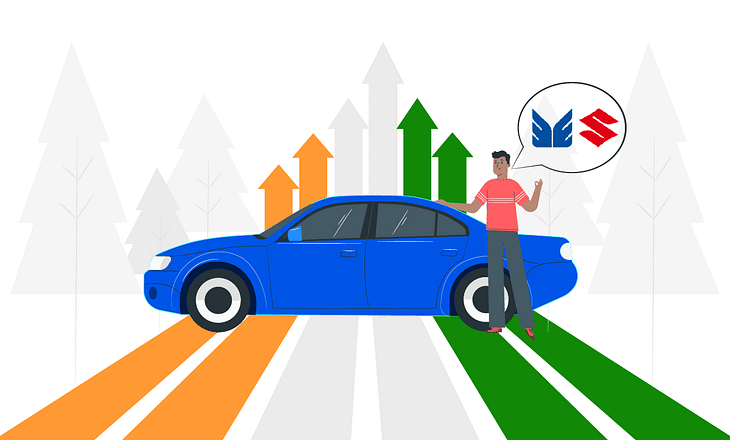 At some point in our lives, all of us would have had a deep connection with a Maruti Suzuki car. It may have been the very first car in your family. Or, it may have been the one in which you learned how to drive. The growth of this company, from its very origin, is truly a very interesting one. Let us dive deep into its history, and see how it has achieved more than 50% of the market share in India's automobile sector., as of 2020.
The (G)olden Days of Maruti
During the 1970s and 1980s, there was a very high demand for affordable passenger vehicles amongst middle-class families in India. The number of choices for buying cars was limited to the very famous Hindustan Ambassador and Premier Padmini. Both of these vehicles were not really affordable during those times. The Government of India wanted to address these concerns, and came up with a very promising solution in the form of a new company- Maruti Motors Limited. The incorporation of the automobile company was in June 1971.
Sanjay Gandhi (son of Indira Gandhi) was appointed as the Managing Director of Maruti Motors Limited. Under his leadership, the company did not achieve the launch it deserved. There were allegations of favouring family members and corruption against the new MD. He also did not provide the necessary support and guidance to launch projects. In 1977, the company had to be liquidated, which meant that the firm's assets were converted into cash to pay off investors or any outside liabilities.
After the sudden death of Sanjay Gandhi in 1980, the Government was looking to collaborate with a major automobile manufacturing company to kickstart its production activities. In order to rescue their image, the Government of India founded Maruti Udyog Limited on 24 February 1981. Around the same time, Suzuki, a Japanese company, saw this as an opportunity to broaden its presence in other countries. In 1982, a license and joint venture agreement (JVA) was signed between Maruti Udyog Limited and Suzuki. Within a few months of their joint venture, production of "The People's Car" - Maruti 800 had begun. As most know, this car laid the foundation for the growth of Maruti Suzuki India Limited.
Fun fact: According to various sources, Suzuki had not considered partnering with Maruti initially. While on a domestic flight in India, one of the senior directors of Suzuki read an article on a possible tie-up between Daihatsu (another Japanese automobile company) and Maruti. Soon after this, Suzuki immediately bought a stake in Maruti Udyog Ltd.
Fast-paced Growth
By 1988, the company established a new manufacturing plant at Gurgaon, where they could manufacture 1 lakh units every year. Maruti also started exporting its cars to the western markets. Their first export included 500 cars that were sent to Hungary.
When the collaboration had just begun, Suzuki was only a minor partner. In 1992, after the liberalization of the Indian economy, Suzuki increased its stake in Maruti to 50%. The company went on to manufacture back-to-back hits such as the Omni, Zen, Esteem, and most importantly, Alto. The company was able to manufacture these cars with improved Japanese technology, and ultimately sell it at very affordable prices in the Indian market. They also gave immense importance to servicing vehicles, and was one of the first car companies in India to launch dedicated customer service activities. Maruti Insurance and Maruti Finance are two of their subsidiaries launched in 2002, in order to provide a boost to car financing options.
Fun fact: Maruti requires more than 2,40,000 tonnes of steel every year for manufacturing its cars. It has been estimated that 32 Eiffel Towers could be constructed with that amount of steel.
Entry Into The Share Market
In 2003, the company decided to get listed on the stock exchanges. The Government sold off a 25% stake in Maruti Suzuki (it was still known as Maruti Udyog Limited then) at Rs 125 per share. The initial public offering (IPO) was oversubscribed almost 4.19 times within 2 days. The stock made its debut on 9th July 2003 and started trading at Rs 164 levels. The Government received Rs 993 crore for its sale of 25% in the company, which is peanuts compared to the valuation of the car-maker now.
By 2014, through the introduction of many more cars in various segments, Maruti Suzuki had a market share of 45% in India. The company's Driving School units, as well as its used car sales units (True Value), have also become a huge hit. Maruti Suzuki also launched NEXA in 2015, a new dealership network for its premium cars (Baleno, S-Cross, Ciaz, etc).
In 2017, people who had held onto their Maruti Suzuki stock since its entry into the NSE and BSE had received an overwhelming 7,900% return. The share prices crossed Rs 10,000 in intraday levels in December 2017. It became one of the top 5 companies in India, in terms of the highest market capitalization. Market capitalization is calculated as the total number of shares multiplied by its corresponding share price.
Suzuki: Showing its Strength
In March 2020, Suzuki increased its stake in Maruti to 56.21%, therefore having a majority in the company. And recently, in September, Suzuki purchased an additional 2,84,322 shares, thereby increasing the stake to 56.37%. It should be noted that Suzuki never changed the Maruti brand name, even after holding more than 56% in the company. They realized the value of how Indian customers had a deep relationship with their cars. Moreover, 'Maruti' was a company that had established the foundation for the automobile sector in our country.
We can attribute the growth of their company to a major boom in the consumption of passenger vehicles in India. Analysts have stated that competitors in the automobile industry have not been able to match up to what Maruti Suzuki has offered throughout the years. They have superior manufacturing capabilities, and the ability to cover almost every single aspect related to car sales. The firm reported a 30.8% increase in total sales at Rs 1.6 lakh units in September 2020. Between April and September, they have sold a total of 4.6 lakh units.
The company is facing rising pressure from foreign manufacturers in its top-end car segment. As of 16th October 2020, the share price of Maruti Suzuki has been trading at Rs 6894.90. The Q2 results are set to be released on 29th October 2020.
Future Plans
Car subscription plans are considered to have a huge potential market in India. People might require cars for a certain period of time, but not necessarily be in a position to buy them.
In September 2020, Maruti Suzuki India announced the launch of its new vehicle subscription program for individuals - Maruti Suzuki Subscribe. This new program allows customers to use a Maruti Suzuki vehicle without actually owning it. Instead, they would have to pay an all-inclusive monthly fee, that would cover insurance, maintenance, and roadside assistance. Customers will be able to choose a duration ranging from 12-48 months. The program has been introduced currently in Delhi, Bengaluru, and the National Capital Region of Noida, Ghaziabad, Gurugram. Is this the future of the car industry in India?
You may have also noticed that only the letter 'S' is on the logo of all Maruti Suzuki cars that are being sold now. We have begun to notice that the brand name 'Maruti' is slowly and gradually being removed from their cars. Since Suzuki does have a 56% stake in the company, they would want to make its brand more recognizable in India. Only time will tell if these changes would be welcomed by the Indian customers.
Maruti Suzuki India has dominated the automobile sector for years now. In a space where competition is high, the company has been able to initiate schemes to address the needs of every type of customer. With such a high market share in India, we can understand that Maruti Suzuki Limited has major plans to deliver the best, and ensure they remain at the top.
Post your comment
No comments to display