India's Manufacturing PMI Falls to 57.7 in July - Top Indian Market Updates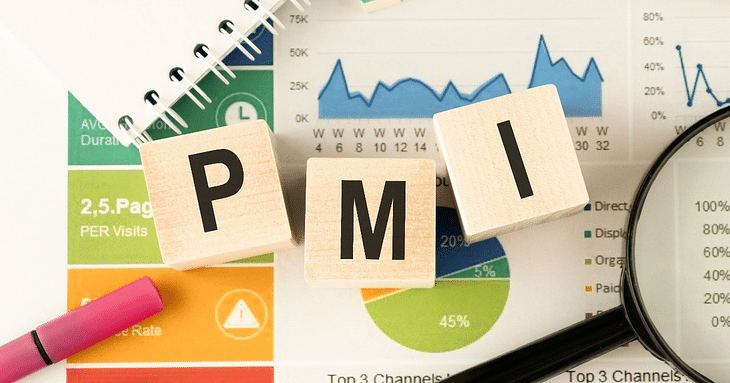 Here are some of the major updates that could move the markets tomorrow:
India's manufacturing PMI falls to 57.7 in July
India's manufacturing activity maintained its growth momentum as order growth remained high in July. The IHS Markit India Manufacturing Purchasing Managers' Index came in at 57.7 in July compared to 57.8 in June. New export business growth picked up to the fastest since last November.
PMI is a month-on-month calculation, and a value above 50 represents an expansion compared to the previous month.
Read more here.
Auto sales data for July 2023: Highlights
Maruti Suzuki India posted a 3% year-on-year (YoY) increase in total sales to 1.82 lakh units in July 2023. Sales of its mini & compact vehicle segment fell 27% YoY to 76,692 units. Exports rose 9.2% YoY to 22,199 units.
Tata Motors Ltd's total passenger vehicle sales were flat at 47,689 units in July. The automaker's commercial vehicle sales declined by 4% YoY to 32,944 units.
Mahindra & Mahindra's total passenger vehicle segment posted total sales of 36,205 units in July, an increase of 29% YoY. M&M's exports fell 9% YoY to 2,540 units.
TVS Motor Company's total sales stood at 3.26 lakh units in July, up 4% YoY. Meanwhile, Bajaj Auto's sales fell 15% YoY to 2.69 lakh units.
Read more here.
Adani Total Gas Q1 Results: Net profit rises 9% YoY to ₹150 crore
Adani Total Gas reported a 9% YoY increase in consolidated net profit to ₹150 crore for the quarter ended June (Q1 FY24). Its revenue from operations rose by 2% YoY to ₹1,135 crore during the same period. EBITDA stood at ₹225 crore, up 12% YoY on account of higher volume and cost optimisation. CNG volumes increased by 18% YoY while PNG volume decreased by 6% YoY.
Read more here.
Arvind SmartSpaces signs two golf-themed projects in Ahmedabad
Arvind SmartSpaces Ltd (ASL) has signed two large horizontal (plots and Villas) multiuse, golf-themed development projects in Ahmedabad. The projects have a total estimated area of 704 acres and a top-line potential of ₹2,300 crore. These projects are located in South Ahmedabad and would be ASL's 17th and 18th projects in Ahmedabad. Both projects are signed under the joint development model enabling low capital intensity and higher returns.
Read more here.
L&T's Construction unit wins multiple orders for heavy civil infrastructure business
Larsen and Toubro's subsidiary L&T Construction has won multiple orders for its heavy civil infrastructure business. The order is from Rail Vikas Nigam Ltd. (RVNL) for the design and construction of an underground metro project in connection with the Joka – Esplanade Metro Corridor in the city of Kolkata. The company didn't disclose the exact value of the orders but defined them as 'large' orders. All orders between ₹2,500 crore and ₹5,000 crore are classified under the 'large' category by L&T.
Read more here.
PVR Inox Q1 Results: Net loss at ₹82 crore
PVR Inox reported a consolidated net loss of ₹82 crores for the June quarter (Q1 FY24). However, its revenue from operations rose 32% YoY to ₹1,304 crore during the same period. The loss was primarily due to an over 56% rise in company expenses. The movie exhibition cost jumped to ₹298 crore in Q1FY24, which was up both sequentially and on a YoY basis.
Read more here.
Kolte-Patil acquires 2 society redevelopment projects in Mumbai suburb
Kolte-Patil Developers has agreed to redevelop two housing societies in the micro-market of Bangur Nagar in Goregaon, western suburbs of Mumbai. The projects with a total saleable area of around 4.8 lakh sq ft are estimated to have a revenue potential of ₹950 crore. The company has already executed a residential redevelopment project spread over 2.77 lakh sq ft in this micro-market and the project has already been sold out with a sales value of ₹495 crore.
Read more here.
Glenmark gets USFDA nod to market generic diabetes drug
Glenmark Pharmaceuticals has received approval from the US Food & Drug Administration (USFDA) to market a generic diabetes drug in the American market. The company has received final approval from the USFDA for Saxagliptin Tablets, the generic version of AstraZeneca's Onglyza1 tablets. According to IQVIATM sales data, for the 12 months ending June 2023, the Onglyza tablets achieved annual sales of around USD 100.7 million.
Read more here.
Oberoi Realty Q1 Results: Net profit falls 20% YoY to ₹322 crore
Oberoi Realty reported a 20% YoY fall in consolidated net profit to ₹321.64 crores for the June quarter (Q1 FY24). Its total income fell slightly to ₹933.56 crore during the same period. Total income stood at ₹934.81 crore in Q1 FY23. Expenditure grew to ₹509.07 crore in the quarter from ₹463.32 crore in the year-ago period.
Read more here.
Bharti Airtel launches self-service digital marketing product Airtel IQ Reach
Bharti Airtel has launched an enterprise communications platform, Airtel IQ Reach. It will enable brands/ companies to drive targeted customer engagements through personalised communications. Airtel IQ Reach is aimed at small and medium businesses and is currently available using WhatsApp as a messaging platform, with SMS and voice to be added in the future. Additionally, businesses will get access to customer information only if the customer chooses to respond to the communication sent out.
Read more here.
Post your comment
No comments to display