India's Industrial Output Grows 7.1% in April - Top Indian Market Updates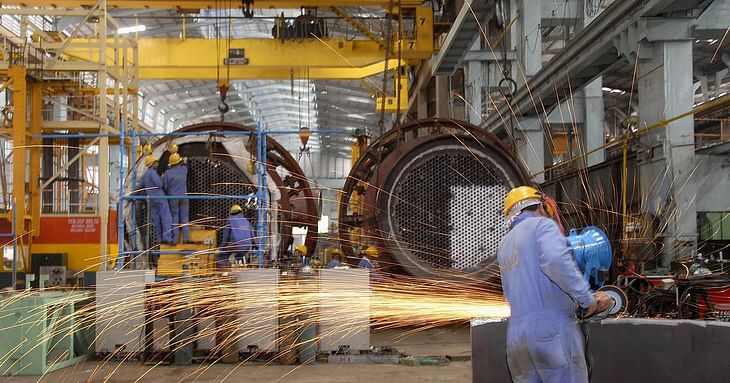 Here are some of the major updates that could move the markets tomorrow:
India's industrial output grows 7.1% in April
India's index of industrial production (IIP) grew 7.1% YoY to 135.1 in April 2022, compared to a growth of 1.9% in March. The mining sector rose by 7.8% year-on-year (YoY) to 116.0 in April, the manufacturing sector witnessed a growth of 6.3% to 132.5, and the electricity sector climbed 11.8% to 194.5.
Read more here.
Actis acquires road assets of Welspun Enterprises for Rs 6,000 crore
UK-based global investor Actis has acquired a portfolio of six operating highway toll road projects from Welspun Enterprises Ltd for an enterprise value of $775 million (~Rs 6,000 crore). The projects are located strategically across India, including in the most prominent North-South highway corridor. The portfolio benefits from a stable mix of annuity and toll cash flows.
Read more here.
Alembic Pharma gets USFDA approval for cancer treatment drug
Alembic Pharmaceuticals Ltd has received approval from the US Food & Drug Administration (USFDA) to market Dasatinib tablets. The drug is used to treat certain types of leukemia (cancer of the blood cells). As per IQVIA data, Dasatinib tablets had an estimated market size of $1,465 million for the twelve months ended December 2021.
Read more here.
Coal India to import 6 MT more coal to meet power demand
Coal India Ltd has issued two tenders to import 6 million tonnes (MT) of coal in the next 12 months to meet surging power demand in India. This follows another tender issued on Thursday to import 2.42 MT of the dry fuel for delivery in July-September. These two medium-term import tenders of 3 MT each of coal have the option of increasing the bid quantity by 100% to 12 MT.
Read more here.
Strides Pharma gets USFDA nod for Ibuprofen suspension
Strides Pharma Science Ltd has received approval from the USFDA to market Ibuprofen OTC Oral Suspension in the US markets. Ibuprofen is a nonsteroidal anti-inflammatory drug used as a painkiller in conditions like headache, dental pain, menstrual cramps, muscle aches, or arthritis. The product will be manufactured at the pharma company's facility in Bengaluru.
Read more here.
Bajaj Auto's arm inaugurates new EV manufacturing plant in Pune
Bajaj Auto's wholly-owned subsidiary, Chetak Technology Ltd. (CTL), inaugurated its new EV manufacturing plant at Akurdi, Pune. CTL and its vendor partners will invest ~Rs 750 crores in this new facility. Its production capacity will be swiftly increased to manufacture 5 lakh electric two-wheelers per year.
Read more here.
India's peak power demand all-time high of 210,793 MW
India's electricity demand touched a record high of 210,793 megawatts (MW) on Thursday as several regions in the north faced severe heatwave conditions. The highest demand until last year was 200,570MW, recorded on July 7, 2021. This year, the government is projecting peak electricity demand to go up to 215,000 MW once monsoon sets in large parts.
Read more here.
Total passenger vehicle sales rise 185% YoY in May: SIAM
According to newly released data from the Society of Indian Automobile Manufacturers (SIAM), total passenger vehicle (PVs) sales in May 2022 rose 185% YoY to 2,51,052 units. Three-wheeler sales jumped multifold to 28,542 units in May 2022, compared to 1,262 units in May 2021. Two-wheeler sales rose over 253% YoY to 12,53,187 units.
Read more here.
Indian crude oil basket hits 10-year high
The basket of crude oil that India buys has hit a 10-year high of $121 per barrel, but retail selling prices of petrol and diesel continue to remain unchanged. The Indian basket on June 9 touched $121.28, matching levels seen in February/March 2012. International oil prices held near a 13-week high on Thursday, supported by robust demand from key buyers like the US.
Read more here.
Post your comment
No comments to display