India's GDP Likely to Grow 7% in FY23 - Top Indian Market Updates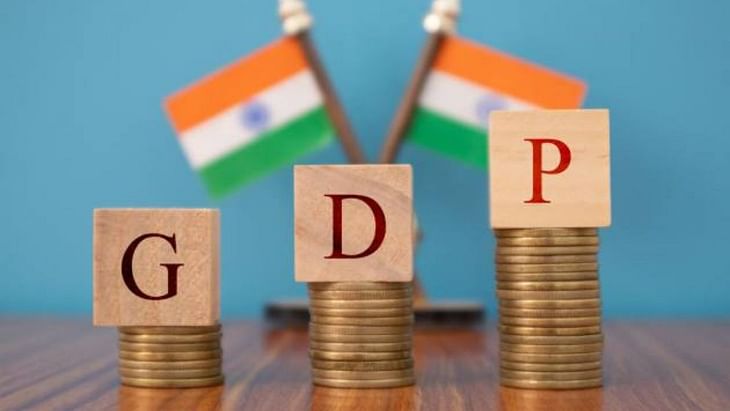 Here are some of the major updates that could move the markets on Monday:
India's GDP likely to grow 7% in FY23: NSO
The Indian economy is seen growing at a rate of 7% in the current financial year (FY23), as per the first advanced estimates of the National Statistical Office (NSO). The expected growth rate is lower than the 8.7% estimate for FY22. The advanced GDP estimates are an important figure for the government as they use it as a base to work out its economic growth and fiscal projections for the next Union Budget (Feb 1).
Read more here.
Sobha's sales bookings rise 36% YoY to ₹1,425 crore in Q3
Sobha Ltd reported a 36% YoY growth in sales bookings to ₹1,424.7 crore for the quarter ended December 2022 (Q3 FY23) on a strong revival in demand. The company achieved its highest-ever quarterly sales volume of 1.47 million square feet, recording an increase of 11.6% YoY. The average price realisation improved to ₹9,650 per square feet in Q3, up 21.9% YoY.
Read more here.
Bharti Airtel launches 5G services in Hissar, Rohtak
Bharti Airtel has launched its 5G services in Hissar and Rohtak, expanding the reach of the new-age high-speed network in Haryana. The company's 5G services are already live in Gurugram and Panipat. Airtel '5G Plus' services will be available to customers in a phased manner as the company continues to construct its network and complete the rollout.
Read more here.
Macrotech Developers records ₹9,000 crore pre-sales in 9 months
Macrotech Developers (Lodha) has reported a 16% YoY growth in pre-sales for the quarter ended December (Q3 FY23) at ₹3,035 crore, taking its first nine months' cumulative performance to a record level of 9,039 crore. The company's net debt in India was reduced further by over ₹750 crore to ₹8,042 crores during Q3. Lodha has added four new projects across Mumbai and Pune with a gross development value potential of ₹8,500 crore.
Read more here.
Oil companies making ₹10 a litre profit on petrol, ₹6.5 loss on diesel: Report
Oil companies are selling petrol at a profit of ₹10 per litre and a loss of ₹6.5 a litre on diesel, according to an ICICI Research report. But for the past 15 months, Indian Oil Corporation (IOC), Bharat Petroleum Corporation Ltd (BPCL), and Hindustan Petroleum Corporation Ltd (HPCL) have not revised petrol and diesel prices in line with the cost. They have times of low oil prices to recoup losses incurred when rates were high.
Read more here.
Unitech, former directors booked by CBI in fresh bank fraud case of ₹395 crore
The Central Bureau of Investigation (CBI) has filed a new case against Unitech Ltd and its former directors in connection with an alleged fraud in IDBI Bank involving an amount of ₹395 crore. The company was allegedly enjoying a vendor bill discounting facility (a kind of credit) of ₹400 crore from the IDBI bank in 2012. The accused Unitech founders are facing another CBI probe pertaining to alleged fraud in Canara Bank.
Read more here.
Sale of health insurance policies rising in rural areas: Report
The rising cost of healthcare services, demand from the micro-insurance segment, and post-Covid awareness are pushing the sale of health insurance policies in semi-urban and rural markets, according to a Times of India report. For instance, Kotak Mahindra General Insurance has more than doubled its rural policies from 13% in FY20 to 32% through September of the current financial year (FY23).
Read more here.
Alembic Pharma gets USFDA approval for overactive bladder treatment drug
Alembic Pharmaceuticals has received final approval from the US Food & Drug Administration (USFDA) for Fesoterodine Fumarate Extended-Release (ER) tablets. The drug is used to treat overactive bladder (OAB) in adults with symptoms of urinary incontinence, urgency, and frequency. According to IQVIA data, Fesoterodine Fumarate ER Tablets have an estimated market size of $177 million for the 12 months ended Sept 2022.
Read more here.
Kolkata-based JG Chemicals files papers for IPO
Kolkata-based JG Chemicals has filed a Draft Red Herring Prospectus (DRHP) with markets regulator SEBI to raise funds through an initial public offering (IPO). The IPO comprises a fresh issue of equity shares worth up to ₹202.50 crore and an offer-for-sale (OFS) of 57 lakh equity shares by its existing promoter group shareholders. JG Chemicals is India's largest zinc oxide manufacturer in terms of production and revenue.
Read more here.
KIMS buys additional 5.53% stake in Sarvejana Healthcare
Hospital chain Krishna Institute of Medical Sciences Ltd (KIMS) has acquired an additional 5.53% stake in Sarvejana Healthcare Pvt Ltd. The shares were acquired at ₹340 per equity share. With this acquisition, KIMS holds 56.61% of the total paid-up equity share capital of Sarvejana Healthcare Private Ltd.
Read more here.
Post your comment
No comments to display