India's GDP Growth Slows to 6.3% in Q2 - Top Indian Market Updates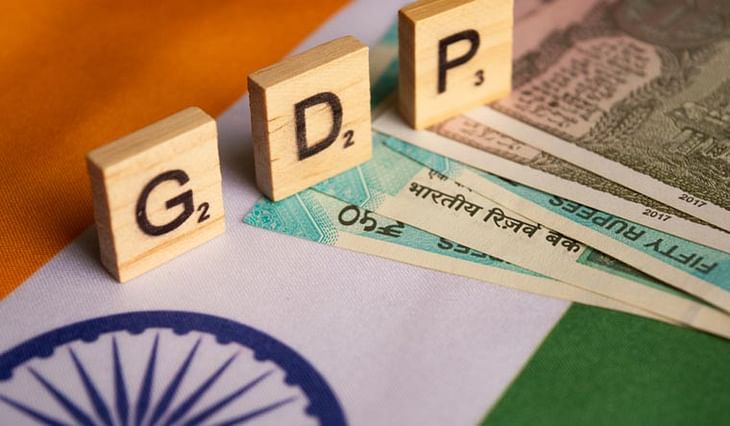 Here are some of the major updates that could move the markets tomorrow:
India's GDP growth slows to 6.3% in Q2
India's gross domestic product (GDP) grew by 6.3% YoY during the July-September quarter (Q2 FY23). The GDP had expanded by 8.4% in Q2 FY22. Nominal GDP or GDP at current prices in Q2 FY23 is estimated at ₹65.31 lakh crore, showing a growth of 16.2% YoY. "Several indicators suggest that the Indian economy is making resilient progress in Q2 FY23 in spite of the drag from global spillovers," said SBI economist Soumya Kanti Ghosh.
Read more here.
SBI Cards surpasses HDFC Bank in incremental card issuances
SBI Cards & Payment Services has surpassed HDFC Bank in incremental card issuances in the festival month of October. HDFC Bank retreated to the fourth position in new credit card additions— at less than 2.2 lakh last month. SBI Cards added 3.4 lakh customers. Axis Bank and ICICI Bank added 2.6 lakh and more than 2.2 lakh customers, respectively, to beat HDFC Bank in incremental additions.
Read more here.
Liquor sales rise as demand increases for key segments
Sales volumes of spirits rose 15% to 31.9 crore cases between January and October, with demand increasing for all key segments (whiskey, brandy, rum, gin, and vodka), said industry executives citing the latest Excise Department data. The alcohol market saw a sharp recovery during the first ten months of 2022 after a severe decline during the pandemic. India's spirits market is expected to reach a record-high volume of 39 crore cases by end of 2022.
Read more here.
Rajasthan Govt. picks Jio, Airtel for 'Mukhyamantri Digital Seva Yojana'
The Rajasthan government has selected Reliance Jio and Bharti Airtel to provide internet access and free smartphones to the women heads of 13.3 million families in the state under the 'Mukhyamantri Digital Seva Yojana'. The tender is worth more than ₹12,000 crores. The distribution of free smartphones will begin in the second week of December. Jio will provide almost 60% of the connections while Airtel will fulfil the rest.
Read more here.
NDTV says Prannoy, Radhika Roy resigned as directors of the promoter group
NDTV founders Prannoy Roy and Radhika Roy have resigned as directors of promoter group vehicle RRPRH with immediate effect. An entity backed by the founders had issued shares of NDTV to a unit of the Adani Group, taking the Gautam Adani-led conglomerate a step closer to control of the media firm. The transfer of shares will give Adani control over a 29.18% stake in NDTV. Adani is also conducting an open offer between Nov. 22 and Dec. 5 for a 26% stake in NDTV.
Read more here.
Port infrastructure may get ₹2 lakh crore upgrade to ease logistics pain
India is eyeing a ₹2 lakh crore upgrade of its port infrastructure, in a major push to ease bottlenecks in logistics. Around 298 projects, including road and rail connectivity to ports, have been identified under the plan. The Empowered Group of Secretaries has identified critical infra gaps in port connectivity that would be taken on a priority basis and their implementation would be reviewed monthly.
Read more here.
Tata eyes Apple vendor Wistron's facility in Karnataka: Report
According to reports, Tata Group has initiated discussions with Taipei's Wistron Corp, one of the three top vendors for Apple in India, to buy its sole manufacturing facility in Karnataka for ₹4,000-5,000 crore. The transaction will help the group ramp up the manufacturing capabilities of Tata Electronics Pvt Ltd (TEPL) in precision engineering. TEPL is a wholly-owned subsidiary of Tata Sons.
This acquisition could be part of the Tata Group's ambitions to become a scaled mobile phone and component contract manufacturer.
Read more here.
DoT to telcos: No 5G sites near airports for now
The Department of Telecommunications (DoT) has directed all mobile phone operators not to install any 5G sites in the 3,300-3,670 megahertz band (C-band) within 2.1 kilometres of both ends of the runway at all the airports in India. In a letter to Reliance Jio, Bharti Airtel, and Vodafone Idea, DoT further said 5G base stations can be installed in the vicinity of 540 meters after this 2.1 km range.
Read more here.
SBI's business partner Save Solutions in talks with private equity firms to raise ₹300-400 crore
Save Solutions, a leading business correspondent for the State Bank of India, is in talks with private equity investors to raise about ₹300-400 crore to fund its own lending business. A sharp rise in loan demand in the country and an overall economic rebound have boosted growth prospects. Save Solutions plans to use the funds to expand lending operations to micro, small and medium enterprises (MSMEs) and to micro-loan borrowers.
Read more here.
Post your comment
No comments to display