India's GDP Growth Accelerates to 7.8% in Q1 FY24 - Top Indian Market Updates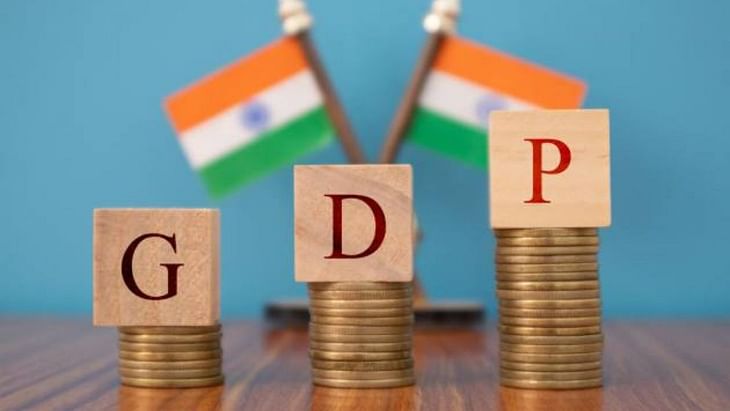 Here are some of the major updates that could move the markets tomorrow:
India's GDP accelerates to a four-quarter high of 7.8% in Q1
According to the data from the National Statistical Office (NSO), India's Gross Domestic Product (GDP) surged to a four-quarter high of 7.8% on an annual basis in the June quarter (Q1) of FY24. The growth can be attributed to central and state governments increasing capital expenditure (capex), stronger consumption demand and higher activities in the services sector. Meanwhile, the Reserve Bank of India (RBI) had predicted a growth rate of 8%.
Jio Fin Services to be removed from Sensex tomorrow
S&P BSE indices (including Sensex) will remove Jio Financial Services (JFSL) from its indices with effect from tomorrow, September 1. Jio Financial Services Ltd (JFSL) is a demerged non-banking financial services (NBFC) unit of Reliance Industries Ltd. The exchanges twice extended the removal of JFSL shares from the indices after the shares hit a lower circuit for four consecutive sessions post-listing.
Read more here.
Viacom 18 bags TV and digital rights for Indian cricket team's home matches
Viacom18 has won BCCI media rights for ₹67.8 crore per match, outbidding Sony Pictures Networks India and Disney Star. The total value of the deal is ₹5,966 crore. The e-auction for the bilateral cricket media rights was held on Thursday. As per the tender released by the BCCI on August 2, the board had set a base price of ₹20 crore per match for Package A, which comprises the TV rights for the Indian subcontinent.
Read more here.
India's Q1 fiscal deficit widens to Rs 6.06 lakh crore
According to Govt data, India's fiscal deficit for Q1 FY24 has soared to ₹6.06 lakh crore, a significant increase from the ₹3.41 lakh crore recorded in the same period the previous year. The deficit stood at 20.5% of the Budget Estimates (BE) in the corresponding period of the financial year 2022-23. The fiscal deficit for Q1 now stands at approximately 33.9% of the projected ₹17.87 lakh crore target for the entire fiscal year.
Read more here.
Jupiter Wagons to enter EV market with electric commercial vehicles in early 2024
Jupiter Wagons' entry into the electric vehicle (EV) market is set for early next year, marking a significant milestone in their diversification journey. Recognising the huge interest and demand for electric mobility solutions, the company is poised to leverage this opportunity by introducing electric commercial vehicles. Jupiter Wagons is engaged in the production of railway freight wagons, passenger coaches, wagon components, and cast manganese steel crossings & castings. 
Read more here.
Kotak Mahindra adds UPI interoperability feature to its Digital Rupee app
Kotak Mahindra Bank announced the introduction of a UPI interoperability feature on its Digital Rupee (e₹) application as a part of the RBI's CBDC pilot project. Users will now be able to scan any QR code at merchants to make payments for groceries and daily expenses. As of today, the feature is live for Android users. It will empower customers to make payments on the existing UPI QR codes available at merchants.
Read more here.
Tata Power RE signs pact with Sanyo Special Steel Manufacturing to set up 28-MW solar plant
Tata Power Renewable Energy Limited (TPREL) has partnered with Sanyo Special Steel Manufacturing India Pvt Ltd (SSMI) to set up a 28.12-megawatt green energy plant in Maharashtra. TPREL an arm of Tata Power. The plant is expected to produce 61.875 million units (MUs) of electricity annually, which would meet the energy requirement of the steel manufacturing unit of SSMI.
Read more here.
JSW Group in talks with Chinese carmaker Leapmotor for EV tech: Report
JSW Group is in early talks with Chinese automaker Leapmotor to license technology to build electric vehicles in India. Under the technology licensing agreement, JSW would use Leapmotor's platform to manufacture EVs in India under its own brand name. JSW is likely to use a single platform on which it can build at least three mid-sized sport-utility vehicles (SUVs).
Read more here.
Zydus Lifesciences gets USFDA approval for acne drug
Zydus Lifesciences has received final approval from the US Food & Drug Administration (USFDA) for Isotretinoin Tablets. The drug is used in the treatment of severe cystic acne. As per IQVIA MAT data for July 2023, the Isotretinoin Capsules USP had annual sales worth $165 million in the United States.
Read more here.
TCS extends contract with Athora Netherlands
Tata Consultancy Services (TCS) has expanded its long-standing partnership with Athora Netherlands (formerly VIVAT). The partnership is to help the Dutch life insurance and pension provider with a better IT operating model to enhance customer experience, operational resilience and business agility. This will be a multi-year deal for TCS. The company didn't disclose the size or the tenure of the deal.
Read more here.
Post your comment
No comments to display