India's GDP Grows at 13.5% in Q1 - Top Indian Market Updates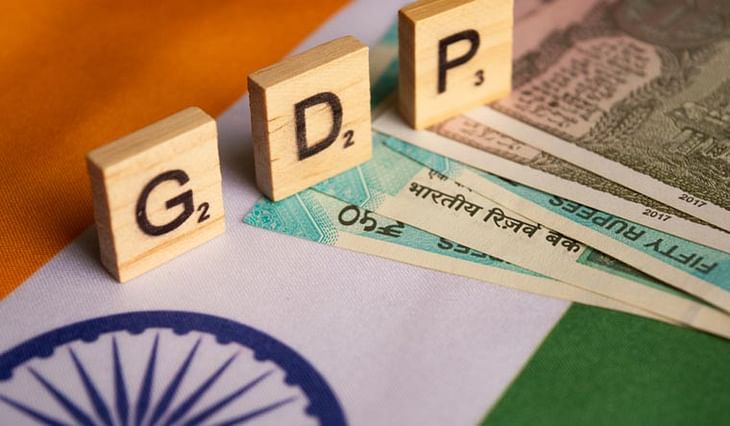 Here are some of the major updates that could move the markets tomorrow:
India's GDP grows at 13.5% in Q1
India's gross domestic product (GDP) grew by 13.5% during the April-June quarter (Q1 FY23), compared to a 4.1% growth in Q4 FY22. The economy grew at the fastest pace in a year as a favourable base effect and improved activities after the relaxation of Covid-19 restrictions outweighed the effects of geopolitical and global concerns.
India's manufacturing sector grew 4.8% in Q1, while the agriculture sector posted a 4.5% growth. The construction segment grew by 16.8% during the first quarter of FY23. The mining & quarrying sector witnessed a growth of 6.5% in Q1.
Read more here.
Inox Leisure to add 834 screens after FY23
Multiplex operator Inox Leisure Ltd has announced an expansion strategy to add 834 screens after FY23. It currently operates 692 screens in 73 cities across India as of June 30, 2022 (Q1 FY23). The company estimates the total screen count to go up to 752 by the end of the ongoing financial year. Inox Leisure has partnered with ICC to screen live matches at selected INOX cinemas. They have also started selling official merchandise of various Disney/Marvel superheroes and sportspersons as an alternate revenue source.
Read more here.
Reliance Industries acquires soft drink brand Campa: Report
As per an Economic Times report, Reliance Industries Ltd (RIL) has acquired homegrown soft drink brand Campa from New Delhi-based Pure Drinks Group for ₹22 crore. Campa will be re-launched nationally by Diwali in three flavours, including its iconic Campa Cola version, lemon, and orange variants. The move comes as Reliance Retail announced plans to roll out its fast-moving consumer goods (FMCG) business.
Read more here.
Ashok Leyland secures mega order for 1,400 school buses in UAE
Ashok Leyland Ltd has secured orders for 1,400 school buses in the United Arab Emirates (UAE). The total fleet deal for the GCC-made buses has been bagged by Ashok Leyland's UAE distribution partners— Swaidan Trading-Al Naboodah Group. The company will supply the 55-seater Falcon buses and 32-seater Oyster buses from its state-of-the-art manufacturing facility in Ras Al Khaimah, UAE.
Read more here.
Havells to invest ₹130 crore at Rajasthan unit to expand production capacity
Havells India Ltd is planning to invest ₹130 crore to expand washing machine production capacity at its Ghiloth plant in Rajasthan. This expansion would be financed through internal accruals. The plant has the capacity to roll out 3 lakh units per annum currently. Havells plans to add an additional capacity of 3.8 lakh units per annum.
The company is also setting up a cable manufacturing unit at Tumakuru, Karnataka, for a proposed annual capacity of 3,48,000 kilometers with an investment of ₹300 crore.
Read more here.
IndiGo announces codeshare agreement with Virgin Atlantic
InterGloble Aviation Ltd (IndiGo) has announced a codeshare agreement with British carrier Virgin Atlantic. The agreement will help both airlines to expand their access to customers flying to destinations that are serviced by either of them. Customers booking a Virgin Atlantic ticket will be able to fly on the airline's London Heathrow to Delhi/Mumbai flights and connect to and from 7 additional cities in India.
Read more here.
Significant reduction in debt burden to ₹1,810 crore till March 31: Coffee Day Enterprises
In its latest annual report, Coffee Day Enterprises Ltd (CDEL) said its debt level has been reduced significantly to ₹1,810 crore as of March 31, 2022 (FY22). CDEL's debt levels stood at ₹7,214 crore in FY19 and ₹1,898 crore in FY21. However, there have been certain defaults in repayments of principal and interest on loans. Certain lenders have also exercised their rights to recall loans.
Read more here.
SpiceJet delays salaries for a 2nd consecutive month
Employees at SpiceJet Ltd claimed that their salaries had been delayed for the second consecutive month despite the airline's claim that payments were being made in a "graded format." "The salaries being disbursed to captains and first officers are not even 50% of what they used to be before the Covid-19 outbreak in March 2020," an employee told PTI.
The SpiceJet Human Resources team blamed superlative fuel price hikes and a historically lean period of July-Sept for the delays in salary payments.
Read more here.
Adani Group to launch open offer for NDTV on Oct 17
Adani Group will launch its open offer on October 17 to acquire an additional 26% stake in media firm NDTV. The open offer for acquiring 1.67 crore equity shares at ₹294 per share will tentatively close on November 1. If fully subscribed at a price of ₹294 per share, the open offer will amount to ₹492.81 crore.
Read more here.
Govt aims to increase coal production to 1.23 billion tonnes by FY25
The Ministry of Coal is accelerating the process to enhance coal production with a target of reaching 1.23 billion tonnes of fuel production by FY25. At this level of production, it is expected that fuel imports may not be required. Also, domestic production would be sufficient to meet the total energy demand. 
Meanwhile, Coal India Ltd (CIL) has adopted an integrated planning approach by strengthening evacuation infrastructure for 1 billion tonnes of production and seamless transportation of coal to the end users.
Read more here.
Post your comment
No comments to display