India's GDP Grows 6.1% in Q4 - Top Indian Market Updates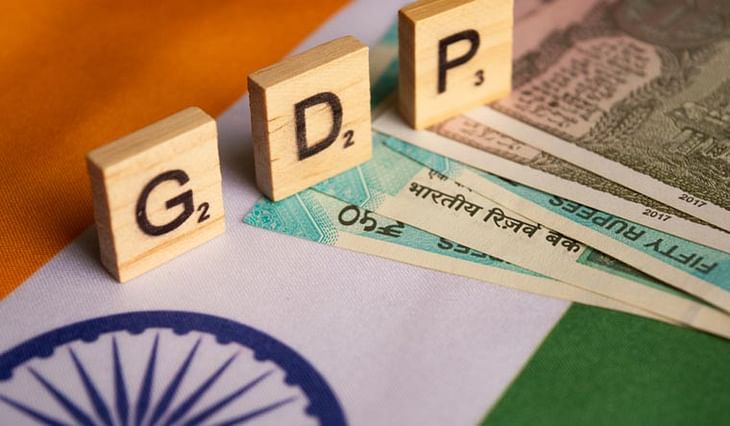 Here are some of the major updates that could move the markets tomorrow:
India's GDP grows 6.1% in Q4
India's gross domestic product (GDP) grew at 6.1% in the last quarter of the previous financial year (Q4 FY23)— beating street estimates. In FY23, the economy grew at 13.1%, 6.2% and 4.5% in Q1, Q2 and Q3, respectively, on an annual basis. However, economists warned that the global slowdown and volatility in financial markets pose a risk to exports and the growth outlook in coming quarters.
Read more here.
Civil aviation ministry comes out with draft aircraft bill
The Ministry of Civil Aviation has come out with a draft bill for putting in place a simplified approach to regulations pertaining to the aviation sector. The Draft Aircraft Bill, 2023, has been prepared after reviewing the existing Aircraft Act of 1934. It aims for better provisions for regulation and control of the design, manufacture, possession, use, operation, sale, import and export of aircraft.
Read more here.
Vedanta Resources pays $400 million debt
Vedanta Resources Ltd (Vedanta), the parent company of Vedanta Ltd, has repaid loans worth $400 million, cutting gross debt to $6.4 billion. The company is targeting further debt reduction during the balance of FY24 and ultimately intends to lower gross debt towards zero.
Read more here.
Manappuram Finance launches digital money lending app
Manappuram Finance Ltd has launched Ma-Money, a new digital lending platform. The objective of introducing the app is to provide customers with all the financial products offered by the company under one umbrella. The app is primarily targeted at customers in tier 2 and tier 3 cities
Read more here.
PTC India signs two long-term agreements for 215 MW power purchase
PTC India has signed two agreements for the purchase of 215 megawatts (MW) of electricity on a long-term basis. While an agreement has been signed with Brookfield Renewables for purchase of 100 MW solar power, another pact is with V S Lignite for purchase of 115 MW thermal power. PTC India will market the power to various utilities and industrial consumers.
Read more here.
Centre to offload stake in Coal India via OFS on June 1: Report
According to a CNBC-TV18 report, the Central Government will sell a stake in Coal India Ltd (CIL) through an offer for sale (OFS) on the BSE and NSE on Thursday (June 1). The size of OFS is likely to be around Rs 4,000 crore. The floor price has been fixed at Rs 225 a share, at a discount of nearly 7% as compared to Wednesday's closing price of Rs 241.2.
Read more here.
Dixon Tech to partner with Xiaomi India for manufacturing phones
Dixon Tech has partnered with Xiaomi India for manufacturing and exporting mobile phones from India. The company is also looking to enhance the component ecosystem in India through its wholly-owned subsidiaries. Earlier, Chinese electronics giant Xiaomi had partnered with homegrown Dixon Tech to locally manufacture Mi LED TVs.
Read more here.
IPL final watched by 12 crore viewers on JioCinema: Viacom18
Reliance's Viacom18 said the Indian Premier League (IPL) 2023 became the most-watched digital event globally as 12 crore unique viewers tuned in to watch the final match between Chennai Super Kings (CSK) and Gujarat Titans on JioCinema. JioCinema set a new world record as the final match had a peak concurrency of 3.21 crore viewers. Moreover, it registered over 1700 crore video views through the 16th edition of IPL.
Read more here.
Prestige Estates expects 25% pre-sales growth in FY24
Prestige Estates recorded a 19% year-on-year (YoY) increase in total sales to Rs 3,888 crore in Q4, while collections rose 12% to Rs 2,763 crore. The company delivered 1.3 million sq. ft. of projects during the quarter. The real estate firm has exceeded its target of Rs 12,000 crore in pre-sales in FY23 and is expecting 20 to 25% growth in pre-sales in FY24.
Read more here.
Post your comment
No comments to display