India's Electric Two-Wheeler Market: An Analysis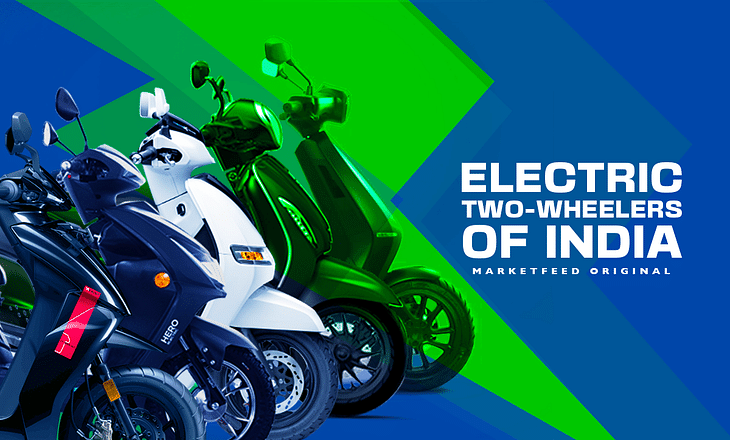 Electric two-wheelers (E2Ws) have become widely popular in India. Over the past few years, numerous companies have launched long-range, efficient scooters and e-bikes to meet the rising demand. There is a wide variety of super affordable E2Ws available in the market today. The total registered sales of E2Ws jumped 132% year-on-year (YoY) to 2,33,971 units in 2021! Things are definitely looking up for India's EV revolution.
In this piece, we dive into India's electric two-wheeler market and the leading companies involved in it.
Hero Electric
Hero Electric is the largest player in the Indian electric two-wheeler market. The company launched its first lithium-ion battery-based scooter in 2017. It operates more than 600 dealership networks across 325 cities in the country.
The Gurugram-based firm offers around 9 different E2W models, with a price range of Rs 46,640 to Rs 83,940. In 2021, Hero Electric sold around 46,260 units. The company sold ~6,058 units of E2Ws in just December alone. They have partnered with several online retail and logistics firms to offer last-mile services.
Hero Electric has secured a market share of 30-31% in the Indian electric E2W market. In the upcoming years, the company aims to expand its production capacity, invest in new technologies, and enhance its footprint across markets.
Ather Energy
Established in 2013, Ather Energy Pvt. Ltd is an Indian electric vehicle startup. It is backed by Hero MotorCorp, which holds around a 32% stake. The company has raised more than $160 million (~Rs 1,200 crore) since its inception.
The Bengaluru-based e-scooter manufacturer offers two premium models in India— the 450X and 450 Plus. It registered total sales of 15,921 units in the calendar year 2021 and holds an 11% market share.
Ather Energy has started working on new variants of electric scooters that will offer a longer range and better value for money. It also aims to raise more funds to ramp up its annual production capacity to one million scooters over the next three years. They have also announced plans to install 5,000 fast chargers across India and increase its network to 600 stores.
TVS Electric Mobility
TVS Electric Mobility Ltd is the EV arm of TVS Motor Company Ltd. It has entered into a partnership with BMW Motorrad to co-produce electric vehicles. It had also forged a strategic collaboration with Tata Power to set up electric charging infrastructure across our country.
TVS iQube is the first electric two-wheeler launched by the TVS Group. It posted annual sales of 5,976 units in 2021.
Bajaj Auto Ltd
In January 2020, Bajaj Auto Ltd launched the electric version of its iconic scooter Chetak in two variants: Urbane and Premium. With this rollout, the company has been able to gain a ~4% market share in the electric two-wheeler space.
The two- and three-wheeler manufacturer aims to double the network for its e-scooter Chetak in the coming weeks. It had initially opened bookings in eight cities in 2021 and had already added 12 new cities in the network in the first six weeks of 2022. They had also announced plans to invest Rs 300 crore to ramp up its EV production capacity. As per reports, Bajaj Auto has started testing a new electric scooter which is expected to be announced shortly.
Ola Electric
Ola Electric Mobility is an Indian electric two-wheeler manufacturer based in Bangalore. The company made news in December 2021 when it announced the launch of the Ola S1 and Ola S1 Pro e-scooters. They recorded one lakh bookings for its e-scooters within just 24 hours of opening. However, it sold just 1,102 E2Ws in January. Ola Electric has been hit with production delays. Some customers are also unhappy with the quality of the electric scooters delivered to them.
Last month, Ola Electric raised $200 million (~Rs 1,490.5 crore) in funding at a valuation of $5 billion.
The Way Ahead
The sales of electric scooters more than doubled in 2021, mainly due to high fuel prices that pushed Indian citizens to look for alternatives. Various subsidies from the government (such as the FAME initiative) have helped narrow the price gap between electric and petrol scooter models. Unfortunately, electric models made up just 1% of total Indian motorcycle and scooter sales of 1.45 crore units last year. The government aims to increase this share to reach 40% by 2030, as it looks to reduce its oil imports and counter pollution.
As we know, the electric vehicle (EV) segment is still at an evolutionary stage in India. As per a report by investment banking firm Avendus Capital, the EV market is estimated to be a Rs 50,000 crore opportunity in India by 2025. Moreover, two- and three-wheelers are expected to drive higher electrification of vehicles in the medium term. India's rising startups and legacy automakers together have committed investments of more than Rs 10,000 crore over the next 3-5 years towards their electric two-wheeler business! However, the EV battery swapping and charging infrastructure has to improve significantly across India.
What are your views on the E2W market? Do you own an electric scooter? Let us know in the comments section of the marketfeed app.
Post your comment
No comments to display