India's Billion-Dollar Startups of 2020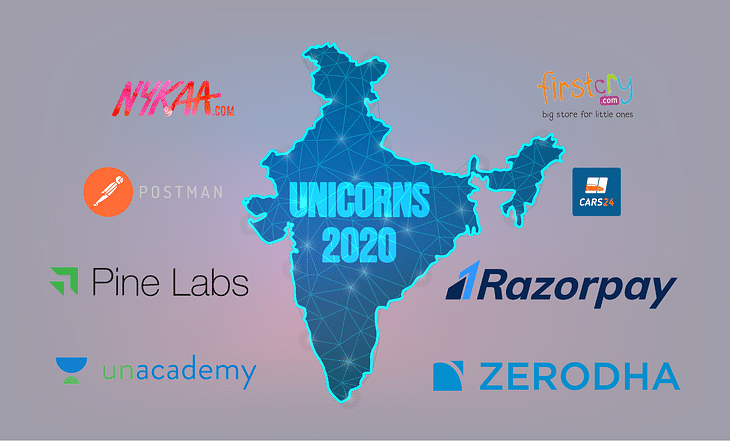 Before discussing unicorns from India, let us see what the term unicorn refers to. A 'unicorn' in the business world is any startup that reaches the valuation of $1 billion(around Rs 7,400 crores!). Getting the status of a unicorn is very special for any company. At the same time, it is no cakewalk. Each unicorn has its own story of struggles and the success which inspires other smaller startups. These unicorns expand further to establish themselves as one of the bigger companies in their sector.
Just to bring some familiarity, PayTM, OYO Rooms, BYJU's, Ola Cabs, Swiggy, Zomato and Big Basket are all examples of companies that you may know that are unicorns. We all have been using products or services of these companies on a day-to-day basis for a while now, probably without even knowing their story. Anyway, in the very challenging year of 2020, India has seen 8 startups turning into a unicorn. Here, you will find who they are.
Razorpay
Bangalore based fintech startup, Razorpay, is a payment gateway company which allows businesses to accept, process and disburse payments. It became a Unicorn last month when it secured $100 million in Series D funding. It will use the funds to launch products for its neo-banking business Razorpay X and lending business Razorpay Capital.Many payment gateways that you see while paying for products online are enabled by Razorpay. You may have even used their services while booking a train through the IRCTC app.
The company plans to achieve overall profitability in 2-3 years, then to go public in the future, with an IPO. It became the 5th Fintech (companies that mix Finance and Technology) in Indian history to achieve 'unicorn' status. Paytm, BillDesk, PhonePe and PolicyBazaar are the other four fintech unicorns from India. Razorpay is funded by around 30 investors. Sequoia Capital India, GMO Venture Partners, Ribbit Capital and Tiger Global Management are some of the most prominent investors. Singapore's sovereign fund, GIC, is among the latest backers of the company.
Pine Labs
The merchant commerce solution provider, Pine Labs, became the first company in 2020 to cross the $1 billion mark in value. This happened after New York-based financial services major, Mastercard, infused money in Pine Labs. Founded in 1998, the company focussed on large-scale, smart, card-based payment and loyalty solutions for the retail petroleum industry. You may have seen their touch-based debit/credit cards all around town, from small retail stores to your traffic police department.
In 2009, Pine Labs ventured into the mainstream payments space to provide solutions to merchants. This was the time when they started connecting to banks and other financial services. In 2017, they entered Malaysia with an exclusive partnership with CIMB Bank. This was their first step towards the international market. Other major investors of Pine Labs are Actis Capital, Sequoia Capital, Temasek, PayPal and Sofina.
Postman
Postman was co-founded by Abhinav Asthana, Ankit Sobti and Abhijit Kane in 2014. In July, the Software startup raised $150 million led by US-based Insight Partners at a $2 billion valuation.
In just six years, the company has been able to cross a valuation of $1 billion. Thus, becoming the fastest Indian software-as-a-service company to become a unicorn. Postman helps coders to test run their application programme interface (APIs) and subsequently modify them. APIs help and enable communication between different software layers, and is very important for the smooth management of modern technology. This saves their time as the coders don't have to make separate code for testing. A lot of things online are API centric. Whether it's communication or payments, everything requires an API and thus giving more opportunities to enable Postman's future growth.
FirstCry
Founded by Supam Maheshwari and Amitava Saha in 2010, FirstCry entered the elite list of Unicorns in February. The company raised $296 million in Series E funding led by Softbank to cross the valuation of $1 billion. FirstCry offers a variety of baby and mother care products. It boasts to host around 6000 brands in more than 400 stores across the nation. The company signed Amitabh Bachchan as their brand ambassador to gain popularity among the Indian crowd, and you may have seen their advertisements everywhere.
FirstCry offers products across categories which includes diapering, toys, clothes, skin and health care, and other fashion accessories. They acquired Mumbai-based e-commerce store BabyOye in 2016 to solidify their grip in the infant-care and mother-care products and services segment.
Nykaa
The beauty and lifestyle brand, Nykaa, was launched in 2012. Over the past 8 years, it has emerged as India's largest omnichannel beauty destination. It offers products across different domains like makeup, skincare, haircare, fragrances, personal care, luxury and wellness products for women and men. During the lockdown period, Nykaa focussed on delivering beauty and lifestyle products to over 15,000 in-codes in all of India. A recent investment of Rs 66.6 crores from Steadview Capital took its value to over $1 billion. With a strong online presence, Nykaa is one brand which can have a big future in India.
Unacademy
The traditional Indian education system is in a phase of transition. EdTech or education with technology is the new normal. Online learning or e-learning and e-exams have gained more importance during the lockdown. This has increased the demand for web portals like Unacademy who depend on online mediums to teach, and are in fact changing the way our education system works. The Bengaluru-based company raised $150 million in September 2020 in a round of funding led by SoftBank valuing the ed-tech firm at $1.45 billion.
Apart from SoftBank, Unacademy has also raised capital from existing investors General Atlantic, Sequoia Capital, Nexus Venture Partners, Facebook, and Blume Ventures. To gain more attraction this year, Unacademy became the official partner for one of the biggest sporting events of the country; IPL. With India's adaptation to the digital world, Unacademy is expected to grow even further.
Zerodha
Probably, the one company which does not need much introduction if you keep track of the stock market. It is a perfect example of 'bootstrapped to billions'. Unlike other companies in this list, Zerodha did not raise money to become a unicorn. In fact, it carried out an employee stock option buyback plan to reward its team, retain talent and grows into great heights. It was founded on 15th August 2010 by the two brothers, Nithin and Nikhil Kamath. Their disruptive pricing models and in-house technology have made them the biggest stockbroker in India in terms of active retail clients. Zerodha claims that over 3+ million clients place millions of orders every day. This contributes to over 15% of all Indian retail trading volumes.
Cars24
The Gurgaon-based startup is the latest and 8th entrant to the list of unicorns in 2020. Cars24 was founded in 2015. It has become India's largest platform for buying and selling used cars. Cars24 focusses on two things. Firstly, they offer a higher price to the car sellers. Secondly, they complete the whole deal in the fastest possible time with the aid of expert assistance.
The efficient, reliable and hassle-free transacting experience helps the company to attract more customers. On 24th November, CARS24 raised a fresh $200 million in funding led by DST Global. This has taken the total investment infusion to $400 million into the Gurugram-based used car buying company. The company officials stated that the fresh capital will be used to invest in technology and product innovation.
The Covid-19 pandemic has forced people to prefer private transportation instead of public transportation. Also, they are not comfortable to buy expensive cars at a time when things are economically unstable. Thus, purchasing used-cars is helping them to ensure their objective at a lower cost. CARS24 claims that they have already transacted over 3,000 two-wheelers in less than six months. Vikram Chopra, the co-founder of CARS24, claimed that the company's transaction surpassed its pre-Covid volumes by more than 20%. Asia Venture Group, Apoletto, Unbound and Sequoia Capital India are the other investors of CARS24.
Conclusion
India is home to the fourth-highest number of unicorns in the world after the United States, China and the United Kingdom. But there's one point which requires our special focus. India has more than 60 unicorns but around two-thirds of them have their headquarters outside India. What can be the reasons? Are the policies in India not favouring the start-ups to flourish? Is there a huge gap between human resource when compared India to the US or other European nations?
Being said that, India is in desperate needs of these start-ups to grow. The bigger they become, the more the people are employed. Covid-19 has forced many people to lose their jobs. Also, the business of almost every company has been impacted. Thus, job creation has to be the priority of central/ state authorities. There's still a month to go before the end of 2020. Can more startups join the famous 'unicorn club' this year?
Post your comment
No comments to display