Indian Railway Finance Corporation Limited IPO: All You Need to Know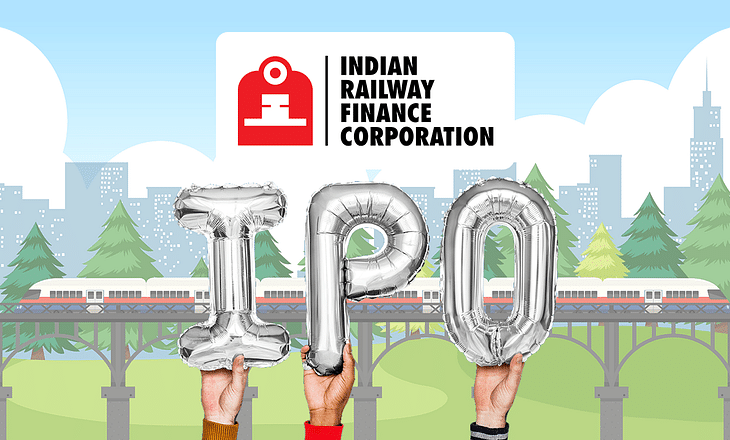 2020 was unmemorable for a lot of reasons but Initial Public offers (IPO) is not one of them. Out of the 16 IPO launched in 2020, 12 IPO gave investors the much-desired listing gain. You can read about the top 5 IPOs of 2020 here.
The Indian Railway Finance Corporation (IRFC) has decided to take the public route. They will be the first company coming with its IPO in 2021. The IPO will hit the market on 18th January 2021. Let's dig deeper and understand what it is all about.
About the Company
The Indian Railway Finance Corporation (IRFC) was incorporated in 1986. It is fully owned by the Government of India. The main role of IRFC is to act as a borrowing arm of Indian Railways. It is responsible for raising funds for the Ministry of Railways (MoR). The primary business of IRFC is to finance the acquisition of rolling stock assets. These stock assets consist of wagons, trucks, electric multiple units, containers, cranes and more.
India has a huge railway network with approximately 13,452 trains every day. In fact, India holds the largest rail network in Asia as it transports 22.70 million passengers per day (FY18). IRFC has financed almost 40% of the total expenditures carried out by Indian Railways in 2019-20.
About the IPO
The IPO of this state-run company will open on 18th January and will close on 20th January. The total issue size of the IPO is Rs 4,600-crore. A total of 178.2 crore equity shares will be offered by IRFC as their move to go public. It comprises a fresh issue of up to 118.8 crore shares and an offer for sale of up to 59.4 crore equity shares. The price band of the IPO is Rs 25-Rs 26 per equity share.
Anchor investors have been allocated 60% of the total portion reserved for qualified institutional buyers (QIBs). As the price of the shares is low, you are required to buy at least 575 equity shares as one lot. Further bids can be made in multiples of 575 shares. That means an investor who is looking to invest in this IPO has to at least pay Rs 14,950 (Rs 26 x 575). The maximum a single investor can invest is Rs 1,94,350. But since the IPO will be oversubscribed anyway, there is no point in applying for more than one lot.
Mostly, there are two reasons why IRFC has decided to take the public route. Firstly, to increase the company's equity capital base and make it more robust. This will help them to meet business future growth requirements. Secondly, to meet general corporate purposes.
Financial Overview
| | | | | |
| --- | --- | --- | --- | --- |
| | 30 September 2020 | 31 March 2020 | 31 March 2019 | 31 March 2018 |
| Total Assets | 2,91,986.58 | 2,75,504.12 | 2,06,438.29 | 1,61,451.04 |
| Total Income | 7,384.00 | 13,421.09 | 11,133.59 | 9,268.38 |
| Profit after Tax | 1868.84 | 3192.09 | 2139.93 | 2,001.46 |
(Values in Rs Crore)
As you can see from the table, the revenues and profits have increased consistently for the last three years. IRFC recorded a 20% increase in revenues in FY20 as compared to FY19. Their profits rose by a stunning 50% from Rs 2139.93 crore to Rs 3192.09 crore in just one year. This tells us that the company has done well in recent times. Till the first half of 2020-21, we can see that the company has also accumulated revenue worth Rs 7,384 crore. With this trend, they will easily surpass their numbers of the previous year.
The biggest strength of IRFC is its pivotal role in the growth of Indian Railways. Most of the Indian population, especially the lower-middle class population, travels through trains. They find travelling through the air very costly. Thus, Indian Railways, which is still very cheap, is their preferred option. Indian Railways will only expand from where they are right now. This expansion will involve a significant amount of financing, thus giving more business prospects to the company.
Risk Factors
As a borrowing arm of the Indian Railways, IRFC derives a large part of their revenues from them. This comes by leasing Rolling Stock Assets to the Indian Railways. In 2019, 99.81% of the total operating revenue came from Lease income, interest on loans and pre-commencement lease interest income. If there is any shift from the funding requirement or reduced demand for Rolling Stock Assets will adversely affect the company's business.
Any slowdown in Indian Railways or government initiatives to move away from traditional railway format will affect IRFC's business.
IRFC meets their funding requirements from taxable/tax-free bonds, term loans from banks, internal accruals and lease financing. Their lending projects can be severely impacted if the cost of funds, coming to them, increases.
IRFC could witness a rise in their financing cost if there is a downgrade in their credit ratings. A downgrade in India's debt rating can also decrease the operational efficiency of the company.
IPO Details in a Nutshell
| | |
| --- | --- |
| IPO Date | Jan 18, 2021 - Jan 20, 2021 |
| Issue Type | Book Built Issue IPO |
| Face Value | Rs 10 per equity share |
| IPO Price | Rs 25 to Rs 26 per equity share |
| Lot Size | 575 Shares |
| Offer for Sale(goes to promoters) | 594,023,000 Equity Shares |
| Fresh Issue(goes to the company) | 1,188,046,000 Equity Shares |
| Issue Size | 1,782,069,000 Equity Share |
| Listing At | NSE, BSE |
Conclusion
An NBFC is not a reliable bet in our opinion but IRFC's business model is very safe. IRFC lends to the Indian Railways, which is a government agency. Thus, the risk of non-repayment of loans is very low, if not zero. As the lending margin increases, net interest income(NII) will increase, and it is more profitable for IRFC. Still, do consider the risk associated with this company as explained above and then come to your own conclusion. IRFC had filed draft papers for its IPO last January. You can find it here. What are your opinions on this IPO? Will you be applying for it? Let us know in the comments section below!
Post your comment
No comments to display