Increase in Covid-19 testing helping Dr Lal PathLabs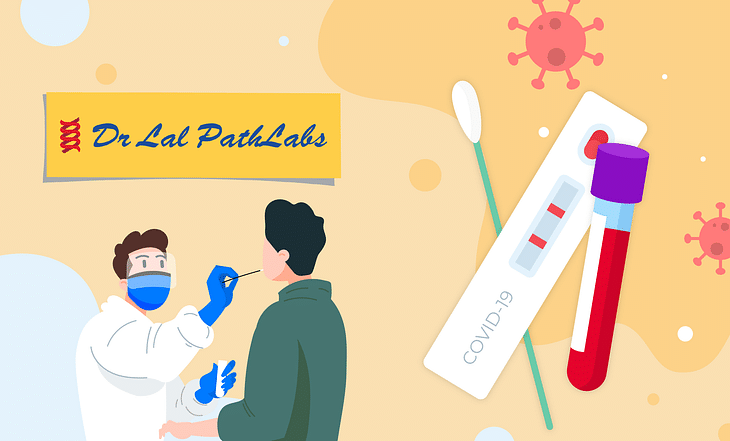 The second wave of Covid-19 has hit India very hard. The cases are not just increasing but increasing exponentially. The situation needs to be controlled as soon as possible. As the cases around the nation are rising, the uncertainty in the stock market is growing.
We have seen many stocks hitting their all-time high in recent months. But, now they are falling. Increasing Covid-19 cases, night curfews and semi-lockdowns have brought the spotlight on Pharma share once again. One such stock which has seen a lot of interest by investors lately is Dr Lal PathLabs.
Dr Lal PathLabs - Profile
Dr Lal PathLabs Limited is a consumer healthcare brand that specialises in diagnostic services in India. It has a national network that provides a wide variety of diagnostic and related healthcare testing and services to patients and healthcare providers. They are into various domains like core testing, patient diagnosis and the prevention, monitoring and treatment of disease and more.
They have 455 test panels, ~2,500 pathology tests and ~2,000 radiology and cardiology tests. From individual patients to the healthcare providers (hospital), they serve everyone. Dr Lal PathLabs is concentrated mostly in North India. 40% of their total revenue is generated from the Delhi & NCR region. The rest of North India (Amritsar, Dehradun, Jammu and more) contributes to a further 29% of the total revenues. The graph below shows their revenues accumulation based on Geography. Apart from this, they are not only in India but also in other countries like Bangladesh, Nepal and Kenya.
Bumper Returns During the Pandemic
It took a pandemic for us to give pharma stocks the importance they deserve. Dr Lal PathLabs is just one of the many stocks which have been extremely gifting for the investors. The chart above shows how Dr Lal PathLabs has risen in the last year. It is one of those companies which conducts the Covid-19 test. As Coronavirus cases are increasing in the country, states are focussing on more and more test to happen.
Delhi is one of the most severely hit states in the country. Currently, the national capital is facing its fourth wave of Covid-19 when the country is facing its second wave. This shows badly the state has been impacted by this virus. The only way you can keep the cases under control is by testing more population and isolating them who are positive. A large chunk of these test is done by Dr Lal PathLabs. Around 70% of their revenue comes from North India, and all of these states have increased their number of test. The company also supports the home collection of samples from its clinical labs.
As the business is expanding for the company, investors are happy to infuse their money in this stock. The stock has surged in the last four weeks. And, the cases around the country has increased rapidly in these weeks. A heavy correction is seen on 13th April but that is expected when the stock has increased by more than Rs 1,000 in the last seven trading sessions.
Will the stock grow even further?
The experts are still tight-lipped when they are asked if we have hit the peak of the second wave. This wave started just a few weeks back but its exponential rise has been startling. Maharashtra has imposed a "break the chain" movement which is very similar to the lockdown last year. Many other states like Chhattisgarh, Delhi, Ahmedabad, Baroda, etc have imposed strict guidelines or night curfews. Still, the cases are increasing by huge numbers every day. This is a concerning figure for all.
As the cases will increase, more tests will be performed by Dr PathLabs. Also, if we follow the pattern of last year, pharma stocks like Dr PathLabs might have a long way to go. On the other side, this stock also already saw a massive rally. It might not have another rally under its belt. Here, I invite your thoughts to come in. As a market participant, what do you think about Dr PathLabs? Do you feel that this stock still has the potential to deliver more returns or do you feel it is time for this stock to calm down? Let us know your opinions in the comments section of the marketfeed app.
Post your comment
No comments to display