Illegal Tobacco Sales Killing the Industry? ITC Trying to Shift Focus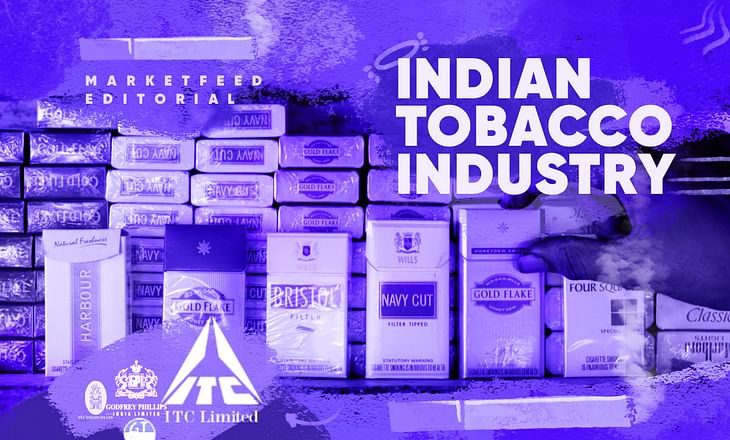 The Indian tobacco industry is quite vast and complex. Despite all harmful effects, the trading of tobacco products continues to play a vital role in the growth of our economy. In this article, we dive into the tobacco industry in India and learn more about leading cigarette manufacturers.
An Overview of the Indian Tobacco Industry
Tobacco cultivation in India was introduced by the Portuguese way back in the 17th century (more than 415 years ago!). The crop was initially imported from the Americas (especially Brazil) and grown in different parts of India. The Portuguese established a prominent tradition of tobacco trade through their colony in Goa. Around 200 years later, the British introduced commercially produced cigarettes and formally set up tobacco production in India.
Now, tobacco has become one of the most economically significant crops grown in our country. India is the second-largest producer and exporter of tobacco in the world (after China). Unmanufactured tobacco (or raw tobacco) is primarily exported to Belgium, Korea, Nigeria, Egypt, and Nepal. The total export value of the crop stood at a whopping ~Rs 6,700 crore in the financial year 2019-20 (FY20). Moreover, the tobacco industry is one of the largest contributors to our government's overall tax revenue. It also provides employment opportunities to thousands of people.
As we know, tobacco consumed in any form poses serious health risks and complications. According to the WHO, tobacco kills more than 10 lakh Indians every year. Many find it difficult to stop using cigarettes or bidis due to the highly addictive alkaloids present in them. Despite the rise in deaths and health issues such as cancer, the Indian tobacco industry continues to flourish due to its economic importance. According to official estimates, more than 27.5 crore people consume tobacco in our country.
Taxation of Tobacco
The Indian government levies a sin tax (excise tax) on goods such as alcohol, tobacco products, soft drinks, candies, and fast foods. These 'sin goods' are considered harmful to society. Currently, the Goods and Services Tax (GST) levied on cigarettes is 28%. Apart from GST, the Centre has also imposed an additional cess of 5% on cigarettes and other tobacco products. The excise duty charged on the manufacturing of cigarettes, bidis, and chewing tobacco stands at 64%, 22%, and 81%, respectively.
Unfortunately, the increase in taxes or excise duties over the years has not affected the consumption habits of Indians (as it was intended). In FY20, the tax revenue generated from the sale of cigarettes across India was approximately Rs ~35,600 crore! Thus, it is clear that the high consumption of tobacco products ultimately helps our government meet its revenue targets.
In the Union Budget announcements, the Finance Ministry often proposes a sharp increase in taxation on cigarettes. However, a hike in excise duties encourages the illegal trading of cigarettes in India. It also adversely impacts the earnings of those tobacco farmers who sell their crops to legal entities. The Tobacco Institute of India (TII) has reported that legal cigarettes account for only 10% of the overall consumption! The remaining 90% consists of contraband cigarettes that have been illegally manufactured or smuggled. Certain estimates reveal that our government faces a revenue loss of ~Rs 15,000 crore every year due to the consumption of illegal cigarettes.
Major Cigarette Manufacturers in India
ITC Limited
ITC Limited remains the market leader for cigarettes in India, with a share of ~77%. The company has pioneered the cultivation and development of tobacco in our country. It is the largest buyer, processor, and exporter of high-quality leaf tobaccos. The FMCG firm manufactures and markers its cigarettes primarily under the India Kings, Classic, Gold Flake, Wills Navy Cut, Players, and Scissors brands. These are produced in state-of-the-art factories in Bengaluru, Saharanpur (Uttar Pradesh), Kolkata, and Pune. Notably, ITC manufactures more than 84% of India's cigarettes.
Over the years, they have developed new offerings based on evolving trends and preferences of consumers. The company's cigarette business continues to maintain high standards of international quality and competitiveness. As per recent estimates, more than 40% of ITC's total revenue is derived from the cigarette segment.
Godfrey Phillips India
Godfrey Phillips India Ltd is a leading manufacturer of cigarettes, pan masala, and other tobacco products in India. The company sells its products under the Four Square, Cavandars, North Pole & Tipper, Red & White brands. They also manufacture and distribute Marlboro cigarettes under a licensing agreement with Philip Morris. It also offers pan masala under the Pan Vilas and RAAG brand, as well as mouth fresheners under the Pan Vilas Silver Dews brand. Godfrey Phillips has an independent 'leaf division' in the tobacco-growing area of Guntur (Andhra Pradesh), which gives them access to good-quality tobacco.
VST Industries
VST Industries Ltd is another manufacturer of cigarettes and unmanufactured tobacco in our country. Their cigarettes are sold under the brands— Charminar, Charms, and Moments. The company has a manufacturing facility in Hyderabad and Toopran (Telangana).
Golden Tobacco
Golden Tobacco Ltd is also engaged in the manufacturing, processing, and sales of tobacco and tobacco-related products. The company's cigarettes are marketed under Panama, Chancellor, Golden's Gold Flake, and Just Black brands. They export their products to the United States, Europe, Russia, Japan, and the Middle East.
Is the Tobacco Industry Losing Steam?
Interestingly, ITC has been diverting its focus away from the cigarette and tobacco products segment for a while now. Instead, they are investing heavily into the FMCG, hotels, and agri-business segments. Both Godfrey Phillips and Golden Tobacco have ventured into real estate development as well. What could be the reason for such a diversification? Well, the answer is quite simple.
In a recent report, ITC revealed that the trading of illicit cigarettes in India was affecting its sales revenues. The consumption of cheap bidis and smokeless tobacco are rising. Since 2010-11, the sales volumes of the legal cigarette industry have declined by around 20%, while that of the illegal cigarette segment has grown by more than 36%. Government authorities are finding it difficult to curb the smuggling of unauthorized cigarette brands.
More importantly, Indians are becoming more health-conscious (mostly in urban areas). Amidst the Covid-19 pandemic, many have quit smoking (or at least have tried to). Thus, we could say that cigarette manufacturers are facing a decline in sales. Due to all these factors, they have realised the need to diversify operations into other profitable segments.
Conclusion
When the government introduces a hike in excise duty on cigarettes and tobacco products, its cost is passed down to the consumers. However, the demand for cigarettes is inelastic, and compulsive smokers will continue to consume them even if prices increase. In this case, the companies mentioned above will keep generating more profits, and the Centre will achieve its revenue targets.
The Indian Medical Association (IMA) continues to fight for a total ban on tobacco. Sadly, such a measure will have an adverse effect on the economy. The government will need to look for alternative sources of revenue and ensure employment opportunities for those involved in the tobacco industry. A blanket ban on tobacco products would simply lead to a rise in black markets and bootleggers.
Let us look forward to seeing how this industry performs in the years to come. Will it continue to prosper in India? Let us know your views in the comments section of the marketfeed app.
Post your comment
No comments to display