Huge 3 PM Move Makes Nifty Close Flat. IT Stocks Fall - Post-Market Analysis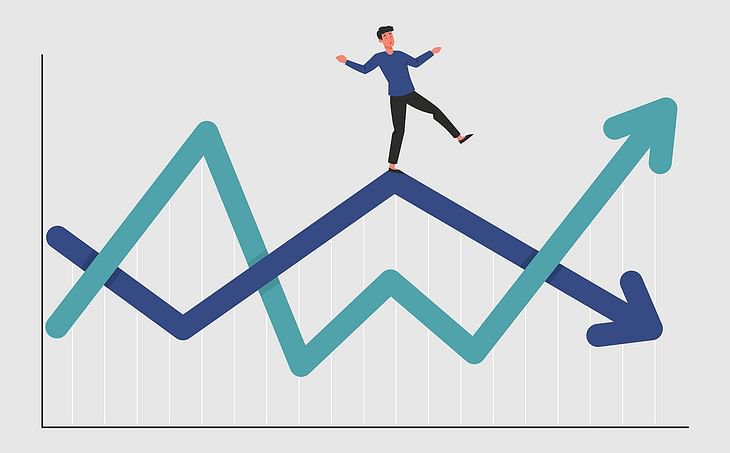 NIFTY started the day at 18,600 with a small gap-up of nearly 7 points. It couldn't sustain that level and fell to 18,530 (filling the gap created yesterday). Then, the index consolidated for nearly three hours and gave a powerful breakout after 3 PM! Nifty shot up nearly 70 points to 18,622, but the weighted average closing of Nifty is at 18,599, up by 5 points or 0.03%.
BANK NIFTY started the day at 44,156 with a gap-up of 55 points. Similar to Nifty, it saw selling pressure initially, which pulled the index down to 44,000 round levels. Then, the index mostly consolidated and finally gave a good rally on the upside to 44,200 zones post 3 PM. Bank Nifty closed at 44,164, up by 62 pts or 0.14%.
Nifty IT (-1.8%) fell heavily, while Nifty Realty (+1.19%) and Nifty Auto (+1.09%) moved up the most.
Major Asian markets closed mixed. European markets are currently trading in the red.
Today's Moves
UltraTech Cement (+2.89%) was NIFTY50's top gainer. The stock hit a 52-week high of Rs 8,120 today on the back of multiple block deals.
Meghmani Finechem (+14%) rallied after the company informed about an investor meeting with Singapore-based Indea Capital Partners.
Mazagon Dock Shipbuilders (+4.1%) has surged over 30% over the past week. Defence stocks have been rising after India and the US agreed on a roadmap for military-industrial cooperation.
TechM (-2.08%) was NIFTY50's top loser.
Other IT stocks Persistent Systems (-4.3%), Coforge (-3.8%), Mphasis (-3.6%), INFY (-1.95%), and Wipro (-1.05%) also fell after US-based EPAM cut its CY23 revenue growth outlook for the second time. The cut is based on the slowdown in discretionary spending by US companies, which is a crucial market for Indian IT companies.
IEX (-3.9%) fell after it reported that the average spot power price fell 30% to Rs 4.74 per unit in May.
Markets Ahead
A proper 3 PM movement after a very long time! The breakout was only of 70 pts, but it was very huge compared to today's intraday candles and 3 PM movements on previous days.
Keep an eye on Reliance in the coming days as it tests 2480-2500 resistance.
HDFC Bank is now trading near the 1580-1600 support zone.
ICICI Bank's 935 level would give some direction for the stock.
Axis Bank is testing its previous all-time high (ATH).
In Nifty, two major levels can be considered as supports: 18,450 and 18,530. I am expecting the index to trade within the 18,530-18,670 range till the RBI announces its interest rate decision on Thursday at 10 AM.
A momentum will form in Bank Nifty only if the 44,150-210 resistance zone is broken and support can be expected at the 43,400 -500 zone.
The National Stock Exchange (NSE) has changed the expiry for Bank Nifty Futures and Options (F&O) to Friday instead of Thursday (effective July 7). What do you think of this move? Let us know in the comments section of the marketfeed app.
Post your comment
No comments to display