How Will the US Elections Affect Stock Markets?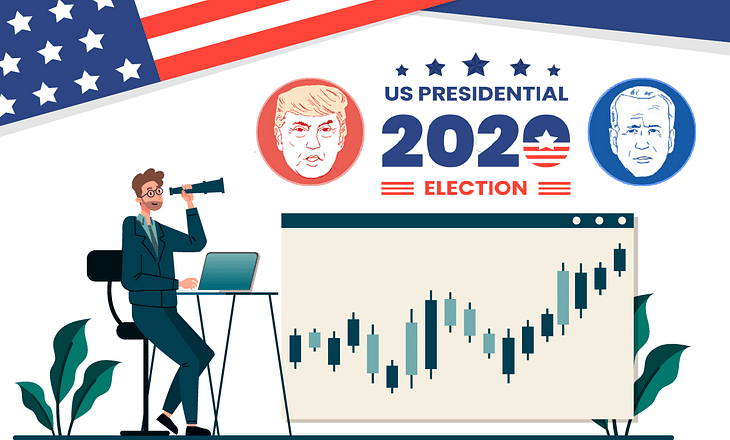 The much-awaited U.S. Presidential Election is all set to take place on 3rd November. Over the past few months, this is one major topic that has been discussed extensively. People from all over the world are eagerly waiting to learn about the election's final result. Who will be the next powerful individual in the world? Will Donald Trump remain in the White House for another four years? Or, will ex-Vice President Joe Biden emerge victorious?
Looking from the point of view of stock markets, it is sure that there would be high volatility. Most investors are worried about the outcome of this election, as they believe that their returns could be affected. Let us look at some important facts surrounding the U.S elections. We shall also find out if it would cause an effect on the stock markets.
What Happens During the Election Period?
High Volatility
Stock market volatility would increase during the election period. In cases where the election is highly competitive or tight, historical data from financial analysts has shown that stock markets are likely to become highly volatile. We had seen this during the last US election in 2016. Hillary Clinton and Trump had faced a very tight election.
In this particular case, the factor that affects stock markets are the economic policies that are proposed by the two major parties- the Democrats and the Republicans. Interestingly, a research paper from the University of Pennsylvania has stated that stock markets have delivered higher returns when Democrats were in power. However, this keeps changing with time.
When we analyze the general political views amongst American citizens, many believe that stock markets would perform better if Donald Trump is re-elected. This is because his economic policies involve very loose regulations and fewer taxes for corporations. On the other hand, Joe Biden has proposed to raise taxes and put more cash in the hand of normal citizens. This would not work in favour of large businesses. So, we need to understand how these policies will ultimately bring a positive or negative effect on the stock market.
Political Biases
Every individual would have their own political biases or opinions. In the US, many people have shown their support for the views of the Republican Party. Those who do not agree with their policies or views are supporting the Democratic Party. A person who aligns with a particular set of views would think that their parties' win would be good for the economy and the stock market. In the short run, these opposing views between individuals can have an impact on stock prices.
We have to consider another important factor here. The stock market aggregates the expectations of all participants. Many individuals are not aligned with any political views. Due to this reason, historical data has also shown that the election process or political views have not caused any deep impact on the long-term performance of the stock market.
When we look at past records, market volatility begins to rise about 45 days before the election. The volatility seems to be at its peak within one week before the election date. This was evident during the current election year as well. Global markets had crashed in the last few weeks, due to the uncertainty in the US elections. However, the fall in stock markets was also due to European countries reintroducing lockdowns, as coronavirus cases have been rising rapidly.
What Happens After the Election?
In order to understand this part, let us look at historical data from the United States Bank. For more than a century, data has shown that bonds or debt instruments have performed better- immediately after an election. Regardless of which individual or party competes in an election, people are likely to take fewer risks in the stock market. They would use bonds to improve the safety of their returns.
Another historical data from the U.S Bank shows the following: if a new political party gets elected to power, there is likely to be a 5% growth in the stock markets. In case the same political party gets to remain in office, there would be a stock market growth of 6.5%. Even if the markets go down, there would be a very rapid rebound or recovery. Let us see if this would turn out to be true after the highly anticipated election result of 2020.
The table provided below shows how the S&P 500 Returns have changed when a new President was elected. The S&P 500 is an index that measures the stock performance of the 500 largest companies listed in American stock markets.
Important Facts about the US Election Day
The voting polls in all states open around 6 am. India is between 11-13 hours ahead of the United States. This means that by Tuesday night in India, around 96 million Americans would have already finished voting.
Each state runs the election according to their own rules. Some states allow electronic voting methods, while most states use paper ballots. However, the actual counting of votes will not be finalized until weeks later. What happens on Election Night is that major US TV networks would "call" the election in favour of one of the candidates. This is based on the information from exit polls. An exit poll is an opinion poll of people leaving a polling station and asking how they voted. The estimated numbers from the exit polls are usually not contested, and the candidate projected to have lost concedes the election.
How Will This Affect Nifty?
Now, let us understand how our Indian stock markets could get affected. Donald Trump and Narendra Modi have had a love-hate relationship with each other. Trump definitely talks tough on India, regarding our sanctions and lack of action on climate change. He also calls PM Modi his friend, and welcomed our Prime Minister at rallies in the US. Another important fact is that he has imposed a lot of sanctions against China, which have acted as a boost to India's long-term success. But still, his policies on tight restrictions for IT professionals and restrictive trade policies have not been favourable for India. President Trump may continue to face conflicts in securing a new economic stimulus, and this would not be good for the markets.
On the other hand, if Joe Biden becomes the next US President, many emerging economies could benefit (including India). With his equally tough stand on China, India is bound to benefit. His open approach to trade deals and inclusive plans on migration will greatly benefit Indian manufacturing, as well as IT sector. Biden's clean-energy plan would deal a blow to the traditional petrochemical industry in America, and the subsequent price rises could help Indian manufacturers get better profits. But the change from fossil to green fuel is an inevitable, and necessary, future for our world. This is why huge corporations like Reliance, who have built their empire on oil, are planning to get into green energy. The big financial stimulus proposed by Team Biden will help push up US markets, along with global peers.
Under either President, Nifty will continue its uptrend in the long run.
Brace Yourself
From what we can understand, the US Presidential election, or any other political event, has very little impact on the share prices of large corporations. Regardless of who gets elected to power, the S&P 500 returns are fairly positive and do not go through big changes. This is even considering the possible tax increases proposed by Joe Biden on large corporations and wealthy individuals. Businesses will factor these increased taxes, and if Biden's plan of reinvesting this extra tax revenue back to the economy then all will continue to be well and good in the long run.
At the same time, in case there are no clear winners in the election, or if there is any sort of complications arising, we could see a major fall in the global markets. If such a case happens, investors need to be careful.
When we look at our very own Nifty 50, there have been some major signs of volatility due to global factors. What we can state is that the effects of the US election could be just a temporary issue. And, it would only last a week or so. The main concern we must all look into should be the rise in Covid-19 cases globally and the lockdown restrictions associated with it. We must understand that these are testing times, and market participants have to patiently wait and take safe actions so that losses can be reduced. Stay alert and always remember to follow the latest news!
Post your comment
No comments to display