How Will the Global Container Shortage Affect India?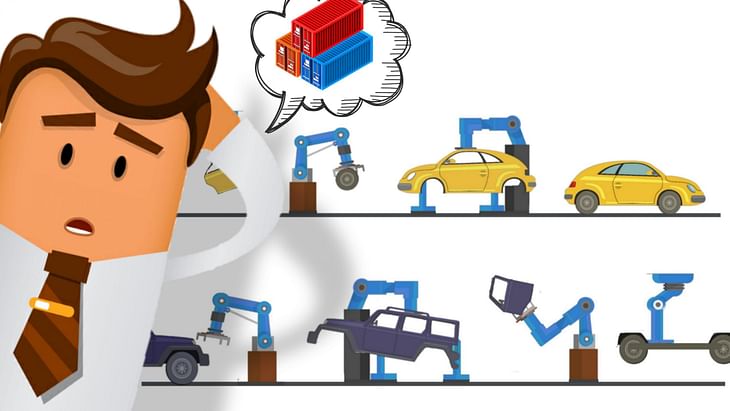 One of the major problems caused by the Covid-19 pandemic is the disruption of global supply chains. Strict lockdowns that were imposed at the beginning of the year led to restrictions in important economic activities. The supply of essential commodities was affected at both the national and international levels.
Now, we see that countries are still facing difficulties in conducting their export activities. A major reason for this has been attributed to the shortage of shipping containers! Currently, there are not enough containers to meet the flow of global trade. Let us understand the specific details regarding the global container shortage, and how India is being affected.
The Disruption in Global Supply Chains
As the whole world entered into a lockdown in March-April, we saw that exports and imports of essential food items and manufacturing components took a big hit. The suppliers and logistics firms had no option but to stop or cut down their operations, due to restrictions imposed by their governments. The number of labourers who worked at ports had reduced drastically. This ultimately led to a huge reduction in the speed of cargo handling.
To reduce costs, shipping or logistics firms began to cut down on the number of cargo vessels. Such companies would otherwise make huge losses if they continue to send their ships without any cargo. This meant that exporters would have to pay very high freight charges for shipping their products to other countries.
What Led to a Shortage of Shipping Containers?
Since shipping lines were closed for a certain period, exporting companies were not able to collect empty containers that were held up in ports. In most countries, the containers are stored further away from the ports. These could not be returned to the ports at the required time. The reason for such a lag was because of a lack of manpower and a shortage of drivers- which was due to the lockdown restrictions. Thus, a large number of shipping containers were kept idle in countries around the world. Ultimately, the waiting time for the delivery of containers started increasing.
Manufacturers, trading companies, retail businesses, and logistics firms all around the world are now facing container shortages. The cost of shipping goods has increased rapidly. In the case of India, the current waiting time for shipping containers is two weeks or more. Normally, it would have only taken 1-2 days. This is a very alarming situation indeed.
The Chinese Connection
Most countries started to remove lockdown restrictions around July-August. Global economies started to slowly recover. However, one country managed to show a much better recovery than others - China. As per reports, we know that coronavirus started in China in late 2019, and they did not disclose the information to other countries. At the same time, the country prepared strategic plans at an early stage and was able to manage Covid-19 very quickly. The Chinese Government provided support to their factories to ramp up production just after Covid. Do bear in mind that all factories around the world were closed during this period. Thus, China was able to increase its exports at a rapid pace.
Some industry experts have even raised concerns about a 'Container Mafia' that is present in China and various other South-East Asian countries. They state that these groups are hoarding containers and driving up global shipping costs. We will have to wait for more clarifications on these claims.
How Has India Been Affected?
According to the latest data from the World Trade Organisation, India's exports fell 8.7% YoY in November. The total imports contracted by 13.3% YoY in the same month. These export figures are quite shocking. We are aware that most Indian sectors have shown a great rebound in their production activities since August-September. So, the fact remains that Indian exporters are finding it difficult to ship their products- as a result of the global container shortage.
As we all know, India is now reducing its imports from China due to the ongoing geopolitical tensions. Thus, our country will now have to pay a huge price for importing essential commodities from other countries.
Let us find out how the freight charges have increased for India over the last few months. [Freight charges refers to the price that is charged by a carrier for sending out cargo from the source location to the destination location]: The freight charges for a 20-foot container for shipments from Mumbai to Dubai has increased 25 times (from $10 to $250) in five months. The prices have surged 282% and 117% for Australia and Qatar, respectively. On average, the freight cost has gone up by 190% for West Asia and 159% for Europe. No wonder companies like SpiceJet are planning to focus more on cargo!
Specific Sectors that Could be Affected
We saw that the shipments of packaged foods and electronic items had surged in recent months. This had boosted expectations of a busy and profitable Christmas season. However, the Indian companies that manufacture these goods are facing major hurdles due to the global container shortage. These firms are unsure whether their orders will be shipped on time. As mentioned earlier, Indian firms will have to wait more than 2 weeks for the delivery of containers.
The automobile industry in India is witnessing a revival. It is currently a very booming sector. The domestic sales of all types of vehicles are seeing high growth. However, the industry is now facing a major problem with its exports due to the ongoing container shortage. There are also reports which state that certain automobile manufacturers are finding it difficult to import essential manufacturing components.
India is one of the largest exporters of agricultural products. The farm product exporters are also facing major cost-related issues. There had been reports stating that Diwali orders, that were received by Indian agro firms from various countries, reached only after the festival due to container shortage.
The Way Ahead
As we can see, all countries are facing difficulties with respect to the global container shortage. It is the logistics companies and exporters that have been the most affected due to the ongoing pandemic. The surge in shipping costs is a cause of worry for Indian exporters, who were already struggling with the adverse effects of the pandemic. As the Christmas season is upon us, these exporters have already received a major demand for certain products. However, they are worried that such orders will not be able to reach the specified countries on time. The Indian exporters have also stated that customers are not ready to obtain goods if prices are increased.
Our country could be deeply affected if we do not find a solution to tackle this problem at the earliest. The revenue from exports, which are a major source of income for the country, could see a huge decline.
Recently, the Indian government has asked shipping lines to ensure the capacity of 1,00,000 available containers per week. However, it is sure that this could take time to be enforced. Certain experts have stated that the global trade situation is expected to be back to normal only by February-March 2021. Let us hope that the container shortage problem is given more importance, and countries work hand-in-hand to solve this issue.
Post your comment
No comments to display