How to Make Side Income From Home?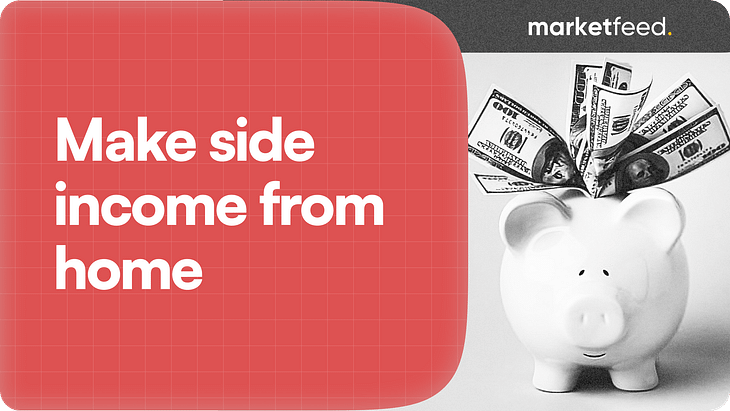 With rising inflation (essential items getting expensive), having an extra income can make your life easier. Although a full-time job can provide a stable income, it may not always be sufficient to meet your bills. The pandemic has proved how important, useful, and reliable the internet is to make additional money. Many people have started earning a side income online in addition to their primary income. Here are some great ways to earn a side income from home:
1. Investing in Stocks and Real Estate
One can easily make a side income by investing in stocks and other securities. You can buy and hold stocks, bonds, commodities, mutual funds, or exchange-traded funds (ETFs) for extended periods to grow your wealth. High-quality stocks that pay consistent dividends can be a source of passive income. When a company makes a profit, it may choose to distribute a portion of those profits to its shareholders in the form of dividends. As a shareholder, you will receive a portion of those dividends based on the number of shares you own.
Meanwhile, you can invest in real estate through Real Estate Investment Trusts (REITs). A REIT owns, operates, or finances income-generating real estate and pays out the cashflows as dividends. You can invest in stocks and REITs through any broker.
2. Creating a YouTube channel
YouTube channels that meet the eligibility criteria can monetize their videos through Google Adsense. Advertisements will be displayed before, during, or after the video, and you earn a percentage of the revenue those ads generate. Channels with huge viewerships can attract sponsors who'll pay considerable sums of money to promote their products or services. The amount of revenue you can earn from youtube depends on various factors such as the number of views, engagement levels, and the type of content.
3. Renting Out a Property
Renting out unoccupied properties or homes can generate a decent passive income. You can either rent out properties privately or through platforms like Airbnb. The rental income depends on the type, location, size, and demand of the property. On Airbnb, you can rent out your whole property or just a few rooms. Maintaining the property periodically can generate maximum revenue. Leasing out your property is also a great way to make a side income.
4. Selling Products in Online Marketplaces
E-commerce platforms such as Amazon and Flipkart are great places to sell your products. You can list products on these platforms and sell them by paying a small commission to the e-commerce operator. This is highly economical compared to traditional commerce as the infrastructure needs are minimal.
5. Online Tutoring or Teaching
6. Online Surveys and Microtasks
7. Affiliate Marketing
Amazon Associates Program helps content creators, publishers and bloggers monetize their traffic. With millions of products and programs available on Amazon, associates use easy link-building tools to direct their audience to their recommendations and earn from qualifying purchases and programs. Advertising fees for qualifying purchases differ based on the product category.
8. Freelancing
9. Creating and Selling Digital Products
If you have good subject knowledge in any topic, you can plan a curriculum and record classes that can then be sold online on platforms like Udemy from the comfort of your home. You can add assignments, quizzes, and exercises to the course for creating a more rich learning environment. The payout depends on the number of courses sold and learner engagement.
10. Renting Out Your Belongings
Renting out your personal belongings can be a great source of side income. You can rent out your car on days that you do not use it for a daily minimum charge and an additional charge per extra kilometre.
Electronic items such as cameras, projectors, laptops, tablets, gaming consoles, etc, can be easily rented out.
Renting out personal belongings can be a convenient way to generate extra income, but it's important to ensure that your belongings are protected and that you have the appropriate insurance coverage in case of damage or theft.
11. Online Transcription Services
Transcribeme is a platform that provides transcription services through machine learning technology and human transcriptionists. It involves the conversion of audio and video clips into texts. To join, you only need a computer and a stable internet connection. Headphones or earphones will enhance the transcription process.
In conclusion, earning a side income from home is always beneficial as it increases your purchasing power. Income diversification, financial security, increased savings, and debt reduction are a few benefits of having a side income. Before you commit your money and resources to such income sources, always perform a proper analysis to understand the risks involved!
Post your comment
No comments to display