How the Rural Economy Reflected on the Stock Market in COVID-19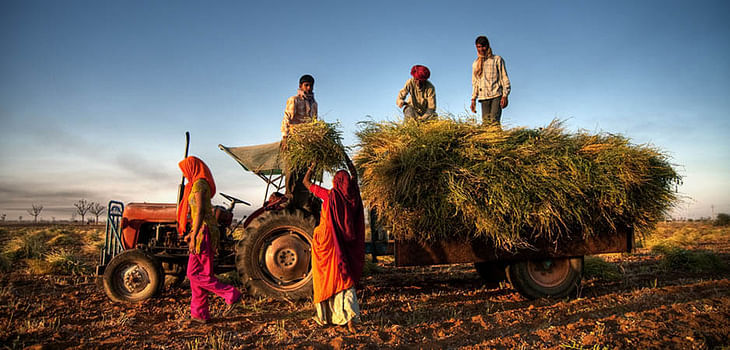 The COVID-19 pandemic left economies devastated, and people without jobs. And as we all saw in the headlines of every newspaper, there was a rather difficult mass migration from urban to rural India. This left two dilemmas, what shall happen to the decreased urban demand? In the absence of income, how will consumer spending thrive in rural areas?
There was rising a rising sense of uncertainty. The suddenness of events left many confused. The lack of knowledge and research about the virus caused panic throughout caused by rumours. What many failed to notice in India was the resurgence of a rural economy in the underbelly of COVID-19 lockdown.
Many migrant workers started returning to their home states by every means possible and other Govt. initiatives like the shramik express. This would mean that urban consumption and demand for goods would go down whereas it would increase in the rural areas. To sustain in rural areas the most suitable source of income is Agriculture. How exactly was agriculture impacted in COVID-19 pandemic?
How do I catch the Rural Theme in markets?
There is almost no other reliable source of income in rural areas apart from agriculture and dairy. When the lockdown was imposed it was amidst the Rabi Crop Harvesting Season(April-May), the seizure of the supply chain and logistics served a major blow to it.
However, there were multiple stimulus packages aimed specially to benefit the rural areas. MNREGA(Mahatma Gandhi National Rural Employment Guarantee Act), Pradhan Mantri Garib Kalyan Anna Yojana (PMGKAY) and other direct benefit transfer schemes.
Spurt in rural spending will not only benefit a lot of agri-related equipment but also other aspirational products. Look out for greater demand for FMCG products, two-wheelers, entry-level cars etc. All these are aspirational products for the rural population and could see a distinct rise in demand in the coming month
Rural housing could be a big theme in the coming months. The government has already laid emphasis on low-cost housing by giving it infrastructure status. Companies that operate in this space with a credible and sustainable business model will be among the names to benefit from this development.
The rural population has managed to adapt and invest in its own setting. There has been an encouragement in enabling farmers to obtain long-term debt in order to kick start the agrarian economy.
As the monsoon season approaches, there has been more than normal sowing of "Kharif" crops to ensure a healthy income in the harvesting season in the coming winter season.
As many parts of India face a water crisis till date you can expect a fair share of a boost in the irrigation systems like motors, pipes, channels etc.
Automobile
As People started migrating to rural areas, there was a rise in rural population. 70% of rural household occupationally rely on agriculture as a source of livelihood. When the sales of a passenger vehicle, two-wheeler and commercial vehicles slumped, those of Farm Equipment Sector (FES) such as tractors and tillers rose. Some players in the industry include Mahindra and Mahindra, Escorts and VST Tillers.
Farm Equipment Sector (FES) Sales Figures

Read more about Automobile sector during COVID by clicking here.
Agro-Chemicals, Pesticides and Fertilizers.
The use of pesticides and agro-chemicals in agriculture increase marginally.
Kilpest India Ltd. showed an amazing performance, both in terms of Quarterly (1,093.2%) and Yearly (1814.86%) Net Profit. Kilpest India Ltd is one of India's leading Agri based companies. Kilpest is an ISO certified company and has representation in India in the field of agriculture business comprising Crop Protection Products and Public Health Products, Bioproducts, Micro-Nutrients and Mix fertilizers.
United Phosphorus Ltd (UPL) and PI Industries (PIIND) are the two of the biggest players in the pesticide and agrochemical industry in India. United Phosphorus recorded 200% Net Profit Growth QoQ and PI Industries had a .
Coming to fertilizers, government data states that fertilizer sales jumped 83% to 111.61 lakh tonnes in Apr-June. Read more over here.
Growth in Fertilizers sector(Amount in Rs. Crores)
Another company that is worth taking note of is Rallis India Ltd. which is a subsidiary of Tata Chemicals, the company filed a quarterly Net Profit of 13,000%(Between April and June)! Rallis India Ltd. specialises in crop-care, pesticide, agrochemical and other agri-care products.
How have "rural themed" FMCG companies performed?
Dabur and Emami are two FMCG companies with a strong rural presence. While Dabur has a market cap of more than Rs.90,000 Crores and Emami has a market cap of Rs.14,860 Crores.
Dabur and Emami recorded Net Profit growth% of 21% and 60.8% each respectively. They are an essential bridge between rural areas and FMCG market considering that rural India accounts for 37 per cent of India's FMCG spends, both these companies have a very strong rural presence.
Did the Rice Market Benefit?
India had the highest export volume of rice worldwide, at 9.8 million metric tons as of 2018/2019. India's rice export fell due to slowdown and seized the supply chain but increased by 52.5% in April-May.
India handles 25% of global rice exports, However, rice contributes only 2 per cent to the Indian export basket. The COVID situation caused many non-agricultural and developing countries to put a cap on rice exports to meet local supplies. On the other side, India maintains a surplus of rice making exports of huge volumes possible.
We have taken two companies that benefited from this rising foreign demand.
Chaman Lal Setia Exports Ltd (Market Cap: Rs. 532 Cr)- Chaman Lal Setia Exports Ltd. is an India-based manufacturer and exporter of basmati rice. Chaman Lal Setia Ltd declared a Net Profit growth of (+)21.6%
GRM Overseas Ltd (Market Cap: Rs. 122 Cr) - GRM Overseas Limited engaged in the business of manufacturing and trading of rice. The Company produces a range of rice items to its customers spread across the world. GRM Overseas Ltd declared a Net Profit growth of (+)351.7%
Sale of Seeds in India.
Kaveri Seed Company Ltd. and Mangalam Seeds are one of the top seed companies. Indian stock markets have had a long affair with monsoons. Although Mangalam Seeds Ltd. has not declared its quarterly result, there is a strong sentiment regarding the forecast due to rising agriculture and pre-monsoon sowing both on the rise. Kaveri Seeds' QoQ Net Profit Growth was 3,794.67%
JK Agri Genetics Ltd. and Nath Bio-Genes are two other major companies that deal in GM(Genetically Modified) Seeds.
JK Agri Genetics Ltd. is an India-based seed company. The Company is engaged in growing of non-perennial crops. It provides Agricultural and allied products and isalso involved in research and development, production, processing and marketing. It showed growth of +308.1% in Net Profit QoQ with a +295.7 Revenue Growth QoQ.
Nath Bio-Genes (India) Limited is engaged in the hybrid seed business. The Company is engaged in the business of production, processing and marketing of hybrid and genetically modified (GM) seeds. The Company's segments include agricultural activities (seed production) and trading activities. Nath Bio-Genes Ltd.'s Net Profit multiple over FOUR TIMES after the lockdown.(~+411%)
NIFTY FMCG outshines NIFTY 50
NIFTY FMCG is the index that is closest to the agriculture sector than other indices. We take a 6-month time frame to analyse which index has suffered from COVID-19. While NIFTY 50 overall faces an overall decline of -6.65% NIFTY, NIFTY FMCG managed to recover and shine 3.79% more.
Surge in Rural Area Usage.
Shortly after the lockdown, there was a dip in data usage for a very small period. Post this the amount of data usage surged massively. Such that a majority of these data users belonged to the rural area. Data consumption under BharatNet(Read More Here) across the country in the April-June quarter was 5.52 lakh gigabyte (GB) as compared to 2.47 lakh GB in January-March. Overall, rural areas accounted for 83.3 per cent of the total 6.58 lakh GB data consumed under BharatNet across India during April-June.
Sum and Substance
In a survey conducted, more than 68% of the population in rural India faced a monetary crisis. 78% suffered job losses because of stringent lockdown measures put in place to control the spread of the virus, said the survey, The Rural Report, conducted by news portal Gaon Connection and Delhi-based Centre for Study of Developing Societies.
As much as 23% of the respondents were forced to borrow money to manage their households, while 8% had to sell a valuable possession The survey said that 28% of migrant workers were not paid for the work they had done in cities.
Only 27% of the economically poor households, which did not have ration cards to access the central scheme for highly subsidized foodgrain, said they had received wheat or rice from the government.
The monetary crisis caused physical dismay, the government support and fiscal stimulus even though was the best case scenario made way only for Dalal Street to book profits in certain segments. The socio-economics scenario can't be portrayed in numbers.
The Rural themed stocks showed great results due to lesser population densities in rural areas and therefore lesser chances of contracting COVID making economic activity possible. Despite that, there has been a rising pile of COVID-19 cases in tier 3 and tier 4 cities putting the FMCG as well in an expected dismay.
There is just one hinge around which Dalal Street is balancing itself and that is the COVID-19 Vaccine.
Post your comment
No comments to display