How Remdesivir Became A Matter of Life And Death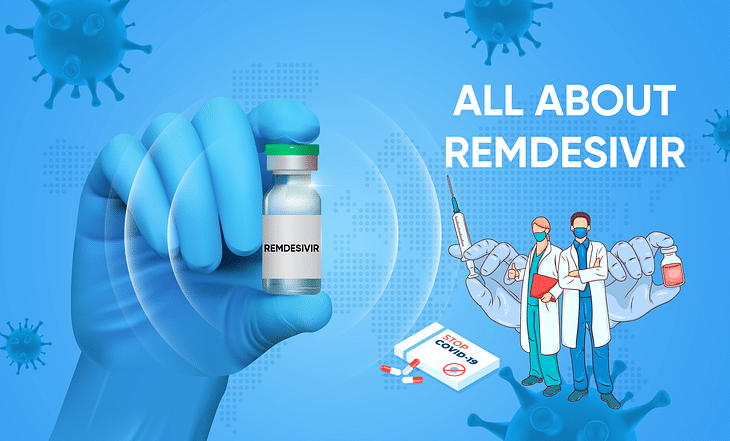 A group of angry people picketed a chemist at a big hospital in Pune when he said that the injection Remdesivir was out of stock. 6 individuals in Chandigarh,2 in Pune, and probably hundreds of such individuals all across India were arrested by the police after they were caught selling Remdesivir in the black market. There are reports of a single vial of Remdesivir selling for 10x the MRP. So what is this magical drug? Why is there a shortage? Why is there a black market thriving around it? And What is the government doing to solve its shortage? Let's find out.
About Remdesivir
Remdesivir is an anti-viral medication currently being used to treat the COVID-19. It is originally created and developed by Gilead Sciences. Remdesivir was developed in 2009, to treat hepatitis C and respiratory syncytial virus(RSV) but failed to treat these diseases. In 2015, it was later found effective against Ebola and Marburg Viruses. The drug has currently been given an Emergency Use Authorization(EUA) by the United States Food and Drug Administration(US FDA) as well as Central Drugs Standard Control Organization in India.
The drug is quite expensive and is currently facing a shortage in India. This has caused a vicious cycle of panic-buying, hoarding, and black marketing where people are having to pay more than ten times the MRP for the medication. After the first wave of COVID-19 subsided in India pharma companies cut down on production. After the number of reported cases started to decline in September 2020, the demand for Remdesivir slumped. Companies that were left with excess stockpiles were forced to destroy them. The volume of infections and the severity in the second wave was unprecedented and the demand for the drug went up. The already expensive Remdesivir was now being hoarded and people had to resort to the black market to buy it.
The Economics Behind Remdesivir
Remdesivir currently is manufactured by 7 major pharmaceutical companies apart from other smaller ones. The companies being Mylan, Hetero, Jubilant Life Sciences, Cipla, Dr. Reddy's, Zydus Cadila, and Sun Pharma. Hetero is the largest manufacturer of Remdesivir by numbers. India currently has a production capacity of ~38-40 lakh vials per month.
According to a statement by Mansukh Manadaviya, the Minister of State for Chemical and Fertilizers, Hetero produces 10.50 lakh vials a month, Cipla makes 6.20 lakh vials, 5 lakh vials are produced by Zydus Cadila and Mylan produces 4 lakh vials. The remaining drugmakers produce vials in the range of 1 lakh and 2.5 lakh a month. He also stated that the production will be increased to around 78 lakh vials per month soon.
There was a recent 'voluntary' reduction in price for the drug by major pharma companies. Since the distribution of Remdesivir is a haywire affair where there is uneven distribution, black marketing, and shortage of the drug, certain state governments have restricted its sale ONLY to hospitals. This move is aimed to reduce the black market of the drug where people end up paying ten times more for the drug. The government has also banned its export and cut down all import duties on the drug.
In the past month, the stir around the drug has definitely benefitted the share price of pharma companies. Cadila's share price has been up by 28% in the past 1 month, CIPLA has been up by 24%, Dr. Reddy's Laboratories has been up by 19%.
There is also a shortage of another drug Tocilizumab. In India, the drug is manufactured only by Cipla in partnership with Swiss-pharma company Roche Holdings AG. Similar to the case of Remdesivir, an excess demand for the drug might positively impact Cipla's share price and revenue.
While Jubilant Pharmova has been up 16%, its share price surged 8% when it announced that it had developed an oral form of Remdesivir apart from the regular injection administered. Jubilant Pharmova's share gained special attention a month ago when ace-investors Rakesh Jhunjhunwala and his wife Rekha Jhunjhunwala increased their stake in the company.
The Hidden Picture
So far there hasn't been a strong clinical trial report that supports the use of Remdesivir. What remains unknown is the sudden spike in usage of this one particular drug. World Health Organisation(WHO) had approved the drug for emergency usage only in the case of patients with high symptoms. For patients with mild symptoms, other drugs were prescribed. Dexamethasone is another recommended drug that costs just about Rs 6- Rs 12 in the retail market as against the few thousands paid for Remdesivir. There are other drugs prescribed for patients with mild to moderate symptoms that are cheaper than Remdesivir.
In November 2020, WHO advised AGAINST the use of Remdesivir for treatment of COVID-19 patients. Excess use of Remdesvir can lead to a severe immunogenic reaction called the Cytokine Storm which can be fatal. The body starts to attack its own cells and tissues instead of just the virus. Even the European Union decided not to go ahead with authorizing Remdesivir after it had stockpiled the drug. Despite the global negative outlook, Indian doctors have continued to prescribe the relatively expensive drug. There might be a false demand being created over here since patients with mild symptoms are prescribed other drugs like Fabiflu, Hydroxychloroquine, Favipiravir. Treating COVID-19 might not be an expensive case after all.
The director of AIIMS Delhi, Dr. Randeep Guleria has said that Remdesivir isn't a magic bullet. He also said that "Giving treatment when it is not required, you may be doing more harm than good".
Drug Regulators, Health ministers, and agencies have advised doctors to judiciously prescribe Remdesivir, that too only for patients with severe symptoms. While pharma companies struggle to meet demand, they are facing flack from government bodies. Major Remdesivir manufacturers have companies of political pressure, calls from local corporators MLAs, and MPs.
Pharma companies need to assess ramping up production of these vials as they face the risk of a glut/overproduction. The second wave of the deadly coronavirus has hit with an unprecedented magnitude. Individually, states have started to impose lockdowns. One can expect an increased production of Remdesivir by respective pharma companies. It won't be before one month that we get a clearer picture of the second wave of COVID-19. Until then, Stay Home, Stay Safe!
Post your comment
No comments to display