How Patanjali Bought Ruchi Soya For Free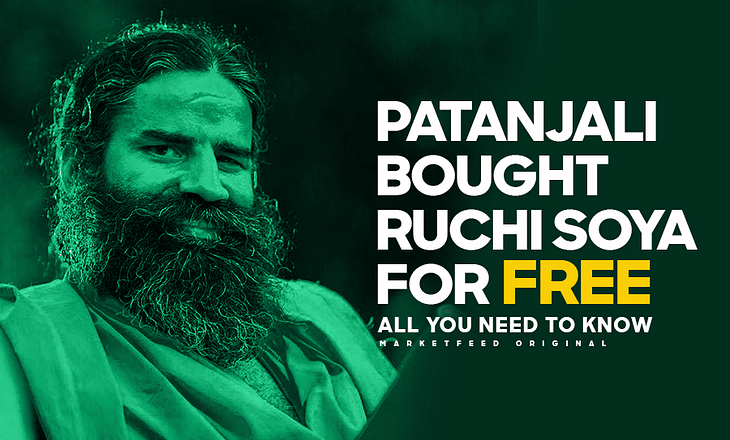 Ruchi Soya Industries is a company that was technically valued at zero for a while but was soon valued at thousands of crores. The company faced extreme financial doldrums and was dragged to insolvency court by its creditors. Two companies placed bids to buy Ruchi Soya— Patanjali and Adani Wilmar. Patanjali won the bid and virtually bought the company for free. After the turbulent takeover, the company's share price soared at unimaginable rates, filling the pockets of all investors. It is pretty rare to see such a comeback in the Indian business world. The story of the takeover is controversial and is a test case for SEBI.
In this article, we discuss the story behind Ruchi Soya and why it has been in the news lately.
Ruchi Soya and its Controversial Takeover By Patanjali
Ruchi Soya Industries manufactures oils, vanaspati, bakery fats, and soya. The company's oil business faced problems because of cheaper imports from foreign countries and competition from other local players. There are dozens of reasons as to why Ruchi Soya faced a financial crunch.
Moving on, Ruchi Soya's lenders (the banks) dragged Ruchi Soya to bankruptcy court and was taken off the stock exchanges. The banks were unsure if Ruchi Soya would be able to pay back its dues. Therefore, they wanted to liquidate the company to clear the pending dues. Two companies were frontrunners in the bidding process— Adani Wilmar and Baba Ramdev's Patanjali. Patanjali won the bid, acquiring Ruchi Soya for ~Rs 4,350 crore.
Here's the twist: out of the ~Rs 4,350 crore, around Rs 3,200 crore were lent to Patanjali by the very same banks that lent money to Ruchi Soya initially. Around Rs 1,200 crore from SBI, Rs 700 crore from Punjab National Bank, Rs 600 crore from Union Bank of India, Rs 400 crore from Syndicate Bank, and Rs 300 crore from Allahabad Bank.
Shares Rally 8,000%!
After Patanjali's takeover, the company relisted on the exchanges and its shares rallied by nearly ~8,000%! One of the reasons for such strong inflation in price is because only ~1% of the total shareholding is public, the rest being with Patanjali and other promoters. A small group of traders could have pumped the price of Ruchi Soya. Many investors questioned the sudden rally and accused Patanjali of foul play and manipulation. They demanded a SEBI probe.
Now, Patanjali has a debt that it has to repay for having borrowed money to acquire Ruchi Soya. Ruchi Soya's business continues as usual, but the company's valuation has skyrocketed. This is when Patanjali decides to dilute its shareholding through a follow-on public offer (FPO) at a discount of around 30%. Patanjali decided to reduce its shareholding to around ~80% through the FPO, offloading around 18-19% stake for Rs 4,300 crore. This is practically the same amount it bought Ruchi Soya for.
Crackdown by SEBI
Around the time of the FPO, suspicious emails and texts started circulating, nudging Patanjali consumers to invest in the FPO. In one of his speeches, Baba Ramdev stated that the secret to being a 'crorepati' was to invest in Ruchi Soya's FPO. This didn't go down well with SEBI. The market regulator stalled the FPO, allowing investors a window of three days to withdraw their bids from the FPO. They also asked Patanjali to put out advertisements in national newspapers, discrediting the SMS and e-mails. Nearly 97 lakh bids were withdrawn from the FPO in the meantime.
In the end, Ruchi Soya managed to go debt-free and profitable from a once bankrupt company. Retail investors, who might have lost hope during the insolvency proceedings, earned humongous returns from the share. Patanjali managed to buy Ruchi Soya at virtually little to no cost, and creditors went back home with their respective money. Seemed like all in a day's work!
Post your comment
No comments to display